Family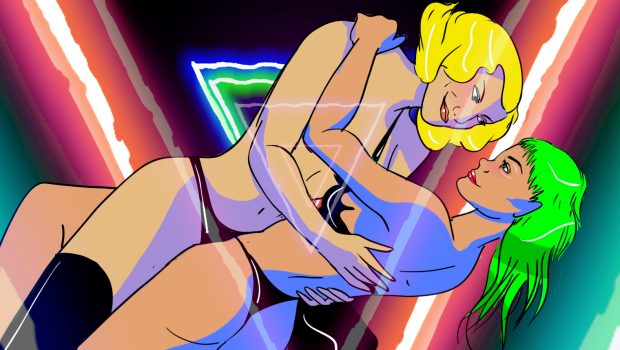 Published on August 21st, 2021 | by Tim Chuma
MIFF 2021: Animation Shorts Program
Summary: "So you made love to a loaf of bread. Do you have a family history of being attracted to baked goods?"
Are You Still Watching? (2020)
"So you made love to a loaf of bread. Do you have a family history of being attracted to baked goods?"
Set in  locked-down Melbourne where even Luna Park is wearing a mask, a woman goes to see her doctor and tells of sexy hallucinations such as being pulled into the screen while watching a movie to have a threesome with bisexual robots. She likes the hallucinations and has fun at the dog walking park with other dog walkers and at home. Even baking is a reason for her to get off.
I saw this one and of course I was going to watch it first. Even describing it does not do it justice as the delivery of the lines by Zoe Terakes is so deadpan to make it seem funnier.
Some nice colourful animation in this one with nice flat colours and bold lines. Even though some of the described are a bit out there you do still fully get into it.
I would recommend watching this one more than once so you can cheer yourself up after watching some of the more serious animations later in the program (I watched all the shorter ones first).
Film details:
Directed by Tali Polichtuk, Kitty Chrystal, Alex Cardy
Featuring the voice of Zoe Terakes
Genre: Short Animation
Language: English
Country: Australia
Length: 8min
—-
Nestor (2019)
A man on a very tall and thin boat has routines and taps to keep himself sane over the churning of the waves. During a storm everything falls apart but he recovers and gets back to normal by resuming the routine.
Very interesting textured style animation with outlines of the main character. You don't really need a lot to still be able to tell what things are. The waves are portrayed well and everything moving in the same direction inside the boat due to the waves.
With animation it does help if you loop frames so there are a lot based around repeating cycles which makes it easier to produce but also means many of them are based around the natural cycle of life.
Trailer
Film details:
Directed by João Gonzalez
Genre: Short Animation
Language: No dialogue
Country: United Kingdom, Portugal
Length: 6min
KKUM  (2020)
A mother has prophetic dreams and prays during the day for some of them not to come true. The woman's son talks about his experiences.
Some great stop motion animation here from blocks of shaped foam with some digital effects over the top of it. Even though the models are not super detailed they are very expressive and as mentioned previously you don't need to have much to still be able to tell what things are.
I do enjoy Korean cinema but do not often get the chance to see shorts so this was a rare treat. There is a lot of animation produced in South Korea for major animated shows due to the workload involved.
A nice funny short with some great storytelling.
Trailer:
Film details:
Original title: 꿈
Directed by Kim Kang-min
Genre: Short Animation
Language:  Korean, with English subtitles
Country: South Korea, United States
Length: 9min
Poise (2020)
A man slaps some annoying flying insects to his face as ethereal stranger watches from across the road. Outside a jogger paces at the lights and someone watches a TV in a store window. Things cycle and then fall apart variously.
A lot of the characters in this are mainly outlines or basic shapes, except for the main character with the insects who has a weirdly detailed face.
The looping animation trope is starting to get to met a bit by this point, I should have mixed up the order I watched these in.
Trailer:
Film details:
Original title: Suspensão
Directed by Luís Soares
Genre: Short Animation
Language: No Dialogue
Country: Portugal
Length: 7min
Oldboy's Apples (2020)
A felt demon, knitted rate and cute crocheted puppy share a shack in the woods. One day the puppy goes and sniffs and wizened old tree with living apples and one of the apples ends up in the cupboard. The demon plants the apple and it grows into a mushroom baby which they put in a kettle with an eye on it and end up tripping from the tea that results.
I do enjoy stop motion animation and the characters in this one are quite memorable and well made even if the story is only very short.
I would buy the demon if it was available on Etsy as it was so cute.
Trailer
Film details:
Directed by Brad Hock
Genre: Short Animation, Fantasy
Language: No Dialogue
Country: USA
Length: 7min
Trona Pinnacles (2020)
A French family is not having a good time travelling through Death Valley so they leave the dad at the motel and the mother and daughter go off to see the pinnacles off in the desert. The mother drives too fast on dirt roads and they almost hit a stopped train at the level crossing and back at the motel the father has a mini breakdown. Time passes and the night is so dark in the desert they can all see the stars which relaxes them and the father is even surprised his daughter hugs him.
Nice combination of the watercolour wash for the backgrounds and landscape and the animated figures that seem to be marker pen coloured cut-outs placed on top. I do like seeing different types of animation used together as it reminds me of old style animation where there would be detailed matt paintings used for backdrops and the cell animation on top of it.
There is some dialogue in this, but it is not as important for the story as the things that happen on screen. The train being stalled in the middle of nowhere seemed apt as they would not worry about holding up traffic as there is none usually.
A lot of spirit in this one and a great story told in not that much time.
Trailer:
Film details:
Directed by Mathilde Parquet
Genre: Short Animation
Language: French, English
Country: France
Length: 13min
Step Into the River (2020)
In a regional village of China the affects of the one child policy are shown through the lives of two young girls who become friends to stick up for each other. They do not flinch in saying what the affects of this policy are on young girls and what part the river plays in it, I kind of wish I had not saved all the longer animations to watch at once as there is nothing to break things up and the longer ones all tend to be a lot more serious.
The souls of deceased infants are seen as "evil spirits" and children are told to keep away from the river. Some children looking for a kite find the body of an infant on the shoreline and the truth about one of the young girls not really being an orphan comes out.
The experiences in the movie are taken directly from the director's own experiences in the 1990s in the village she grew up in. She sees herself as being a "lucky girl" as a lot of girls did not get the chance for life due to families wanting a boy.
I can see why this film won awards when it screened but it is not really something to go into lightly. Traditional beliefs can still have a place in the modern world and Chinese culture does have a lot of them that survived the communist regime and are still important today. The Journey to the West (Monkey Magic) is one of the most remade stories in the country and new stories are still being made today based on the old stories.
What this short does do well is take a topic it is too hard to talk about directly and build a story around it to show you how it affects the entire society when strict social policy is enforced. The demographics in China have still not recovered from this policy even though it has not been official for many years.
Director on the movie talking about development of the film
Film details:
Original title: Das Spiel
Directed by Weijia Ma
Genre: Short Animation
Language: Mandarin, with English subtitles
Country: China, France
Length: 15min
O Black Hole! (2020)
A supreme being does not want anyone she loves to leave her so she sucks them all into herself and becomes a black hole. 1000 years later a singularity is born at the bottom of the black hole, she has to confront the black hole to get everyone released.
A very strange, but enjoyable combination of painting, sketching and stop motion animation with very unique character designs and scenes. Does seem to be almost a musical in some places and the story has a bit of everything in it.
It is the mark of a successful story when the characters it introduces feel like they could go off to do other things and you would want to see them. Unfortunately, this is not the case here unless there has been more shorts produced since then. I am still glad to have seen the characters and story in this short and would watch more work from this director in the future.
Trailer
Film details:
Directed by Arthur Smith
Genre: Short Fantasy, Animation
Language:  English
Country: United Kingdom
Length: 16min
Gravedad (2019)
A woman living in a town with variable gravity variously flies to the stars and lives in a hole on alternate days. The other townsfolk explain what keeps them grounded and keeps them from getting too down in the dumps. I did enjoy that by the end even though she was not into the same things as they were she was able to explain her own experiences using the context of the passions of other people.
Very simple animation style and the cows seem to be rectangular and also floating but it has a simple charm and tells the story well.
This story was a lot lighter than some of the other longer animations, but still said what it needed to say and did not hang around for too long.
Trailer
Film details:
Directed by Matisse Gonzalez
Genre: Short Animation
Language: Spanish, with English subtitles
Country: Germany
Length: 11min
Bach-Hông (2019)
The voice of the older Jeanne, a French-Vietnamese woman who grew up in Vietnam in the years before the fall of Saigon talks about her experiences with loving animals and riding the president of South Vietnam's horse in a parade before her family had to flee.
The animation style was done well with a watercolour art style that reminds me of some of the Japanese or South East Asian art styles that influenced the French Impressionists.
While the figures may be drawn simply, they do tell a serious story and this is not the movie to watch if you can't stand to see anything bad happening to horses.
There is still a dearth of stories told about the Vietnam War from the perspective of people who were non-combatants so this one was great to see. I did enjoy that it does end well as the woman now keeps horses after 30 years of not being able to ride them.
Trailer
Film details:
Directed by Elsa Duhamel
Genre: Short Animation
Language: French, Vietnamese, with English subtitles
Country: France
Length: 18min