Cosplay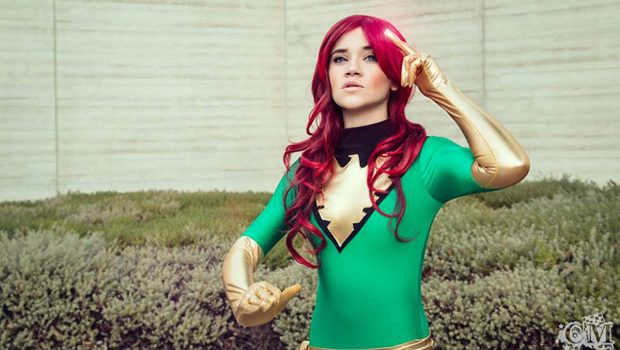 Published on April 13th, 2016 | by admin
Lucie Bee Interview … let's talk about Cosplay
Impulse Gamer recently caught up with the beautiful, talented and self-confessed geek girl Lucie Bee about cosplay, gaming, working in the sex industry and her role at this year's Sexpo!
Welcome to Impulse Gamer Lucie! So tell us how you became involved in Sexpo?
The first time I ever worked at a Sexpo was about six months after I done my first porn scene. I actually just signed up to just work for them as one of their "able bodies" during the show and I was on the info desk <laugh>. It was basically telling people where the ATM's and toilets were so that was my first experience where I wasn't a visitor.
After that, I went along with some of the porn companies that I worked for as a performer and after last year, I had my own booth with another Australian Pornstar who is also a geek girl called Kim Cums. We had a lot of fun so I wanted to go back this year and really embrace what makes me "me" which is a "flaming dork" <laugh> who likes comics, playing games and playing dress up.
Sexpo also said "We're thinking of having a cosplay competition" and I'm like "What? Thinking?… no you ARE having a cosplay competition" <laugh>. So by working together with Sexpo, it was an awesome way of combining what I love!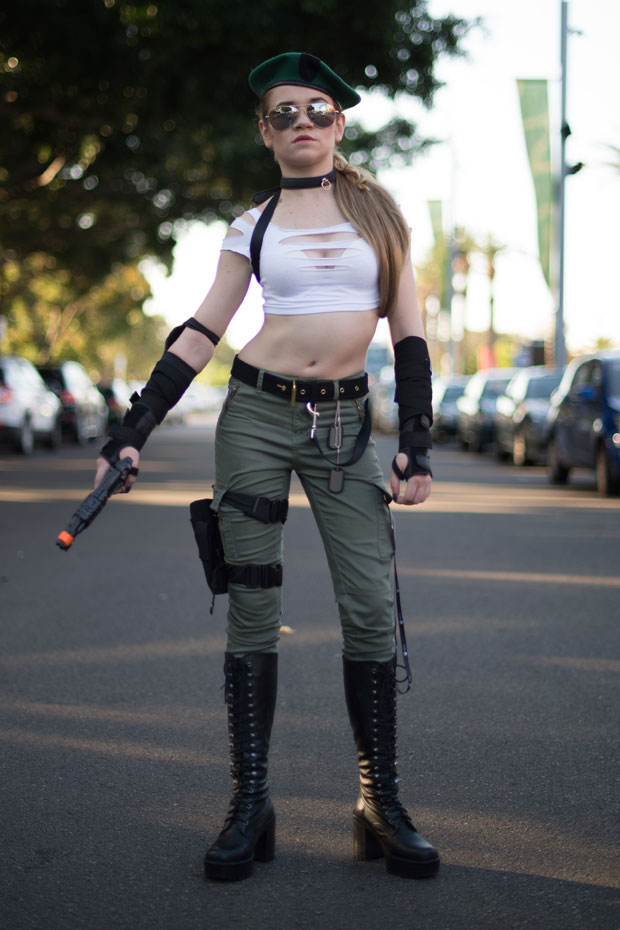 What do you think about sex in games and the negative stereotypes that it brings?
I've been to conventions before like PAX [AUS] and also ran panels before about sex in games and also the conversation about "geeks and sex". Some people think that geeks still sit in the basement in the dark and doing nothing but playing hours of World of Warcraft which isn't true… it's a bad stereotype. I think there's been a huge development of sex and sexuality in games and it's stupid to think that gamers are not influenced by that or not into it.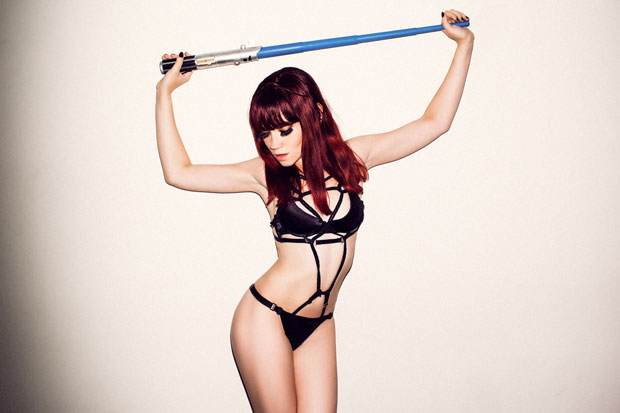 So how will cosplay at Sexpo be different than other family-friendly conventions?
With Sexpo, I guess we're having a sassier approach to cosplay. When you go to places like PAX, you're given a bit more freedom in what you can wear but if you go to Supanova or Comic-con, you can still have heaps of fun but there's a limit as to how far you can go. That's because these are family events and there's an unspoken rule where most people respect that because you don't necessarily want to be worrying about a parent coming down on you as you're wearing something a bit too risqué <laugh>.
But with Sexpo, it's going to allow people to really let go and dress up as however they want, whether that's all covered up or non-covered up. It's also going for cosplay characters that embrace and scream sex appeal in order for cosplayers to have some fun with it.
The competition is also very diverse as we're not just picking certain people or restricting it to specific genders or just a bunch of chicks on stage with Victoria Secrets style outfits. It's going to be people dressing up in outfits they love and characters they feel great about. So being able to show off, share their fantasies, be really open and embrace their own sexuality in a crowd of people who really respect that is very special.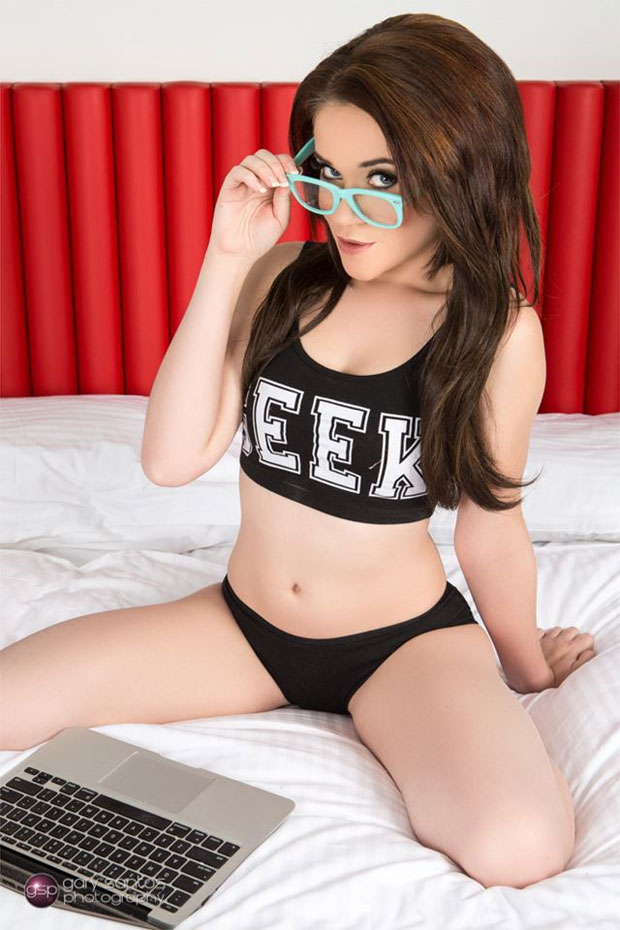 At family conventions, there's been some negativity about cosplayers being harassed or touched inappropriately, what are your thoughts on this?
I think a lot of people really worry and as I'm online a lot, I've read comments about people saying that cosplayers will be bothered by others at Sexpo by being really rude and harassing them. I've been at 3 or 4 Sexpo's now and wearing barely anything <laugh> and I've always had a great time. I know that I'm not everyone's cup of tea either as a pornstar or member of the adult community but I do have a fanbase and audience who really like what I do but there's also some people who want to say a few stupid things in public.
Thankfully Sexpo take care of that stuff really quickly if someone is bothering people, they don't get to stay for too long because the whole idea of Sexpo is to create a really safe, enjoyable and fun environment for people to get sexy. Whether that's buying toys or in this case dressing up. Also, people have been dressing up at Sexpo for years like women wearing their corset and jeans. Everyone dresses up a little anyway so I just think this is a really good and cool inclusive way to continue on with that tradition.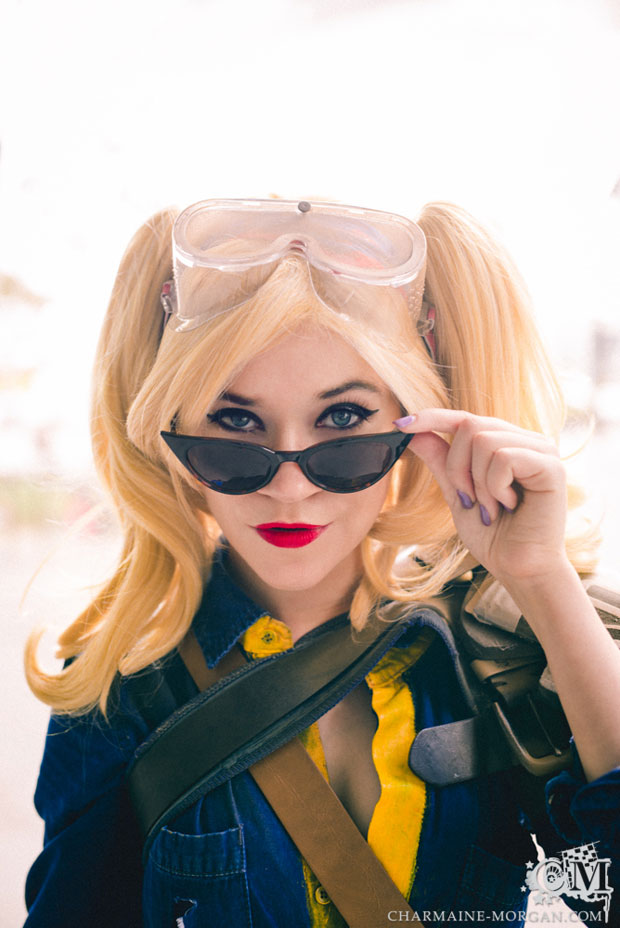 So where do you come in with the cosplay at Sexpo Lucie?
I'll be hosting and judging the cosplay competitions. There are four heats and a final. The first heats will be at 2pm and 7pm on Friday and Saturday. I'll also be doing a geeky themed show before each heat and I'm keeping the themes of both those shows a closely guarded secret but they will be in cosplay. You'll then be able to see the final on Sunday and we're still confirming details for that and I'll also be doing a show before that also in cosplay. When I'm not hosting, judging or cosplaying, I'll be in booths throughout the four days of Sexpo.
I know you said it's a closely guarded secret but any hints Lucie?
I'm actually out today shopping for cosplays and we're just putting the final bits and pieces together but I will give you some clues. Most of my cosplays on the weekend will be gaming related and at least one from a classic cartoon that I'm a big fan of. I'll also be choosing some kick ass female characters that I love and have some fairly scantily clad outfits that I think will fit right in for the rest of the shows. I have a lot of outfits and currently working on 6 of them.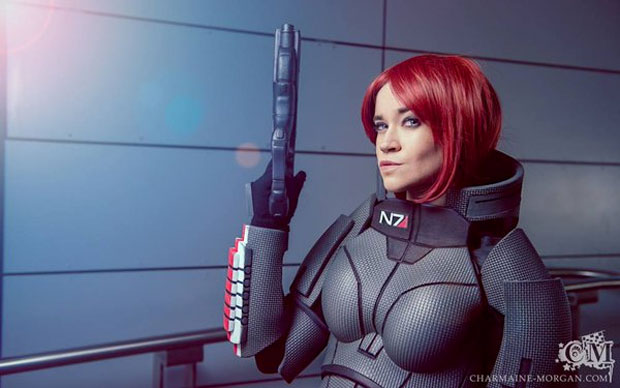 So how did you get involved in the sex industry?
I was living in good old Canberra <laugh> and was working in admin, pretty much doing what everyone in Canberra does. I left my day job so to speak and when I wasn't doing that, I was working in book stores as this mild mannered book store attendant with glasses, a messy bun and wearing pants and shirts, recommending books to grandpas <laugh>.
I really loved that because I love books, especially sci-fi but I started to get really bored and wanted a change. My good friend at the time worked in an erotic massage parlour and I had taken a break and gotten to the point where I needed to look for another job and she said "why don't you give what I do a go?".
I've already been really confident and comfortable with my sexuality as I went so some very interesting parties and events so I loved dressing up and dressing down specifically. That's kind of where it all started as I fell into things like nude modelling and porn pretty quickly. Not long after that I started escorting.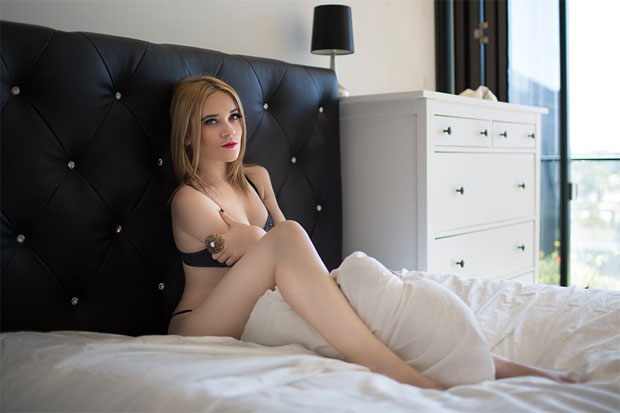 So how did you merge cosplay with sex?
In the last 2 or 3 years, I've been getting into cosplay more and learning how to build my own outfits, including commissions. I started getting some recognition and becoming more a part of that community. I realised that I could combine the two things that I love which is sex and dressing up and of course porn, which is pretty great!
So I'm guessing you also combine cosplay with escorting?
Absolutely and I have a few old favourites. I get Catwoman a lot because her outfit is barely there <laugh> and she's also a badass and a bit edgy. This allows me to be more sexy and kinky which I love. However my favourite character is Phoenix who is Jean Grey from the X-men and I get asked to dress up as her quite often because guys really know that I love it.
The first cosplay that I ever did which I haven't dusted off in a while was Moxxie from Borderlands and I've got a replica of Moxxie's bad touch, the gun which I've recently been asked to pull that out of the closet again. So maybe I'll have that one for a convention soon <laugh>.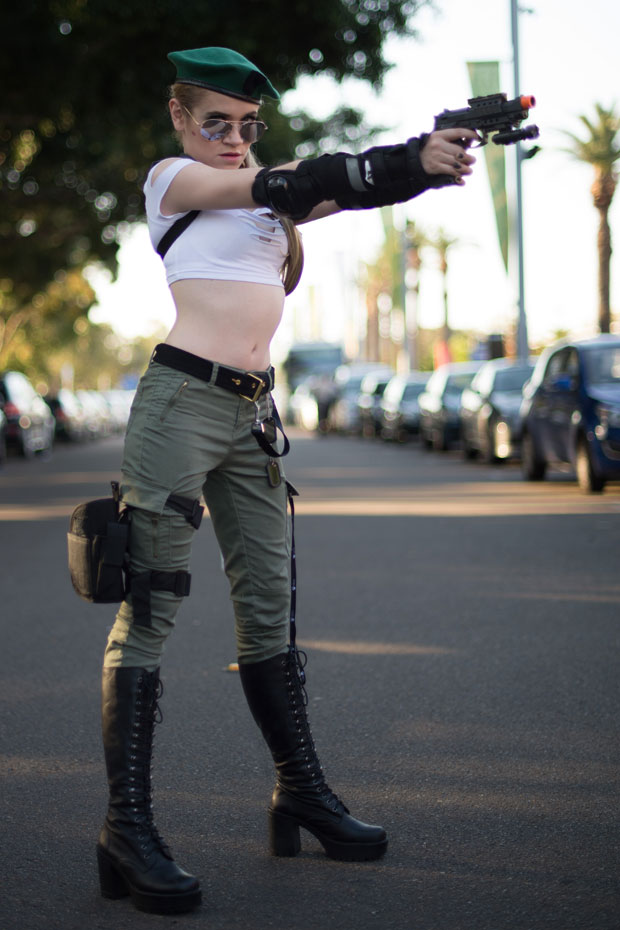 You also offer filming with clients?
If someone comes in and wants to take some photos and do their own POV dirty video, they can come to me and do that just for personal use only. I also get them to sign an NDA so they will not chuck it on the internet but I think it's because people can then live that pornstar fantasy of their own. I've also done a few private movies in costumes with some guys too <laugh>.
It's something that someone can look back on and I think it' really reminiscent of the fact that people are more into amateur porn at the moment which has grown in leaps and bounds. So people are really enjoying the chance to live their fantasy and relive it again later and not just as an observer and alone.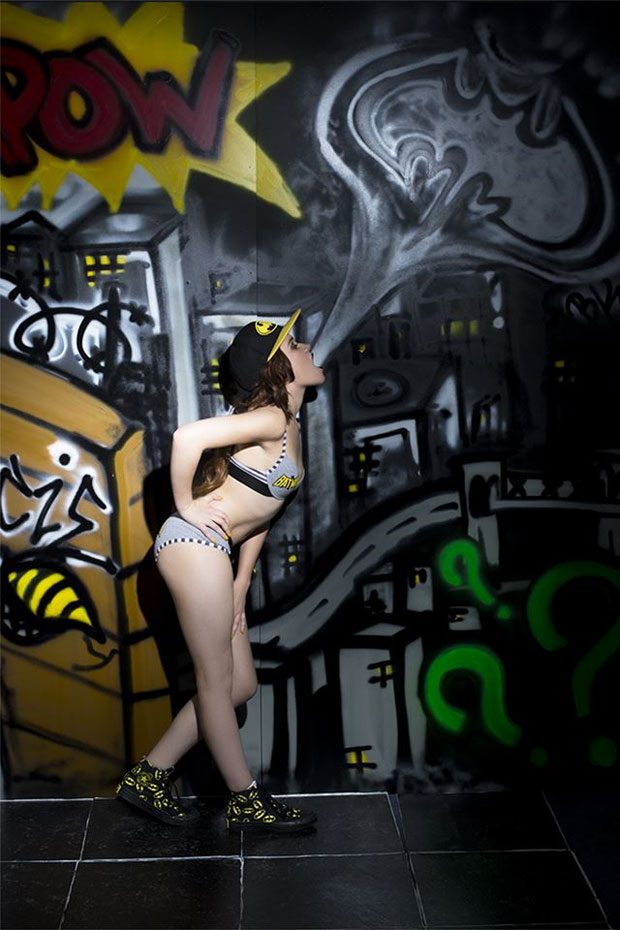 Do you think there is a difference between escort work and porn?
I think there is a difference because escorting is more of that one on one experience and allows people to live out their fantasies but with porn, it has a collaborative aspect to it as I work with really good producers who create some awesome content and have a very set idea of what they want to achieve. There's also a really big difference with safe sex as we have testings and guidelines in the porn industry that we stick by, whereas in escorting, everything is protected, so condoms.
I'm also noticing that in porn now we're doing both unprotected and protected content for our fans and because we're a small industry, we all take very good care of our health and that's another point of difference. I mean I still get guys who presume that because I do porn, they think they will get all the perks so to speak but no because it's very different.
So as I'm in porn and working as an independent escort which means people are dealing directly with me when they contact me, I have to be careful and make sure I have measures in place to ensure everyone's health and safety. But with escorting and porn, I go into both at the same level and I get something different out of each experience. Doing both makes me quite happy as I really love what I do and being able to connect with people.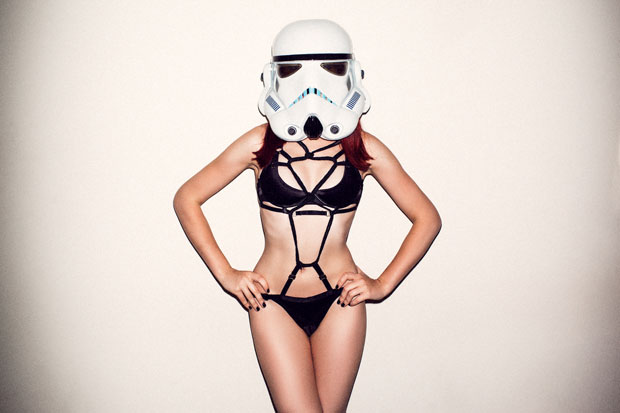 Do you see many gamer clients?
I'm seeing a lot more guys who are shy and they're also gamer guys and geeky guys. Unfortunately because of those stupid stereotypes about people enjoying these pastimes, some haven't had the chance to get out there and really explore their own sexuality. So I'm getting a lot of those guys coming to see me who can explore that also enjoy getting their asses kicked at Mortal Kombat <laugh> at the same time which is fantastic. I love being able to combine the two and I like that people can come to me and have a really safe environment with all that kind of stuff.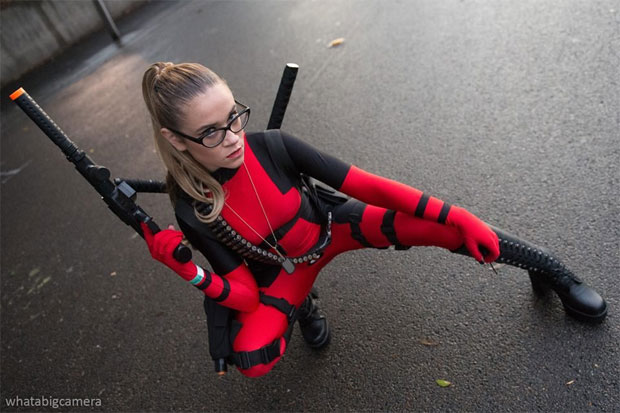 You've mentioned Catwoman and Marvel Lucie… so are you a DC or Marvel fangirl?
Ohhhh… I have to say that because I love Phoenix and the Dark Phoenix which are my life <laugh>, I'm a Marvel girl but I'm also excited for the Suicide Squad and I may possibly at Sexpo have a Suicide Squad Harley Quinn cosplay in the works! I'm really thrilled at the movie but it hasn't turned me fully to DC but I may definitely be on the way.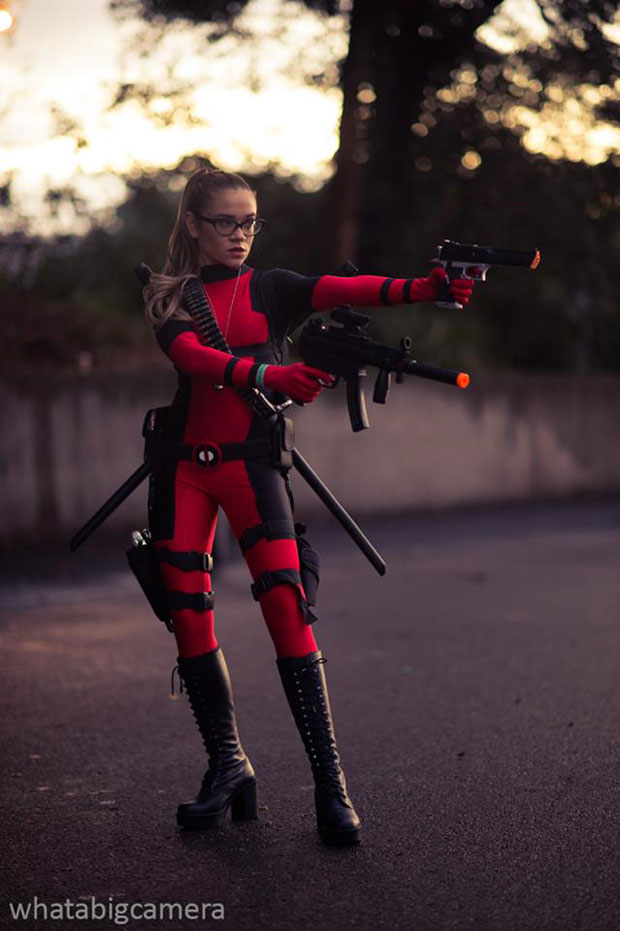 Finally Lucie… what are you playing at the moment on your PS4?

I'm trying to finish The Witcher 3 and is that not terrible? I got distracted with Fallout and did a Fallout cosplay at PAX [AUS] last year that I built myself. Fallout was an all-consuming force in my life and I even got the Pip Boy Edition and spent a lot of time on that game. I'm now I'm trying to complete The Witcher 3 which I didn't finish.
That's all going to stop as well because I can't take my PS4 to Sexpo because Doom comes out that week and I won't get anything done. There will be no shows or cosplay judging if I'm allowed to play Doom <laugh> because I'm really looking forward to that. I'm also going to be playing the open-BETA to that over the next few days so I probably won't be heard from for a few days! <laugh>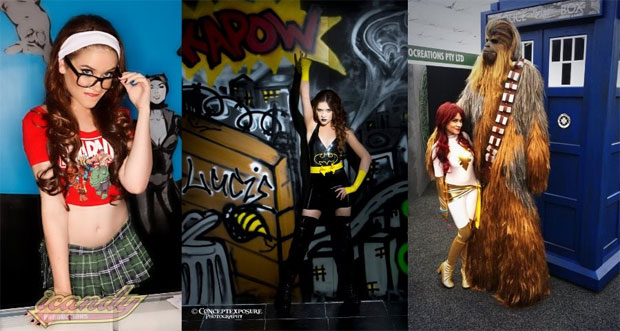 Lucie Bee will be at Sexpo Sydney from May 12 to 15