Anime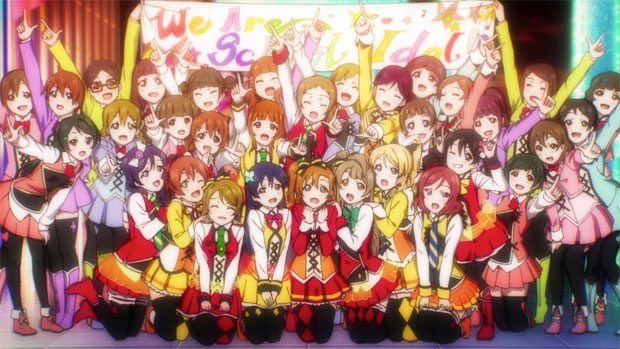 Published on August 30th, 2016 | by Tony Smith
Love Live! The School Idol Movie Review
Summary: Love Live! The School Idol Movie is a fun expansion of this franchise which also offers the viewer a really fun and entertaining film with lots of music and dancing!
This light hearted release is a great way for younger viewers to get introduced to the world of anime and is quite family friendly in its story and more importantly animation which revolves around a 'School Idol' competition as its premise includes friendship, drama and young people getting ready to explore the world with some entertaining humour. There's also some cool anime music videos with lots of dancing, colours and some fun animation. It's quite the colourful anime!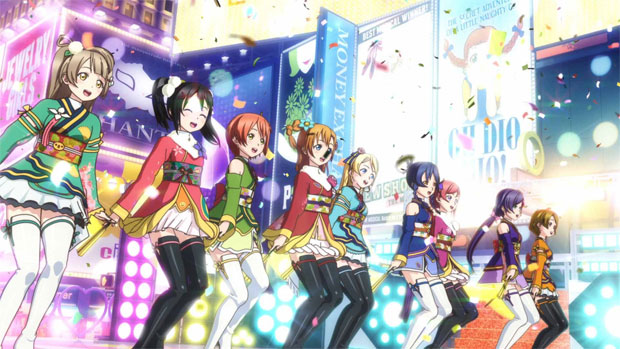 Furthermore, the film also expands on the series as we revisit a group of girls called the µ's with some remarkable musical talent as they traverse the globe from America to Japan. They even perform at Times Square and experience some of the sights and sounds of New York which really sets the story up, including their friendship and how singing has brought them together… including how it may break them up. The group is also made up of Eli, Nico, Nozomi, Rin, Hanayo, Maki, Umi, Honoka and Kotori who all have their own personalities, drives and back stories which is all part of the fun.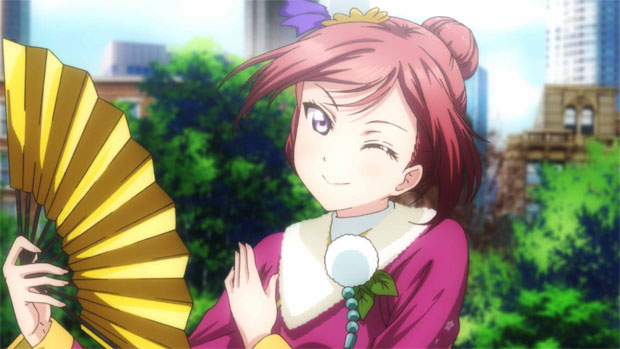 As a result of their trip to the United States, they become somewhat of a J-Pop sensation which leads them to hosting one of the world's largest block parties which features some stunning animation and of course fun musical numbers. Opposed to the clichéd school ground anime, Love Live! The School Idol Movie takes a slightly different approach which helps keep the characters a little more grounded and dare I say, interesting as we are given a unique snapshot in the lives of the µ's.
My favourite character of this movie is Honoka who is a day dreamer and although she is a bit of a ditz, she is a very proactive characters which makes her note only likeable but entertaining to watch, especially the drama between all the members of the µ's and their rivals. However some of the dialogue does seem a little forced and contrived but overall, it's a fun film that is not only well presented but boasts a killer soundtrack!
Final Thoughts?
Love Live! The School Idol Movie is a really fun release from Madman that puts likeable animation, characters, music, fun and friendship into the blender and creates an enjoyable film about friendship, life and what the future may hold! Lastly, this release comes in a box set with spaces for the other three releases plus 9 Sunny Day Song Art Cards and a movie booklet which is quite cool.
Recommended!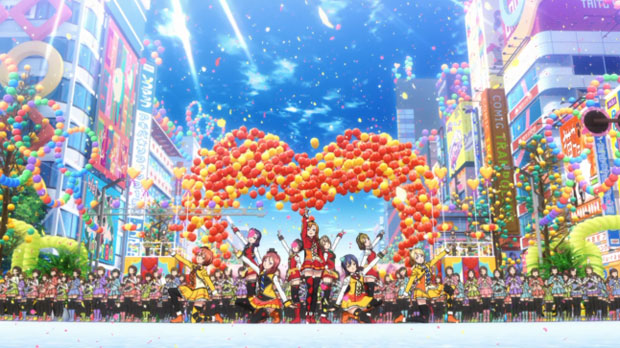 DVD Details
Film Genre – TV Amine
Label – Madman Entertainment
Audio – English (Dolby Digital), Japanese (Dolby Digital)
Subtitles – English
Running Time – 102
Aspect Ratio – 1.78:1
Region Coding – B (Blu-Ray)
TV Standard – PAL
Rating – G
Consumer Advice Line – General
Year of Release – 2015
Primary Format – Movies/TV – Blu-Ray  / DVD