TV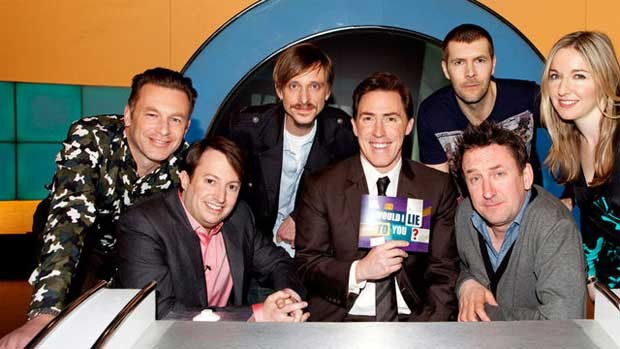 Published on September 17th, 2015 | by Natalie Salvo
Would I Lie To You? Volume 4 DVD Review
Summary: Would I Lie To You Volume 4 features excellent unscripted riffs, one-upmanship and guests who are really game for a 'larf
'Would I Lie To You?' is a show that has fun watching people fake it. The series also makes viewers happy thanks to its homely feel which is not unlike sitting around for a cuppa and a good yarn with friends. Ultimately, 'Would I Lie To You? Volume 4' builds on and continues the earlier success of this beloved, British comedy panel program.
The DVD set volume four is actually the seventh series of the show (which was first aired in the UK in 2007). The show is modelled on a parlour game where guests have to either deceive their opponents or tell the truth (usually by revealing an embarrassing personal anecdote or unusual fact). At the end the only question is, "Is it a truth or is it a lie?" It's fun as a viewer to play along at home and call bulls**t on things, where applicable.
The success of this comedy series is certainly due to the guests and regular panellists. The program is hosted by Welsh comedian, Rob Brydon who assists with banter, questions and offering up fun, little impersonations from time to time (just as he did in 'The Trip', etc). There are also the team captains, like the clear-headed and logical, David Mitchell (of Mitchell & Webb fame) as well as the cheeky and irreverent, Lee Mack.
This show also works due to the good-hearted nature of the guest stars, who are prepared to play along and demonstrate things by almost any means necessary in order to "prove" they are telling the truth. This series features previous guest stars who were real favourites: Rhod Gilbert, Miranda Hart, Jason Manford, Jimmy Carr, Sarah Milican and Dara Ó Briain. The new additions also do well and include: Griff Rhys Jones, Gok Wan, Charles Dance ('Game of Thrones'), Isy Suttie ('Peep Show'), Warwick Davis ('Life's Too Short'), Josh Widdicombe ('The Last Leg') and Joanna Scanlan ('The Thick of It').
This collection brings together ten episodes which also take in a "Christmas special" and a compilation of unseen bits. It's a well-shot piece of film and the addition of the studio audience adds to the hilariousness of the great, unscripted riffs, one-upmanship and guests who are really game for a 'larf. In all, this is one excellent TV show that takes in the personal and quirky lives of some colourful characters while making the great unwashed chuckle and scream. And that's the truth.
DVD Details
Actors – Rob Brydon/David Mitchell/Lee Mack
Film Genre – TV Comedy
Label – Shock
Audio – English (Dolby Digital 2.0)
Aspect Ratio – 1.78:1
TV Standard – PAL
Rating – PG
Year of Release – 2014
Primary Format – Movies/TV – DVD