Crime & Thriller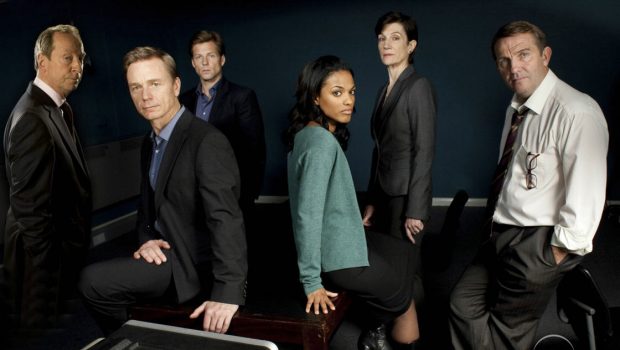 Published on August 1st, 2016 | by Tory Favro
Law & Order UK Series 3 DVD Review
Summary: Law & Order UK Series 3 provides fans another great way to catch-up on this well written crime drama.
Borrowing heavily from the US series by the same name, Law & Order UK continues the excellent pedigree that went before it, telling tales of crime and the prosecution process from a UK perspective. There are seven episodes in this series which does make for a shortened viewing experience in comparison to its US counterpart, but they are really well shot within the streets of London, and do truly stand on their own as a series.
This was my first exposure to this series, however I have watched numerous seasons of the US one. The tone of this series is in my opinion heavier than the US equivalent, with really good performances by all cast members. The stories, even though they are for the most part re-written from the American series  certainly have a darker feel to them which made for a nail biting experience.
In terms of quality, the look of the shows are crisp and clear with audio to match. They have done a great job with the presentation of the series and it is a really good watch.
The most chilling story in the series for me was episode four, titled "Confession" where a policeman commits suicide and as the case is investigated allegations regarding childhood abuse are uncovered committed  by a member of the clergy. Everything is not so clear cut as more and more details come to light, and our team has to look at the story from multiple angles. It's a hard watch but very well put together.
For experienced viewers and newcomers alike I can recommend giving this a shot. There are enough points of difference to the US that it should delight fans of the US series, and complexity of plot lines that will keep even fussy viewers engrossed.
This is a solid series with the only disappointment being the low episode count.  The episode titles are: Broken, Hounded, Defence, Confession, Survivor, Masquerade and Anonymous.
Special features on this disc include commentary on the Masquerade episode and filming on the streets of London. This is a nice look behind the scenes of this show, whereas the commentary provided a lot more information about the process in my opinion.
DVD Details
Film Genre – TV Crime
Label – Madman Entertainment
Audio – English (Dolby Digital 2.0)
Running Time – 321
Aspect Ratio – 1.78:1
Region Coding – 4
TV Standard – PAL
Rating – M
Consumer Advice Line – Mature themes, violence, sexual references and coarse language
Year of Release – 2011
Primary Format – Movies/TV – DVD