TV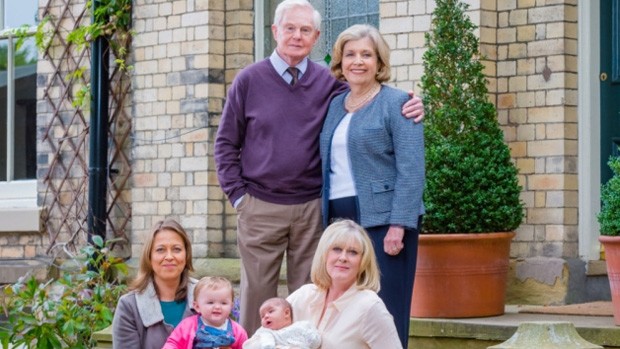 Published on January 23rd, 2016 | by Natalie Salvo
Last Tango In Halifax Series 3 DVD Review
Summary: "Last Tango In Halifax" is a rather warm family drama but things do get messy and confusing at times, just like in real life.
The power of love is a curious thing, as the characters in the British television drama, "Last Tango In Halifax" know all too well. The show is set in the English countryside and features a strange, blended family of sorts. It also straddles the line between pure soap opera and realistic social observation about life, love, relationships, secrets and betrayal.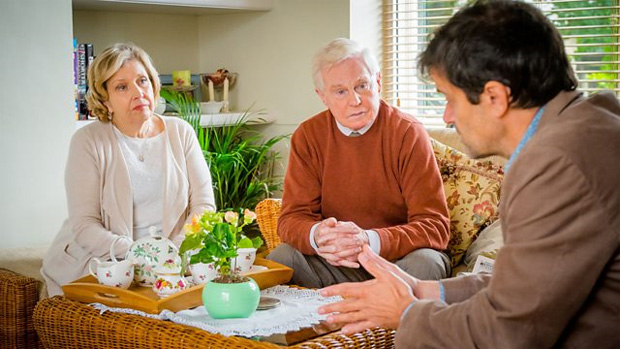 The series was written by Sally Wainwright who was inspired by the real-life events that occurred to her mother in finding and rekindling love at a ripe, old age. On TV, former childhood sweethearts Alan (Derek Jacobi) and Celia (Anne Reid) have lived full lives apart from one another. They spent over fifty years being married to other people and raising daughters. But one day luck intervenes when their respective grandsons set up Facebook profiles for their grandparents and the two reconnect and eventually rekindle the old spark.
In the third series the plots revolve around everyone's relationships as well as some smoke and mirrors and skeletons being dragged out of the closet. At times it becomes quite complicated. Caroline's (Sarah Lancashire) girlfriend, Kate (Nina Sosanya) is pregnant with the couple's first child. The two really seem to be revelling in domestic bliss in this nuclear family with Caroline's son. But tragedy strikes and Caroline is left in a tailspin.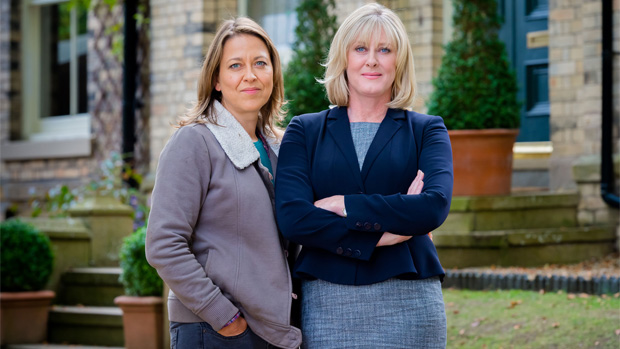 Caroline's step-sister, Gillian (Nicola Walker) isn't fai    ring much better. She's busy racking up notches on the bedpost with gusto as well as fielding marriage proposals. She accepts one from her former brother-in-law but as if that isn't strange enough, there are further complications as he's also the brother of the ex-husband she murdered. The oldies' lives are similarly complex with Alan's long-lost-lost son reappearing and threatening to jeopardise his father's new relationship.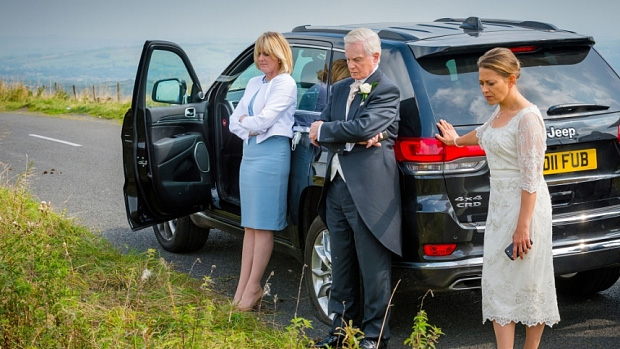 "Last Tango In Halifax" is well-acted and does have its moments where it manages to cover some important issues. But the writers made a huge mistake by eliminating a popular character this series and the subsequent episodes just plod along after the fact. The show is also incredibly white-washed and middle-class and this could leave some viewers wanting more. In all, it's a rather warm family drama that does succeed at times by keeping the viewer guessing. But it also means it can be as messy and confusing as real life often is.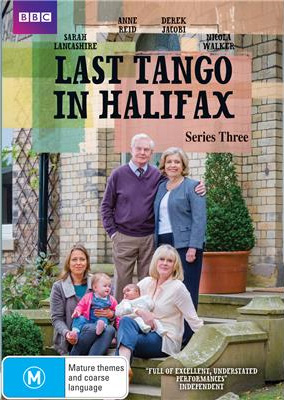 DVD Details
Film Genre – TV Drama
Label – BBC
Audio – English (Dobly Digital 2.0)
Running Time – 330
Aspect Ratio – 1.78:1
Region Coding – 4
TV Standard – PAL
Rating – M
Year of Release – 2015
Primary Format – Movies/TV – DVD