Drama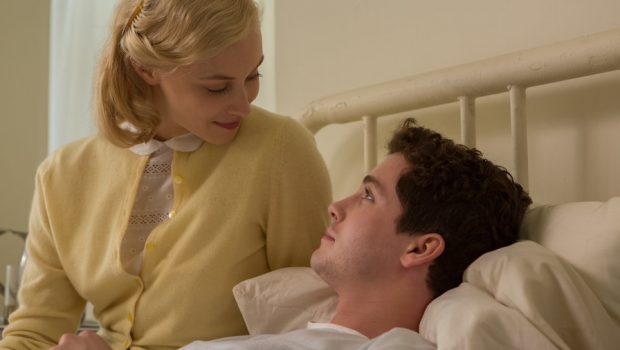 Published on February 6th, 2017 | by Natalie Salvo
Indignation DVD Review
Summary: "Indignation" is an adaption of a literary, Philip Roth novel. It's slow and subtle nature means it makes for a better book than film.
"Indignation" is a film that is based on a book by Philip Roth but it struggles to reach the lofty heights of its source material. The story is a coming-of-age one about a clever, Jewish boy and the battle of wits he is forced to engage in at his conservative college in 1951. It's a beautifully-shot drama and dialogue-driven piece that makes for a more atmospheric novel than it does film.
Logan Lerman stars as Marcus Messner, a working-class Jewish boy from New Jersey. He wins a scholarship to a small, traditional college in Ohio. This placement means he avoids being drafted into the Korean War. Lerman is a clever kid who becomes an atheist and he takes exception to the college's strict rules, especially the one where it is compulsory for the students to attend chapel. He also rejects the friendship of his fellow Jewish students and is subsequently thrust into a number of verbal sparring matches with an anti-Semitic, horrible and opinionated dean (Tracy Letts who has a few things in common with the dean/authority figure in "Scent of a Woman.")
Another of Messner's rites of passage involve his damaged but gorgeous classmate, Olivia (the excellent, Sarah Gadon.) The two go out on a date and at the end she performs oral sex on the virginal Messner. This act throws Messner into a tailspin of confusion and part of this can be chalked up to the sexual repression that was rife in the fifties.
"Indignation" is a subtle and dramatic period drama. The fact that a lot of the story is based around Messner and his growth as a college student and some general clashes of ideologies make for rather slow viewing that is better suited to one's own imagination. The featurettes include some interviews with the cast as well as director, James Schamus ("Crouching Tiger Hidden Dragon") as well as some information about the costumes and deconstructing the scene (the argument between the student and dean is the most powerful and potent of the entire film.) "Indignation" features some great performances and it's an emotional character study but it is also one that is perhaps best left in the hands of Messer Roth himself.