Drama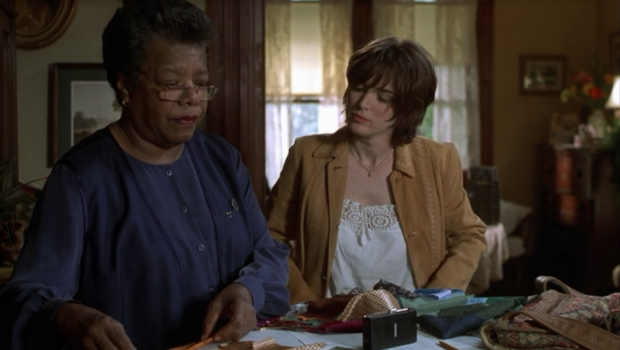 Published on July 24th, 2016 | by Natalie Salvo
How To Make An American Quilt DVD Review
Summary: "How To Make An American Quilt" is a nice, tender film but it tries to cover too much in too short a timeframe. The result is like a lukewarm chicken soup of the soul that could've been tasty but is instead lacking a bit in bite.
"How To Make An American Quilt" is a film that is written by, directed by and starring women. It's a dramatic story that looks at a group of women and the love, hurt, lies and betrayals they have experienced in their course of loving men. The story isn't' an overly preachy one but it does try to cover a bit too much ground. This means it's like a missed opportunity where you are often just scratching the surface of all the characters and their different backstories.
The film was originally a novel by Whitney Otto and was adapted for the screen by Jane Anderson with our very own, Jocelyn Moorhouse ("The Dressmaker") at the helm. Winona Ryder ("Little Women") stars as Finn, a flighty Berkeley masters student who seems to go through thesis and research ideas like some people go through clean clothes. Finn is the product of a broken home so she's a little apprehensive when she is asked for her hand in marriage by her well-meaning boyfriend (Dermot Mulroney.)
Finn's response to the proposal is to go and live in California with her grandmother (Ellen Burstyn.) It is there that she is introduced to her gran's quilting group. These strong women have come together to make Finn's wedding present, a gift about the meaning of love. As the group sit around sewing and sharing their stories they open up to Finn about their own broken hearts and bittersweet romances. Some of these flashbacks have culminated in broken dreams, single motherhood or longing over what might have been. In other instances the women found themselves either in the arms of another man or their beau's arms wrapped around another woman's.
This story is tender and it tries to get you to think. Finn's own character has a lot of introspection and navel-gazing to do. There's the marriage proposal and her thesis to contemplate as well as the promise of an exciting summer fling with the seductive Leon (Johnathon Schaech.) Finn also enjoys the refuge and counsel offered by these wise older women who have been through a lot before and essentially had a lot of adventures and life experience that they can talk about.
"How To Make An American Quilt" is not a perfect film where the characters rich backstories from a detailed and cohesive tapestry. Instead, it barely skirts around the surface of these vignettes meaning it's all a little haphazard, just like in real life. In all, this is a good little film where some strong performances take us on a journey through some methodical stories about love, loss and life. It's like a lukewarm chicken soup for the soul, it could've been tasty but it is lacking a bit in bite.
DVD Details
Director – Jocelyn Moorhouse
Actors – Winona Ryder, Dermot Mulroney, Ellen Burstyn, Anne Bancroft, Kate Capshaw, Adam Baldwin, Rip Torn
Film Genre – Drama
Label – Shock
Audio – English (Dolby Digital 5.1)
Running Time – 113
Aspect Ratio – 1.78:1
Region Coding – 4
TV Standard – PAL
Rating – PG
Year of Release – 1995
Primary Format – Movies/TV – DVD