IMAX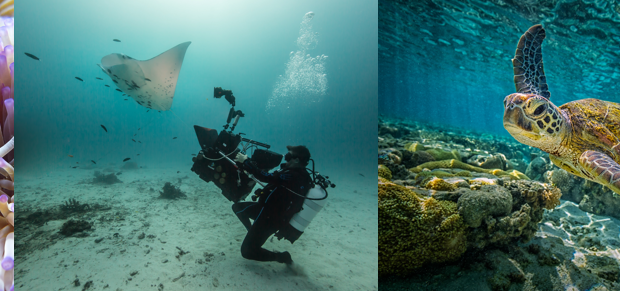 Published on March 11th, 2021 | by Adrian Gunning
Great Barrier Reef conservation takes centre stage in new IMAX documentary
The Great Barrier Reef's capacity to survive is championed in IMAX's powerful new documentary GREAT BARRIER REEF 3D, shot by Emmy award-winning Australian cinematographer Richard Fitzpatrick, ACS.
Examining the reef's resilience in the face of climate change and coral decline, the family-friendly movie encourages young audiences to reflect on the role they too can play in protecting this unique marine reserve. 
Narrated by Eric Bana, the film follows reef guardian Jemma Craig on an expedition along Australia's east coast to Green Island, Fitzroy Island and Lady Elliot Island as she documents the work being done by volunteers and citizen scientists to help researchers gain a more comprehensive understanding of the natural world.
Fitzpatrick – a Marine Biologist and shark researcher turned sought-after cameraman – has shot for the BBC, National Geographic, the Discovery Channel and David Attenborough's award-winning documentary series, Great Barrier Reef (2015).
While used to filming in extreme environments, the eight-month shoot for GREAT BARRIER REEF 3D saw the crew dodging sharks, battling bleaching events and capturing the world's largest synchronised sex event, all while manoeuvring a 100kg camera rig the size of a washing machine. 
The finished result brings audiences right up close with Dwarf Minke whales, thousands of migrating green sea turtles and a Māori Wrasse, in an immersive 3D experience. 
"With the 3D camera rig we really needed to think outside the box when it came to setting up the shots, and consider how to best amplify the giant screen experience to bring this beautiful environment to life,"  Fitzpatrick says.
The film is deeply personal for Fitzpatrick, having spent much of the last decade searching for a local project of this scale that would help highlight the impact of the threats facing the Great Barrier Reef to an international audience. 
The overhead shot of mass turtles at Raine Island is especially significant, with Fitzpatrick acknowledging that the film contains some footage of wildlife and reef activity that is unlikely to ever be captured again.
"I have been filming the reef for more than 25 years and for each new project there are shots that we can no longer capture or that are diminished. Each time I set out on a shoot, I have to go a little further out to capture those quintessential shots of the Great Barrier Reef that are so recognisable," Fitzpatrick says.
"The causes that the film documents, including Project Manta and the coral research being conducted at the Australian Institute for Marine Science, will be critically important in helping to protect this living wonder for future generations." 
GREAT BARRIER REEF 3D opens at IMAX Melbourne from March 19. Tickets are on sale now and can be purchased at IMAXMELBOURNE.COM.AU