Drama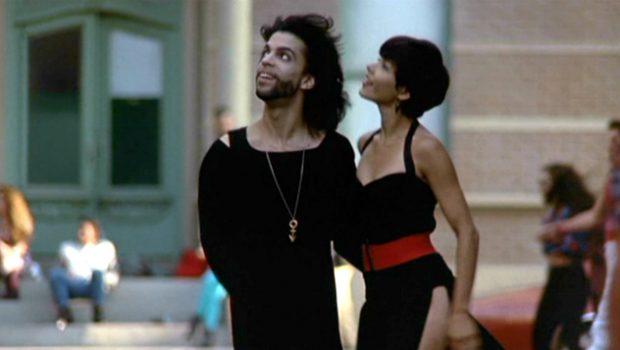 Published on November 13th, 2016 | by Natalie Salvo
Graffiti Bridge DVD Review
Summary: "Graffiti Bridge" sees Prince wearing too many hats as writer, director, composer and lead actor. It's a self-indulgent sequel to Purple Rain that doesn't make a whole lot of sense.
The late, great Prince was an undisputed, musical genius. But this same praise cannot be said about his filmmaking skills. "Graffiti Bridge" was considered a kind of sequel to the film, "Purple Rain," but it was a disaster at the box office and as a story because it is an incoherent mess of clichés about love, life, music and spirituality.
For "Graffiti Bridge" Prince wore several hats including lead actor (reprising his "Purple Rain" role as The Kid) as well as director, writer and soundtrack composer. The film is a Prince machine in every sense of the word but it is obvious from the results that the Purple One was a little out of his depth because it is little more than a mess of different and competing ideas.
The story goes that the owner of the Glam Slam, Billy has passed away and left his nightclub to be divided equally between The Kid and the former one's old foe, Morris Day (himself.) The pair have a bet to decide who will take over the ownership of the club. Over the course of the film there are some strange moments like Day urinating on a pot plant before setting it on fire. There is also a bizarre love triangle between these two men and a kind of higher force or angel named Aura (Ingrid Chavez.)
"Purple Rain" was a success because Prince handed over the reins to Albert Magnoli and William Blinn in the writing department and to the former for the directing. The soundtrack to "Purple Rain" was also Prince's best album but "Graffiti Bridge" has none of these things going for it. The songs are adequate, although the spiritual ballad seems sanctimonious. The plot is also flimsy at best and at its worst seems like nothing more than an extended music video clip.
"Graffiti Bridge" does have Morris fronting Prince's pseudo-group, The Time as well as cameos by Mavis Staples, George Clinton and Tevin Campbell. It is also obvious that Prince had good intentions for this film in trying to explore his spirituality, sexuality and musicality. But none of these things make a particularly good film. At the end of the day Prince should have stuck to making music – or if he had to venture into films making concert movies – because at the end of the day, "Graffiti Bridge" proves to be a bridge too far.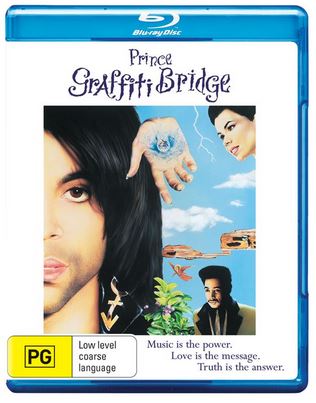 DVD Details
Director – Prince
Actors – Prince, Ingrid Chavez, Morris Day, Jerome Benton, Michael Bland, Jesse Johnson, Jimmy Jam
Film Genre – Drama
Label – Roadshow
Audio – English (DTS 5.1)
Running Time – 90
Region Coding – B (Blu-Ray)
TV Standard – PAL
Rating – PG
Consumer Advice – Low level coarse language
Year of Release – 1990
Primary Format – Movies/TV – Blu-Ray