Documentary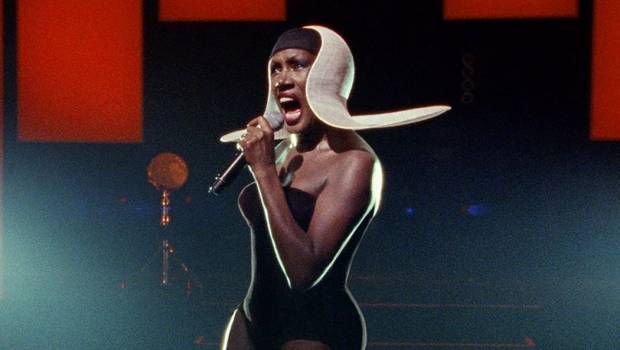 Published on June 30th, 2018 | by Natalie Salvo
Grace Jones: Bloodlight & Bami DVD Review
Summary: A sprawling documentary that is part concert film and cinéma vérité. You will see Jones in the most unique light- at her most contradictory and artistic.
Grace Jones was the queen of the slashies before the term was even created. This diva, singer, model, actress, muse and style icon is one enigmatic and contradictory lady. While the documentary, "Grace Jones: Bloodlight & Bami" peels back some of the layers of this complex and unique individual, you also get the sense that this is a bit like "McQueen" in that some subjects are just unknowable to the great unwashed.
This documentary is by Sophie Fiennes. The approach she uses is quite an observational one, like the style Frederick Wiseman employs. This film doesn't use a narrative arc, title cards or talking heads. Instead, Fiennes immerses herself and the viewer in Jones' world both backstage and in concert by capturing these moments in a cinéma vérité style.
If you didn't know much about Grace Jones before watching this you might leave feeling much the same way. Biographical details are scant except when they happen to come up in passing. We see Jones travel back to Jamaica where the poverty of her childhood is alluded to. The beatings she received from her step-grandfather who raised her are discussed by the Jones family and Grace says these memories fire her up during some of her more tense performances.
A lot of this film undoubtedly centres on Jones' concert. She is seen wearing a black leotard and amazing headwear that has been designed by Philip Treacy. She sings her hits, "Pull Up To The Bumper," "Slave To The Rhythm" and "Love Is The Drug." Jones is a performance artist and you get the sense that she likes to let the aesthetics speak for themselves. This is particularly apparent when she flies into a rage and expresses her disapproval at the scantily-clad dancers intended for her French TV slot. She says that she feels like a madam in a brothel and wasn't consulted about this particular choice of artistic direction.
Grace Jones is a woman of many contradictions. She is now a 70 year old but she looks several decades younger. She spends part of the film cracking open oysters and consuming champagne one minute and then breaking bread (bami) in a humble house in Jamaica in another. There's the ferocious, panther-like anger she displays towards her collaborators, Sly and Robbie who let her down during the recording that she's funding. Then there's another moment where she's like a tender lamb when she's seen hugging her newborn granddaughter. It is obvious that Jones is not the sort of woman you can put away into a neat little box or silence for that matter.
"Bloodlight & Bami" is a rather unfocussed documentary but fans of Grace Jones will probably lap it up because they get to go along for a wild ride with this enigmatic lady. This documentary is certainly not a primer for new fans but instead straddles the lines between a concert film and observational documentary. Grace Jones is an undeniably fierce enigma and this film proves that she is simultaneously amazing and one tough nut to crack.
DVD Details
Director – Sophie Fiennes
Film Genre – Documentary
Label – Umbrella Entertainment
Audio – English (Dolby Digital 5.1)
Running Time – 120
Aspect Ratio – 1.78:1
Region Coding – 4
TV Standard – PAL
Rating – M
Consumer Advice – Coarse language and brief nudity
Year of Release – 2017
Primary Format – Movies/TV – DVD