Crime & Thriller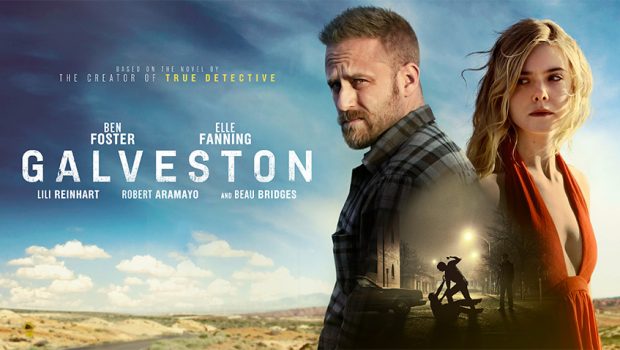 Published on August 23rd, 2019 | by Rob Mammone
Galveston DVD review
Summary: When on the run hitman Roy saves Rocky from murder or worse, he sets in motion a series of events that will impact both for decades...
Directed by Melanie Laurent, screenplay by Nic Pizzolatto writing as Jim Hammett, from the novel of the same name by Nic Pizzolatto, starring Ben Foster (Hell of High Water) and Elle Fanning (Teen Spirit).
Galveston is not the movie you think it is. It has all the tropes of crime stories – broken protagonist, heart of gold ingénue, crime lords, corruption, violence and despair. But it isn't wholly a film revolving around a crime, though criminality and its long term effects run through it. Galveston is more a meditation on life, love and loss, told through a grimy filter and with only the barest flicker of hope at the end.
Soon after hitman Roy (Ben Foster) is told he has incurable lung cancer, his boss double crosses him, setting him up to be killed. When Roy turns the tables and kills his assassins, he frees a young escort held captive named Rocky (Elle Fanning) on his way out the door. Taking paperwork with him, Roy flees to his hometown, Galveston, on the Texan coast. Along the way, at Rocky's insistence, they stop at her home to retrieve her niece, Tiffany. While Roy waits impatiently, he hears a single gunshot, then Rocky and Tiffany flee to the car.
Holing up in a motel in Galveston, Roy plans blackmailing his old boss using the paperwork he took with him. While doing so, Roy deals with his diagnosis by liberally dosing himself with alcohol. Despite this, Roy is drawn to Rocky, and after returning from reconciling with an ex-lover, Roy decides that he will hand the blackmail money to Rocky, and advises her to use it to support herself and Tiffany (who it turns out is Rocky's daughter, the child of rape by her stepfather, who she shot and killed earlier in the movie). A tender moment ensues as they go on a date and then…well, watch the rest of the movie.
Laurent's direction and the cinematography create a grimy, desperate world that is only ever fully out of the shadows during the moments Rocky and Roy take Tiffany to the beach. Otherwise, everything seems filtered through a dirty lens, which evokes the desperation both leads face in their lives – there's no clean way to escape the pain of the past. But despite this, they do carry on, finding hope in the face of despair.
Pizzollato's script (he took his name off it during production and only appears via the pseudonym) is a necessary truncation of his novel. More skillfully handled, that editing would feel less intrusive than it does. That's not to say the story is no good, just that certain scenes and plot elements flow less seamlessly than they could. We also know nothing of Roy's background, just that he's a hard as nails hatchet man who facing his mortality, realizes he needs to give something positive back to a life that has been one long, grinding haul.
As I said earlier, Galveston isn't a traditional crime story – there's shootings and death, but they aren't the beating heart of the movie. The ending certainly doesn't have the traditional heroic moment, but in a sense it does land on the central crime noir trope of the flawed hero, a man fighting against his bad instincts, and but never quite able to overcome them and win through to the end. Galveston's finale certainly wrenches the heart, and offers closure on two fronts, but it didn't for me quite land as it should. In a world where the hero always wins at the end, it is confronting to realize that not all movies follow that roadmap. Roy's story ends on an ambiguous note – the faint flicker of hope as a storm overwhelms him.
While the cinematography adds heft and atmosphere to the story, Marc Chouarain's music is a real treat, evocative of the Texan milieu without ever becoming intrusive. Add in Foster and Fanning's winning performances (Fanning's powerhouse performance as a damaged young woman utterly devoted to her daughter but held back by the choices others have made for her is particularly affecting and compelling) and Galveston, while not always hitting the right notes, is nonetheless a compelling, hard hitting and at times uncompromising look at damaged people battling a damaged world.
Director – Mélanie Laurent
Actors – Ben Foster, Elle Fanning, Lili Reinhart, Adepero Oduye, Robert Aramayo, Beau Bridges
Film Genre – Action
Label – 20th Century Fox
Audio – English (Dobly Digital 2.0)
Aspect ratio – 1.77:1
Region Coding – 4
TV Standard – PAL
Rating – MA15+
Consumer Advice – Strong violence
Year of Release – 2018
Primary Format – Movies/TV – DVD