Drama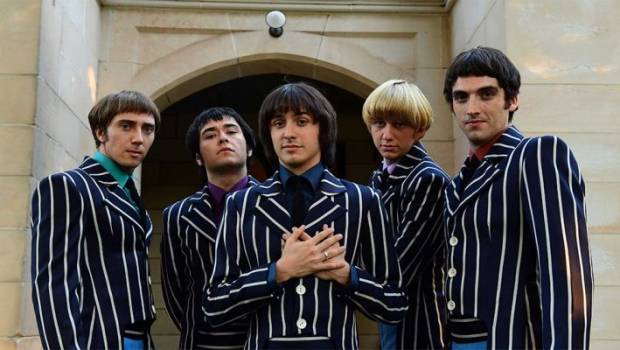 Published on February 5th, 2018 | by Natalie Salvo
Friday On My Mind DVD Review
Summary: This series is a vibrant bio-pic about an important Aussie rock 'n' roll group. The performances and design are fabulous and the killer music will always go around your head!
"Friday On My Mind" is a musical rags-to-riches story. It was originally a telemovie that aired on the ABC in 2017. It told the story of The Easybeats, a band of five guys who rose to prominence in Australia in the 1960s before taking on the world with a series of popular singles. Their biggest hit and the name of this program, "Friday On My Mind," was named the best Australian song of all time by APRA and it's a fitting way to sum up this fun and colourful biopic.
This film is directed by Matthew Saville ("Please Like Me," "Seven Types Of Ambiguity") and is written by Christopher Lee ("Howzat! Kerry Packer's War," "Paper Giants: The Birth of Cleo.") The story blends fact and fiction together and focuses on the five years that the group were active from their initial meeting at Villawood migrant hostel in 1964 through to their chart success, world tours and eventual break-up.
The casting of this series is top-notch. The actors bear physical resemblances to the characters they are portraying and their performances are convincing and spirited. Christian Byers ("Puberty Blues") stars as the charismatic and energetic Stevie Wright. The latter was the perfect front man and singer but he eventually found himself travelling along a hard road of drugs, parties and womanising. William Rush ("Coronation Street") plays George Young, the band's leader, a determined Scotsman, song-writer and the brother of Malcolm and Angus Young (of AC/DC fame.)
Mackenzie Fearnley plays Harry Vanda, George Young's eventual song-writing partner and a peace-keeping Dutchman. Fellow bandmate, Dick Diamonde (Du Toit Bredenkamp) was also born in the Netherlands and the series shows him reconciling the issues arising from his religious upbringing and his uptight mother with playing rock 'n' roll music. Arthur McBain plays Liverpudlian drummer, Snowy Fleet who has a young family alongside his important band commitments. Like in Anton Corbijn's film "Control," the actors here put in believable musical performances- so it should come as no surprise that these five actors are also trained musicians.
The series shows the group's formation and the disgusting racism that various members endured at the time. It follows their fledgling beginnings as the group, The Star Fighters through to the band's eventual name change and signing by Ted Albert (Ashley Zukerman.) This dramatic bio-pic also covers the recording of their albums, including their eventual work with Shel Talmy (there's even a great scene here where the legendary record producer describes his work with Pete Townshend on The Who's hit, "My Generation.") Just as the Beatles had Australian fans gripped by Beatlemania during the sixties, The Easybeats would sweep up their fans in Easy Fever. And it is easy to see why this took place because this series includes many of the group's greatest songs and their own original compositions, like "She's So Fine," "Wedding Ring," and "Land Of Make Believe," and these still sound fresh and exciting in 2018.
The DVD also features a number of interesting special features. These are featurettes that include interviews with the cast and crew (there are sadly no interviews with the surviving members of the band.) These features look at how the story was recreated, particularly making Sydney in 2017 appear like the swinging sixties as well as the music and choices that were made with respect to the casting. The series does feel quite authentic in terms of the design and wardrobe. But that said, you do have to wonder what liberties have been made with respect to the script (there is an inordinate number of dust-ups, fights and punch-ups here. It is almost comical how many there are!)
"Friday On My Mind" is a rollicking series that covers the wild rise of this important Australian rock 'n' roll group. From the unlikely meeting of five young men who overcame humble beginnings to write and produce their own enduring songs that still manage to delight to this very day. The story is a special one and "Friday On My Mind" certainly does it justice by taking in a lot of the events- from the bad and good times to everything in between. Lovely.
DVD Details
Film Genre – TV Drama
Label – Universal Sony Pictures P/l
Audio – English (Dolby Digital 2.0)
Running Time – 178
Aspect Ratio – 1.78:1
Region Coding – 4
TV Standard – PAL
Rating – M
Consumer Advice – Coarse language, Violence, Sex scenes and nudity
Year of Release – 2017
Primary Format – Movies/TV – DVD