Drama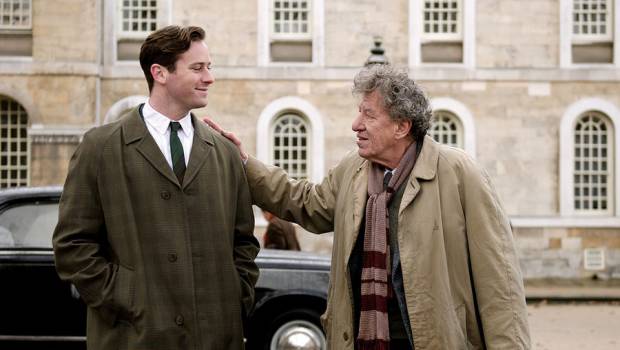 Published on March 30th, 2018 | by Natalie Salvo
Final Portrait DVD Review
Summary: "Final Portrait" is a visually sumptuous but thinly-veiled look at artistic endeavours. Geoffrey Rush's performance is top-notch but it isn't enough to redeem this meandering film.
"Final Portrait" is a bio-pic that would appeal to people who have always wanted to take a walk into an artist's studio. This is a quiet and understated story about a few short meetings that took place between renowned artist, Alberto Giacometti and his sitter, James Lord in 1964. The result is a thin tale and character study that is stretched out to feature length when it could probably have been told just as well in a short film.
This drama is directed by Stanley Tucci and is based on the biography written by James Lord, Giacometti's sitter. Here, the artist's subject is played by "Call Me By Your Name's" Armie Hammer. Lord is presented as a dapper, American gentlemen with a keen interest and enthusiasm for this complicated artist. The audience aren't offered much further information beyond that (although in truth, he was an acclaimed author of art biographies, including one he penned about Pablo Picasso.)
Geoffrey Rush stars as Giacometti. He bears a striking, visual resemblance to the Italian-Swiss artist and is captivating in the role, even if his accent is a little off at times. Rush plays Giacometti like one larger-than-life character, a creative curmudgeon and perfectionist who consistently labours over his work, often starting, scrapping and re-starting a portrait in order to delay disappointment and other negative emotions.
At the outset, Lord is told by Giacometti that sitting for a portrait will take hours or perhaps even two days. Instead, this exercise drags out for 18 days with poor Lord having to constantly delay his flight back to New York. Along the way there is a lot of discussion about art and various philosophising and navel-gazing thoughts shared by Giacometti with his disciple. Some of this can seem profound at times while at other moments these lines are throwaway and even verging on the ridiculous.
There is no denying that Giacometti's character is a complex one. He is the antithesis of Lord. Giacometti is a philandering and drunken womaniser who parades his prostitute mistress (Clémence Poésy) around his long-suffering wife (Sylvie Testud). It would be easy to write Giacometti off as a despicable character and to become as exasperated with him as Lord was during the sittings, but Rush does a stellar job of humanising him and playing up the charismatic aspects of this chaotic grump's personality.
This film is visually authentic. The costumes are perfect for the setting, Paris 1964. The grey hues employed by cinematographer, Danny Cohen bring out the subtle nuances of the proceedings, something that was probably the intention for the script, even if it doesn't necessarily pan out this way. The fact is this story fails to translate onto the screen because the premise was always too thin to start with in the very first place.
"Final Portrait" looks at the self-destructive qualities of artistry. For some viewers this will be an intriguing observation about the mysterious of art. But for the others who desire a meatier plot, then this will be much closer to the experience of watching paint dry, warts and all.
DVD Details
Director – Stanley Tucci
Actors – Armie Hammer, Geoffrey Rush, Tony Shalhoub, James Faulkner
Film Genre – Drama
Label – Universal Sony Pictures P/l
Audio – English (Dolby Digital 5.1)
Running Time – 86
Aspect Ratio – 2.40:1
Region Coding – 4
TV Standard – PAL
Rating – M
Consumer Advice – Mature themes, coarse language and nudity
Year of Release – 2017
Primary Format – Movies/TV – DVD