Crime & Thriller
Published on April 9th, 2014 | by Admin
Fat Tony & Co DVD Review
Summary: My only gripe with this TV series is that it does become a little bloated towards the end and I believe that 9 episodes was a little too long.
Fat Tony & Co
Format: DVD & Digital Ultraviolet (Also available on Blu-ray)
Genre: Crime Drama
Running Time: 380 Minutes
Rating: MA15+
Reviewer: Peter Bourke
Welcome to the next TV blockbuster with Fat Tony & Co that follows underworld kingpin Tony Mokbel (Robert Mammone) who led both the Melbourne and Federal Police of Australia on an 18-month manhunt across the globe. Fat Tony & Co is similar to the original Underbelly which followed the Melbourne Gangland War with Carl Williams (Gyton Grantley) and the infamous Moran family. Although some of the stories are retold again such as that of Carl Williams, Fat Tony & Co goes into more detail about what happened to these families such as the brutal death of Williams behind bars and death of crime matriarch Judy Moran (Debra Byrne).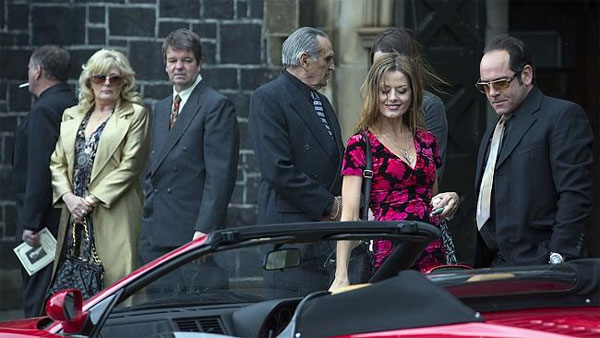 This 9-part series commences with a very wet behind the ears Tony Mokbel who has tentative links to the underworld. However when he realises that he can make more money making and selling drugs, his life dramatically changes, especially when be befriends serial killer Carl Williams. From here Mokbel is seduced by the underworld as he leaves his wife family for drug cook Danielle McGuire (Madeleine West) and establishes his own drug empire thanks to his own links. In a similar style to Underbelly, this world is glamourised and there's lots of nudity and sex!
Fortunately for Mokbel, the Melbourne Gangland War is at its peak, especially as Williams deals a huge blow to the Moran family. However as Mokbel becomes more embroiled in the drug world, he becomes a person of interest for not just the Victorian Police but also the Feds. As the money begins to flow, the police slowly put a noose around Mokbel that eventually leads Detective Jim Coghlan (Stephen Curry) and Jarred Ragg (Richard Cawthorne) to finally capture there man. Regrettably for them, the evidence is tentative at best which allows Mokbel to flee the country as an 18-month manhunt begins for his capture.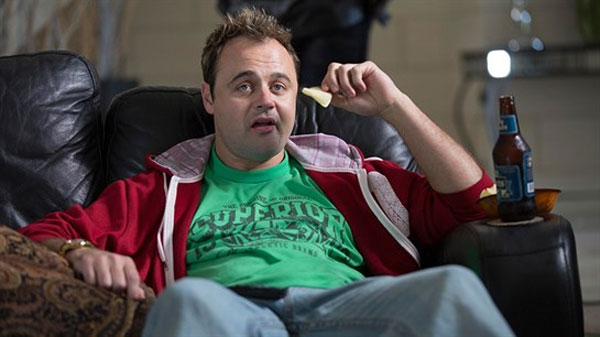 The star of Fat Tony & Co is Robert Mammone who successfully plays Tony Mokbel to the letter and even though he employs some artistic liberty, he creates a very likeable criminal. Joining Mammone is the excellent Gyton Grantley as Carl Williams who captures the mannerisms of this deceased criminal perfectly and seems to be having a fun playing this serial killer. With that said, there are a few clichés in Fat Tony & Co, especially with Shane Jacobson as Senior Detective Jim O'Brien who is as clichéd as they become and would not look out of place in a 1950's cop show. Former neighbours star Madeline West plays the loyal partner to Mokbel well and given the amount of money that he made, it's easy to see how greed destroyed everything they had. This "greed" is well represented by the actors themselves. It's quite an exceptional cast!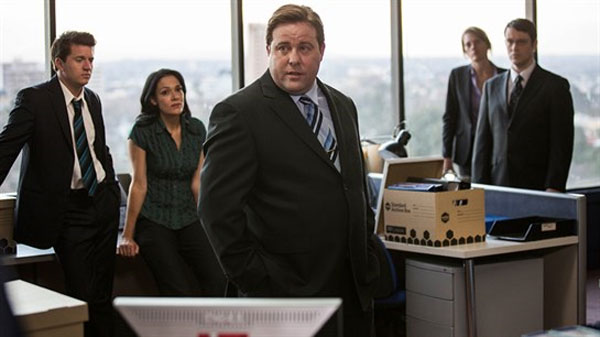 Final Thoughts?
Unlike the original TV airing, this release of Fat & Tony and Co features 25 minutes of deleted scenes that actually enhances the overall story of this infamous criminal. My only gripe with this TV series is that it does become a little bloated towards the end and I believe that 9 episodes was a little too long. Nonetheless if you enjoyed any of the Underbelly stories, you'll thoroughly enjoy Fat Tony & Co!
Recommended!