Drama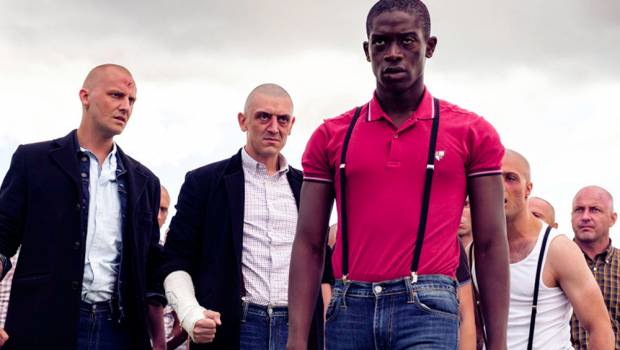 Published on March 25th, 2020 | by Natalie Salvo
Farming DVD Review
Summary: Farming is an important and violent film that tackles many issues. It proves that so many of these things are neither black nor white…
To say that Adewale Akinnuoye-Agbaje had a tumultuous childhood is an understatement. The British actor famous for performing in "Lost" was born in 1967 to Nigerian parents. Akinnuoye-Agbaje was one of many first generation kids to be subjected to the practice of farming. He was given up by his biological parents and fostered out to a white, working class family in Essex. This film is a brutal one that examines how one such individual struggles with his identity.
It is obvious that this film is very close to Akinnuoye-Agbaje's heart. In fact it's also possible that this means there is a lack of true objectivity here. While the story is at times very raw and visceral, this means it's often going for shock value rather than showing the subtle nuances in the characters.
In this piece, Eni is Akinnuoye-Agbaje. Eni is an artistic boy who is predominantly mute and shy. His steely, adopted mother (Kate Beckinsale who proves that she can act) seems at turns neglectful, manipulative and plain distracted by her huge brood of adopted kids. Eni is bullied at school and as a young boy he returns with his biological parents to Nigeria. This experience and one where he places talcum powder on his skin to try and whiten it are formative. But despite this, Eni sometimes seems rather enigmatic, because you don't always understand what his true drivers are.
Damson Idris is excellent as the teenage Eni insofar as he does his absolute best with the script he is given. It is heartbreaking to see this promising kid fall in with a group of white supremacists, lead by Levi (John Dagleish). Poor Eni thinks that by running with his tormenters, he will be protected, except he learns the truth the hard way. It's a long road out of these awful situations and Akinnuoye-Agbaje could probably fill several films with details of his extraordinary life.
Gugu Mbatha-Raw plays Eni's teacher, a character who has had her own issues with identity and place. It is obvious that this film tackles some challenging subjects and while it does a good job of this, there is always room for a little improvement. Some characters would have benefited from a little more backstory or focus so that the audience could truly empathise with them.
The music in this film feels authentic to the era. There is ska, reggae and punk music, with the latter helping create those feelings of rebellion and isolation that Eni feels. The music serves as a stark contrast to the harrowing brutality and the visuals that play out on the screen. You've been warned.
Final Thoughts?
"Farming" is an important and provocative film. While many of us are familiar with stories of people grappling with identity, it is not often that we hear black Englishmen and women's voices. "Farming" certainly serves as a searing indictment on tribalism and a harrowing look at one section of life on Maggie's Farm.
DVD Details
Directors Adewale Akinnuoye-Agbaje
Film Genre Drama
Label Madman Entertainment
Audio English (Dolby Digital 5.1)
Running Time 107
Aspect ratio 2.35:1
Region Coding 4
TV Standard PAL
Rating MA15+
Consumer Advice Strong themes, violence and coarse language
Year of Release 2019
Primary Format – Movies/TV DVD