TV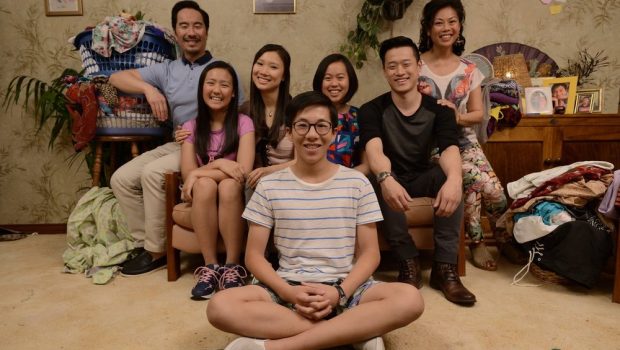 Published on July 24th, 2017 | by Natalie Salvo
The Family Law Season 2 DVD Review
Summary: Season two of "The Family Law" is another fun romp with our favourite group of Chinese-Australians. This dysfunctional family of eccentrics is one we call all laugh and relate to.
The Law family have returned bigger and brighter than ever. That dysfunctional band of Chinese-Australians based on writer, Benjamin Law's actual family and chronicled in his 2010 memoir of the same name are up to some of their usual hijinks. The second season of "The Family Law" picks up where the first one left off and explores some of the humour and heart in living in a large, post-nuclear family on Queensland's Sunshine Coast. It's a world where the days are warm and sunny and the characters revel in having a chuckle at themselves and at the expense of others.
Trystan Go once again plays the artistic and creative, Ben who is the family's nucleus. In this series he runs for school captain and plays crucial roles in keeping together a Chinese wedding and in the school's dramatic production of the Greek tragedy, "Medea." Ben also continues to have an interesting relationship with his mother, Jenny (the wonderful, Fiona Choi who often steals the show.) The latter is known for possessing no filter as well as a cheeky turn of phrase and a wicked sense of humour. These days Jenny is grappling with her identity post-divorce by unleashing her "inner goddess" and she also looks for work outside of the family home.
This series is one that is equal parts heart-warming and chaotic. Father Danny (Anthony Brandon Wong) has closed the family restaurant and opened an Asian grocery store. He has also started dating a new woman (Jing Xuan Chan) which causes some tension. The engaged Candy Law (Shuang Hu) and her beau Wayne (Sam Cotton) are gifted a home in Mount Isa by the latter's parents. This could be nice in theory except that it is very far away from the rest of the Law family. Ben's other siblings (played by George Zhao, Karina Lee and Vivian Wei) also deal with some other issues typical of adolescence.
The current series of "The Family Law" was written by Benjamin Law as well as Kirsty Fisher ("Dance Academy") and Lawrence Leung. It's one where some of the characters turn over a new leaf but also while doing many of the things we've come to know, love and expect. Danny and Jenny negotiate the world of co-parenting while their colourful children are growing up and finding their place in the family unit and beyond. It's a sweet thing to watch.
Season two of "The Family Law" is another enjoyable and sometimes outrageous ride with a loveable and large, modern Chinese-Australian family. It's a sweet dramedy showing the next chapters in the Law children's coming-of-age tale. It's ultimately a funny and highly relatable one that's just like laughing over a family photo album or watching old home movies for a night of misty-eyed giggles and nostalgia.
DVD Details
Film Genre – TV Comedy
Label – SBS
Audio – English (Dolby Digital 2.0)
Running Time – 150
Aspect Ratio – 1.78:1
Region Coding – 4
TV Standard – PAL
Rating – M
Consumer Advice – Mature themes, sexual references and coarse language
Year of Release – 2017
Primary Format – Movies/TV – DVD