Documentary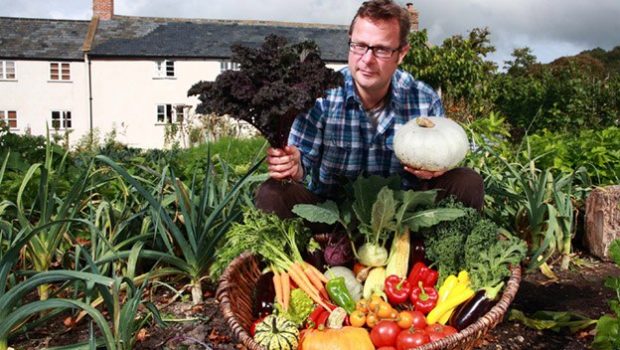 Published on July 14th, 2016 | by Natalie Salvo
The River Cottage Collection 3 DVD Review
Summary: "The River Cottage Collection 3" is another fine instalment about all things food and farming. Hosted by an enthusiastic presenter, these programs should get you thinking about what's on your plate.
Some people may be fans of "River Cottage Australia" set in Central Tilba in NSW. But what they may not know is that the man behind this fabulous idea is English celebrity chef, food writer and activist, Hugh Fearnley-Whittingstall. The latter has presented a number of different "River Cottage" specials in the UK. In Australia we are now lucky to have "The River Cottage Collection 3" available on DVD. This draws together the specials, "Three Go Mad," "To The Core" and "Scandimania."
This set is a rather eclectic one given that the three specials contain such different subjects. "Scandimania" is more of a travel program where Hugh visits Sweden, Denmark and Norway. "Three Go Mad" has very special guests from British television visiting the River Cottage farm in Dorset and cooking up a storm while "To The Core" is a cooking show that will challenge your thinking about fruit.
The Scandinavian special includes cooking as well as some history and stereotypes. In Sweden there is a rather indulgent section about Abba, a visit to the group's museum, some dreadful karaoke and an interview with Björn Ulvaeus. The Denmark instalment has an interview with Noma's René Redzepi plus segments about wind farming, European sperm banks and Danish pastries. The series concludes in Norway where Hugh interviews the Ylvis Brothers, visits a prison island and feasts on sea urchins.
Sometimes it's the guests that make the UK River Cottage such a fascinating show. This is particularly the case in the set's highlight, "Three Go Mad." This particular one was divided into three parts, one with actors like Felicity Kendal ("The Good Life") and Philip Glenister and Keeley Hawes (both of "Ashes to Ashes" fame.) The special on the comedians offers the most familiar faces with Robert Webb ("Peep Show,") Lee Mack ("Would I Lie To You?") and Ruby Wax. This program was all about getting celebrities as enthusiastic about working on the farm and cooking as Hugh and his team. This is particularly evident in the Christmas special where a scrooge-like Kathy Burke is won over by a salt crusted baked sea bass stuffed with fennel and bay leaves. Yum!
The final DVD is about all things fruit. In this series Hugh tries to change our way of thinking and get us to incorporate more fruit into our everyday cooking, including savoury dishes. While the thought of a sirloin steak with strawberries may not initially whet your appetite, the way the dish is finished makes it look scrumdiddlyumptious. This four-part set is designed for each of the seasons and offers some great tips and tricks. The only downside is that in some cases these fruits are native to the UK and are unlikely to be found in Australian supermarkets. But it's still good to learn about different flavours and textures.
"The River Cottage Collection 3" is another fine instalment about all things food and farming from the River Cottage crew. Hugh Fearnley-Whittingstall is a warm, engaging and enthusiastic presenter. His love of food is really obvious and infectious. These programs are all interesting and they should get you thinking differently about food and to step back and appreciate it in all its finery.
DVD Details
Actors – Hugh Fearnley-Whittingstal
Film Genre – TV Lifestyle
Label – Madman Entertainment
Audio – English (Dolby Digital 2.0)
Running Time – 455
Aspect Ratio – 1.78:1
Region Coding – 4
TV Standard – PAL
Rating – PG
Consumer Advice Line – Mild coarse language, Mild themes and a scene of animal slaughter
Year of Release – 2015
Primary Format – Movies/TV – DVD