TV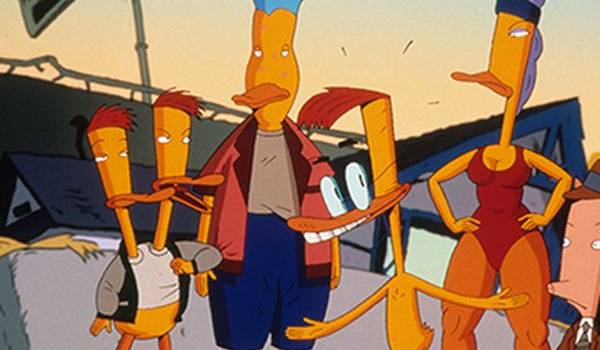 Published on March 30th, 2018 | by Natalie Salvo
Duckman – The Complete Series Seasons 1-4 DVD
Summary: "Duckman" is a cartoon series for adults and it isn't for the faint-hearted. This angry duck sure knows how to give things a good roasting!
"Duckman" is a cartoon schlub who isn't your average duck. Or man. He's a funny, angry and crude cat who is a single Dad and rubbish private investigator who is routinely saved by his loyal sidekick. Duckman is no superhero but he certainly has a smart and irreverent take on the world and walks to the beat of his own cantankerous drum.
This animated series is based on a comic originally created by Everett Peck. The show is a cartoon series designed specifically for adults and it is one that paved the way for the likes of "Family Guy" and "South Park." "Duckman's" plotlines and jokes seem to sit somewhere between "The Simpsons", "Ren & Stimpy" and "Seinfeld" because it satirises different social phenomena, it occasionally throws in some gross-out humour and it centres on some narcissistic personalities (oh, and let's not forget that Duckman is voiced by Jason Alexander who famously played George Costanza.)
Duckman is the head of a dysfunctional family. His wife Beatrice ("So I Married An Axe Murderer's" Nancy Travis) passes away after Duckman accidently kills her. This leaves Duckman to live with Beatrice's twin-sister Bernice (also voiced by Travis) who helps parent her brother-in-law's sons. Duckman's eldest child Ajax (Dweezil Zappa) is a loveable dimwit. The youngest boys are a pair of conjoined twins named Mambo (Elizabeth Daily) and Charles (Dana Hill and Pat Musick). They are also geniuses who often argue over intellectual topics. This is in complete contrast to Duckman's comatose mother-in-law whose only communication is via the odd bout of flatulence.
At work, Duckman's sidekick is the brilliantly gifted and talented Cornfed (Gregg Berger) who has more hidden talents then we've had hot dinners. It is Cornfed who solves the crimes and often the actual day. We aren't sure why but he is a loyal supporter of the shrill and terse Duckman. The office also plays host to two saccharine teddy bears named Fluffy and Uranus (both voiced by Pat Musick) who try to better everyone with their PC ramblings. But Duckman's response is usually to abuse or kill them but they keep on living just like Kenny on "South Park."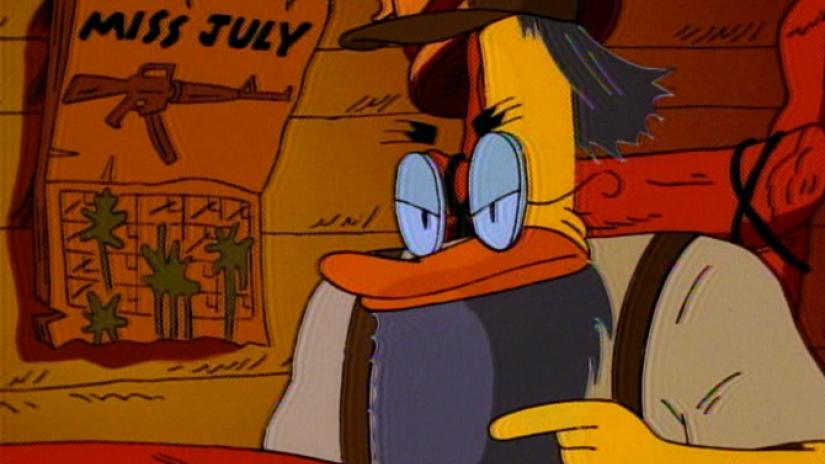 The animation for this series is produced by Klasky Csupo. It is full of bold colours and crude sketches. The video has not been restored for this DVD set combining all four series, which is a tad disappointing. It's not unwatchable, it's just a bit more rough and ready when compared to the sleek production values we see on the likes of today's episodes of "The Simpsons," "Family Guy," etc. Let's not forget that "Duckman" was made in the nineties and video has come a long way since then. What is top-notch however, are the cameos in this TV show, which include no less than: James Brown, Leonard Nimoy, Heather Locklear, Ice-T, Taj Mahal, Coolio, Margaret Cho, Jim Belushi, Dan Castellaneta, Flea from the Red Hot Chilli Peppers and more.
The jokes on "Duckman" are not for the faint-hearted. The titular character is one randy bird and he often makes quite sexist remarks. But what endears him is the fact that underneath that ranting, sarcastic, burnt-out anthropomorphic exterior is some real heart. This is certainly shown in the episode where Duckman falls in love with the emergency telephone line operator. No points for guessing that his heart is broken.
The special features on this ten-disc set are great. They include n audio commentary of the pilot episode, original promo slots, videos of some storyboards and original drawings and video of pencil tests showing characters walking and expressing different emotions. There are some featurettes containing interviews with the cast and crew and a simple interactive character study where people can read up on the character's history, likes and dislikes. This should come in useful as the series develops and becomes more self-referential.
"Duckman" won't save the day because he has enough trouble paying his cable bill but that doesn't mean he isn't one interesting character. Yes, he's an obnoxious, perverted and brusque guy at times but this is often what also makes him feel so real and authentic. We probably all know a Duckman or at least have seen some of his traits in the people we love and hate and that's the genius of it. "Duckman" is crude and lewd but at least you know that it's all in the spirit of fun and contributes to a cartoon that offers a good ol' roasting. And we don't mean roast duck!
DVD Details
Actors – Jason Alexander
Film Genre – TV Animation
Label – Via Vision Entertainment
Audio – English (Dolby Digital)
Running Time – 1575
Aspect Ratio – 1.33:1
Region Coding – 4
TV Standard – PAL