Documentary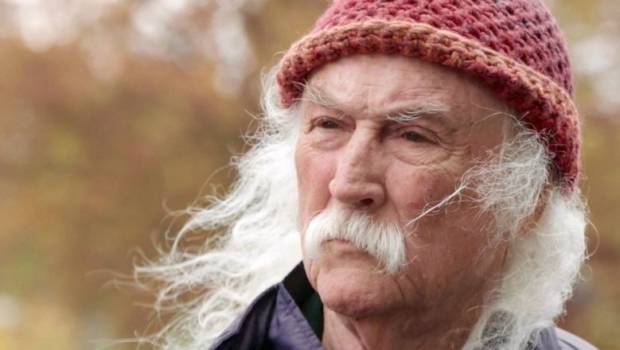 Published on September 27th, 2020 | by Natalie Salvo
David Crosby Remember My Name DVD Review
Summary: An engrossing documentary about the hippie rebel artist. You're in great company with such a witty and colourful subject and musician.
Some musicians belong on soap boxes because they're so witty and insightful. David Crosby is one such individual. In the documentary, "David Crosby- Remember My Name" he doesn't hold anything back while reminiscing about his long and storied career, warts and all.
The film is directed by A.J. Eaton and former Rolling Stone writer, Cameron Crowe acts as producer. Crowe actually gets some great, candid answers from Crosby. The pair have been life-long friends. It is so interesting to hear some audio from a 1974 interview used as a springboard to discuss some tough subjects. This means that the film does not devolve into hagiography territory and we learn about Crosby' former friends and bandmates through the great man himself.
This documentary showcases the many highlights in Crosby's career. He was a member of The Byrds until he was fired for being an asshole (at least by his own admission). Bandmates Roger McGuinn and Chris Hillman offer some interesting anecdotes about their time together.
From there, Crosby would form part of the folk super group, Crosby, Stills and Nash. They would enlist Neil Young and they had a string of hits including "Teach Your Children Well," "Ohio" and "Our House." The film travels to the locations that are important for the latter two songs. Crosby is enraged when he sees a photo of a state policeman with a gun because of those poor students having been murdered. Crosby's bandmates only appear via old soundbites and Stephen Stills does not appear in interview form at all. One wonders what they would have had to say if they were quizzed by the filmmakers.
Photographer Henry Diltz features and remembers shooting the group's debut album cover. Crosby's wife Jan Dance is also a touching interview subject. The filmmakers also look at Crosby's stormy relationship with Joni Mitchell, as well as his formative partnership with the late Christine Hinton. Crosby's children are not discussed save for a fleeting reference to his daughter Donovan whom he has lost contact with.
The soundtrack to this film is amazing and worth the price of admission alone. Crosby is in the middle of a career renaissance and his new material is good, although perhaps not a noteworthy as the classics he contributed to. Neil Young may have sung "Old Man" but this film shows that Crosby has become a true elder statesman of music. Fans will enjoy the extensive special features including: deleted scenes, extended interviews with Hillman and McGuinn, various trailers, and an interview with Crowe and Crosby at a film festival.
"Remember My Name" is a music documentary that will please new and long-time fans of Crosby and his offshoot bands. It strikes a chord thanks to many poignant moments, as well as those times where there is lightness, candour and humour. It shows such a depth of emotion that it really is such a satisfying watch about one of the counter-culture's finest.
Head over to the Via Vision Entertainment Facebook page for the latest releases, giveaways, great deals and more!
DVD Details
Film Genre Documentary
Audio English (Dolby Stereo)
Running Time 93
Aspect ratio 1.77:1
Region Coding 4
TV Standard PAL
Rating M
Consumer Advice Mature themes, drug references and coarse language
Year of Release 2019
Primary Format – Movies/TV DVD