Editor's Choice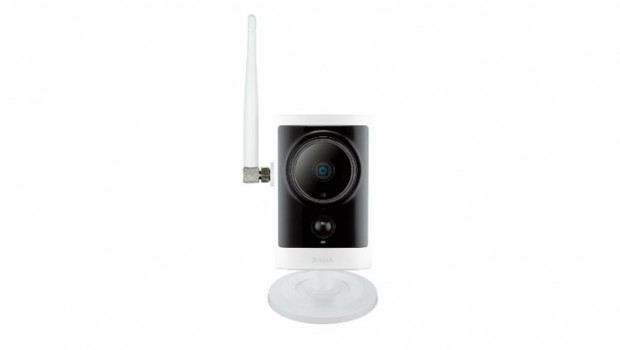 Published on October 27th, 2013 | by Admin
D-Link HD Outdoor Cloud Camera Review (DCS-2332L)
Summary: The main features of the camera is its HD capabilities, Wireless performance (802.11n), free cloud service and access from a variety of different formats plus its relatively easy of setup.
Product: D-Link HD Outdoor Cloud Camera
Model Number: DCS-2332L
The internet has truly transformed how mankind operates in this strange e-world, especially with the onset of social media and more importantly, the humble Smart Phone. And somewhere in-between, IP security cameras have evolved from the modest security camera that once required either tapes, video cassettes or a standalone computer to store recordings. This new technology even allows individuals to access their security cameras from around the globe.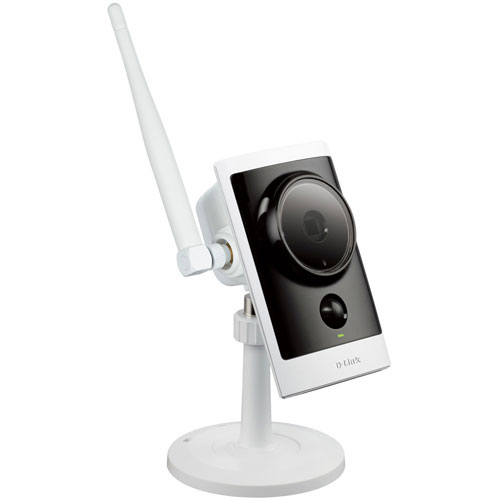 This is where D-Link's new HD Outdoor Cloud Camera (Model #DCS-2332L) comes into play which is an outdoor Wireless N Cloud Camera that supports 2-way audio, weatherproof casing, the ability to work in both day and night (5 metres in the dark) plus the ability to store images/video directly to a MicroSD card. Best of all, the product comes with the mydlink cloud services which does not require any complicated DNS servers and more importantly, it comes with a great app for either your Android or Apple device to access your security camera from anywhere in Australia or the world.
The first thing that you may notice about the camera is the high quality build of the unit itself, especially the main housing which is designed to run between -25 degrees to 45 degrees Celsius. Given the Australian climate, most users should have no issues with the temperature specifications, however during summer, some days may push the maximum temperature but this should be a moot point for the majority of users in our country. My only issue with the design of the camera is the removable rubber plug on the back of the unit which allows you to connect it to an Ethernet cable. It does feel a little flimsy but it should keep moisture out.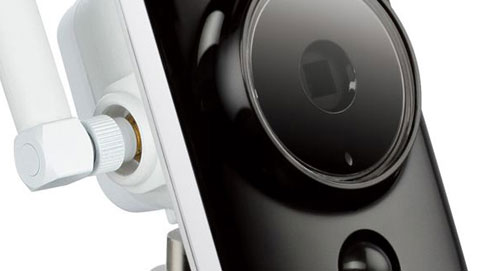 Installation
The installation process as with D-Link's other internet security cameras is extremely easy. The first step is to install the antenna onto the camera and then install the mounting arm and base. You can mount the camera on a variety of different surfaces such as bricks (or the mortar), wood or metal. However before getting to this stage, you first need to connect your camera to your PC in order to set it up with your wireless network.
If you own a compatible D-Link cloud router that is registered with mydlink, the installation is almost non-existent thanks to their zero configuration technology. This means that once the product is connected to your D-Link Router, it automatically configures the product to your network and will be available via mydlink.com which is where you can access your camera. It does require a few "human" interactions but it's very easy.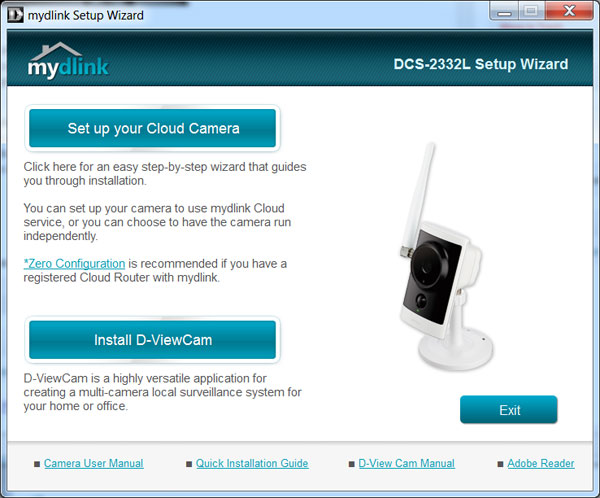 If you don't own a D-Link router, you can still install the camera via the included CD-ROM which is almost as easy. Before installing the software, you first need to remove the rubber plug on the back of the camera which gives you access to the Ethernet port. Once your network cable is installed, the next step is to turn on your camera and if all goes well (which it will), the green LED will be displayed.
The CD will give you two options, Set up your Cloud Camera (Step 1) or Install D-View Cam (step 2 and is not mandatory). For those non D-Link owners and as mentioned, the installation process is very straight forward and the wizard will assist in the procedure. We had one issue with the installation process (I didn't read something on the Wizard) and while on the line to D-Link Support which is 24×7, I managed to figure it out.
Once the installation was complete, I then installed the D-View Cam which is a PC based software package that allows you to save images and videos directly to your computer. With that said, you also have the option to save video and images directly to an SD card. Of course, where this camera does shine is via the mydlink cloud service which allows you to access the camera anywhere in the world via a PC or a Smart Phone.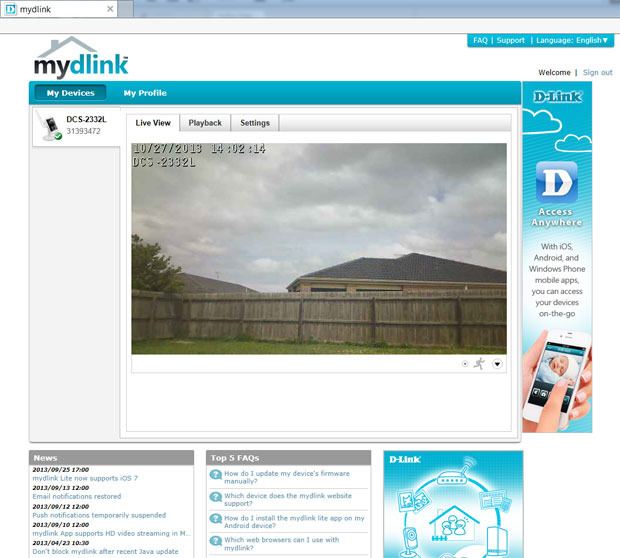 For those power users, the magic behind this camera is accessing it via the IP address which allows you to change all facets of this camera from network/wireless setup, Dynamic DNS, Image Setup (e.g. anti-flicker, mirror, sharpness), Audio/Video (e.g. aspect ratio, compression), Motion Detection to advanced settings. I'm a huge fan of advanced settings and D-Link ensure that most people can access this feature with no problems at all.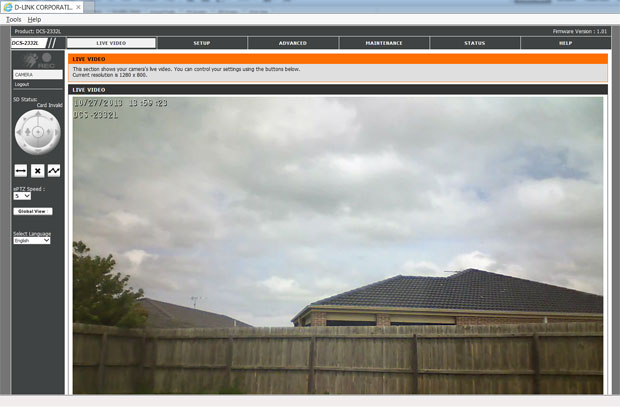 Whether you're accessing the camera via the IP address, mydlink or the D-View software, you can also record and take images via these aforementioned methods. Another highlight of the camera is that it supports 2-way audio so if you put this camera near your front door, you could speak with the person at the door. It's quite a clever little feature but I did fine a little bit of lag via wireless.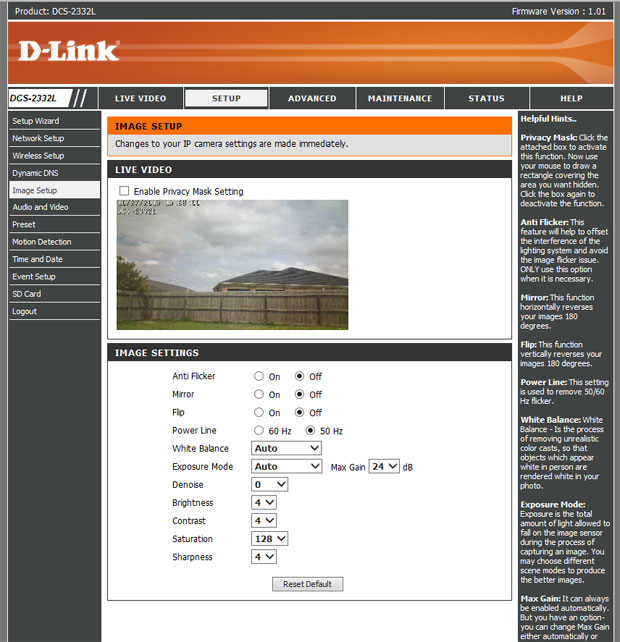 Image Quality
Both the image and video quality is quite impressive on this outdoor cloud camera and the HD resolution really makes a difference in terms of quality. Unlike cheaper cameras or those found on eBay, the quality is far superior and if something was to happen, the evidence produced by this camera would clearly show the perpetrators face or faces. At night, the camera can see up to 5 metres quite clearly and the videos (day/night) are quite clear. The camera even allows you to tweak the motion detection capabilities of the product, depending on your preferred sensitivity. It also sends an e-mail of the images or video to the user if something is detected.
Final Thoughts?
The D-Link HD Outdoor Cloud Camera (HD Wireless N Outdoor Cloud Camera – DCS-2332L) is a great camera that retails from around $250AUD (October 2013) online. The main features of the camera is its HD capabilities, Wireless performance (802.11n), free cloud service and access from a variety of different formats (e.g. PC, iPhone) plus its relatively easy setup. You do need some computer experience to successfully setup this camera but D-Link are there for support.
Add in 1-year warranty plus 24×7 support and this camera is definitely a must have for people or small businesses wanting to protect their properties. Best of all, it's quite small and doesn't stand out like traditional security cameras.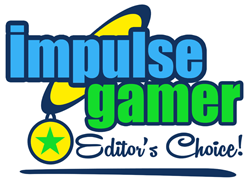 Overview
Security
Administrator and user group protection
Password authentication
HTTP and RTSP digest encryption
System Requirements for Web Interface
Browser: Internet Explorer, Mozilla Firefox, or Google Chrome
Event Management
Motion detection
Event notification and upload snapshots/video clipsvia email or FTP
Supports multiple SMTP and FTP servers
Multiple event notifications
Multiple recording methods for easy backup
Remote Management
Confiuration accessible via web browser
Take snapshots/video clips and save to local hard drive or NAS via web browser
Mobile Support
Windows 8®/ 7®/Vista®/XP® system, Pocket PC, or mobile phone
mydlink™ mobile app for iOS and Android mobile devices
D-ViewCam™ System Requirements
Operating System: Microsoft Windows 8/7/Vista/XP5
Web Browser: Internet Explorer 7 or higher
Protocol: Standard TCP/IP
D-ViewCam™ Software Functions
Remote management/control of up to 32 cameras
Viewing of up to 32 cameras on one screen
Supports all management functions in web interface
Scheduled motion triggered or manual recording options
Power
5 V DC, 1.2 A through external power adapter
External Power Adapter Input:100 to 240 V AC, 50/60 Hz
Max. Power Consumption
Operating Temperature
-13° to 113° F (-25° to 45° C)
Storage Temperature
-4° to 158° F (-20° to 70° C)
Operating Humidity
20% to 80% non-condensing
Storage Humidity
Certifications
FCC Class B
CE
CE LV D
C-Tick
Dimensions
2.6" x 5.53" x 3.66" (66mm x 140.5mm x 93mm)
Weight
Warranty