Documentary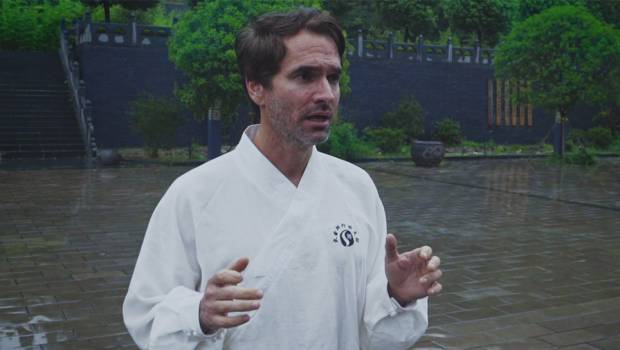 Published on July 31st, 2018 | by Natalie Salvo
Body Hack Version 2.0 DVD Review
Summary: Gruen's Todd Sampson continues to push the limits in the latest Body Hack. This documentary straddles the lines between good and bad taste plus the thoughtful and the extreme.
There is television that is the viewing equivalent of eating fairy floss. And then there's Todd Sampson. The "Gruen" panellist and adventurer has been pushing the limits of documentary filmmaking with his television programs, "Redesign My Brain" and "Body Hack." The latter is now in season two or version 2.0 and it is showing no signs of slowing down. This series continues in its quest to think outside the square, push the boundaries and highlight human potential and endeavour.
The idea of "Body Hack" is that Sampson travels the globe finding extreme concepts and places to explore. He applies a non-judgemental tone just like Louis Theroux and in doing so, presents an alternative world to the one that most of his viewers typically inhabit. The result is something that straddles the lines between good and bad taste, as well as that which is ultimately thought-provoking and extreme.
In 2.0 Sampson travels to six different countries. The most confronting episode is undoubtedly the first one where he chronicles the Sadhus of India. These are holy men who eschew modern trappings including clothes. They also test their faith by performing extraordinary undertakings that are called tapas. This was already quite challenging viewing in and of itself but the scene with the cannibalism was especially gross.
In other episodes Sampson witnesses the heroism and courage displayed by the Washington DC fire department and the incredible agility and strength of some kung fu masters-in-training in China. In Iraq, Sampson embeds himself with a group who are fighting against ISIS while in Mongolia he learns how to survive in sub-zero temperatures with Kazakh Eagle Hunters. He also cheats death after getting a taste for frog poison in the Amazon. As you do…
Sampson is a naturally charismatic and curious presenter. This means that he draws the viewer into these often strange and bizarre worlds. This series covers the whole spectrum of different emotions from tense moments of high drama through to comedic and throwaway pieces. It has been said that if something can make you laugh, cry and think then you're onto a winner and it's fair to say that this series ticks all of these boxes at least once.
"Body Hack" is not an easy watch but it is certainly a rewarding one. The show offers us a fly-on-the-wall view of some unique ideas and some relatively unknown things. It allows us to consider and marvel at what the human body is capable of. This is incredible stuff, even if the bravest thing you do is witness it from the comfort of your armchair.
DVD Details
Director – Jeff Siberry
Film genre – TV Documentary
Label – Umbrella Entertainment
Audio – English (Dolby Digital 2.0)
Running Time – 270
Aspect ratio – 1.78:1
Region Coding – 4
TV Standard – PAL
Rating – M
Consumer advice – Recommended for mature audiences
Year of Release – 2017
Primary Format – Movies/TV – DVD