IMAX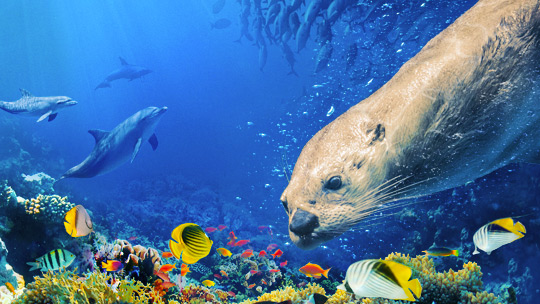 Published on March 26th, 2018 | by Admin
BBC Earth's OCEANS 3D: OUR BLUE PLANET opens at IMAX Melbourne this Easter
From the creators of hit television series' Blue Planet and Blue Planet 2 comes the breathtaking and fully immersive giant screen documentary
film OCEANS 3D: OUR BLUE PLANET, narrated by Kate Winslet.
"We're thrilled to be showing the giant screen adaptation of the incredible series' Blue Planet and Blue Planet 2. The experience is extraordinary in stunning IMAX 3D", says IMAX Melbourne General Manager Richard Morrison.
ABOUT THE FILM

BBC Earth's OCEANS 3D: OUR BLUE PLANET is an extraordinary journey of discovery and wonder, transporting audiences to the deep, mysterious worlds of Earth's oceans. Packed with drama, awe and spectacle, this immersive film reveals the untold stories of the ocean's most astonishing creatures.
Audiences will be taken on a global odyssey to discover the largest and least explored habitat on Earth. New ocean science and technology has allowed us to go further into the unknown than we ever thought possible.
Dolphins leap for joy through the waves as we begin our journey into the blue. Our first stop is the coral reefs, where we meet fascinating characters like the ingenious tusk fish that uses a tool to open its food. In the great forests of the sea, we find a cunning octopus who shields herself in an armoury of shells to hide from predators. As we journey through our oceans, we share these extraordinary discoveries and uncover a spectacular world of life beneath the waves.