Cosplay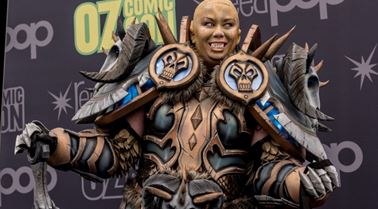 Published on April 20th, 2017 | by admin
Australia Competes for the Crown in the Worldwide Championships of Cosplay
Sydney-based cosplayer Henchwench, winner of the 2016 Australian Championships of Cosplay, is currently en route to the C2E2 Crown Championships of Cosplay in Chicago. While there, she will compete against some of the top cosplayers from across the globe in the quest to be crowned the ultimate international cosplay champ.
Henchwench (aka Clare, 32, from the Blue Mountains) was chosen as the Australian winner in the Oz Comic-Con Championships of Cosplay national finals last September. Over the past six months, she has painstakingly handcrafted each element of her costume, with the hundreds of hours of hard work culminating in her trip to Chicago this week.
Cosplay aficionados are encouraged to tune into the livestream to watch the C2E2 Crown Championships of Cosplay as they happen. The focus of the judges will be on the craftsmanship of the costume. The livestream can be viewed here or via https://www.twitch.tv/c2e2.
The C2E2 Crown Championships of Cosplay will occur on Saturday April 22 at 7PM Central time, which, for Australian fans, will be 10AM (AEST) on Sunday April 23.
Australians are widely recognised as being among the most skilled cosplayers in the world. The current international Crown Champion of Cosplay is another Australian – Major Sam from Brisbane – who won her crown in Chicago last year.
The Australian Championships of Cosplay will be held again at Oz Comic-Con throughout 2017, with state finals held at events in Perth, Adelaide, Melbourne July 1-2, Brisbane September 23-24, and Sydney September 30 – October 1.
For more information, please visit www.ozcomiccon.com.