Editor's Choice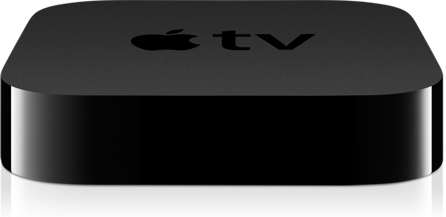 Published on September 30th, 2013 | by Admin
Apple TV Review
Summary: What are our complaints about the Apple TV? Nothing at all. It's fast, easy to setup and is a must have device for iOS owners!
For just $109AUD (September 2013), users can experience a whole world of internet content on their FULL HD TV's thanks to the Apple TV. Not only does it give 1080p HD but it gives you access to the latest blockbuster movies, trailers, sports, TV Shows and access to your photos (JPEG, GIF, TIFF) and videos on your iPhone, iPad or iPod via AirPlay. You can even connect your PC and Mac to it!
Given what Apple TV can do, the size of the unit is quite small and measures at 23mm (height) x 98mm (width) x 98mm (depth) and weighs in at 0.27kg. On the back of the unit, there is a power connection, Ethernet connection plus HDMI & Optical Audio inputs. There is also a micro USB port for service and support should something need to be addressed on the device.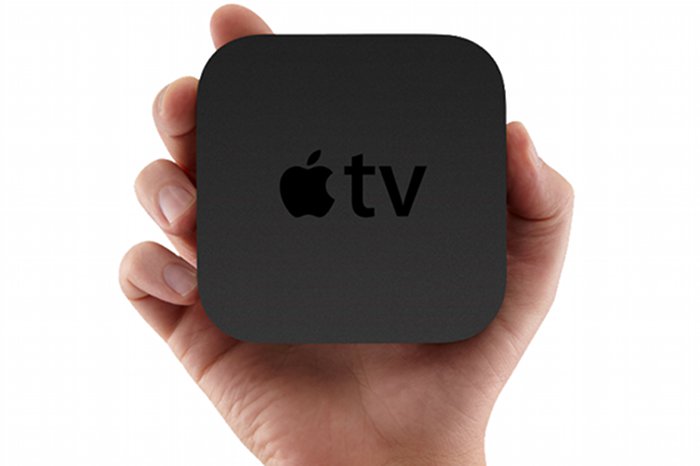 Box Contents
Apple TV
Apple Remote
Printed documentation
Power lead
Like all Apple products, installation is a very easy process and only requires a few steps to get Apple TV successfully running on your HD TV. The first step is to connect your Apple TV to your TV via a HDMI cable which is sold separately. Once connected to your TV, you then power up your Apple TV and complete the setup process. This setup process includes items such as language (e.g. English) and connecting the Apple TV to your wireless network. The onscreen prompts and the manual that comes with the Apple TV is quite straight forward so most users should have no issues whatsoever.
Requirements
HDMI cable
High-definition TV with HDMI and capable of 1080p or 720p
Wired or wireless network
iTunes Store account
Broadband Internet connection (fees may apply)
Navigating the Apple TV is done via the remote control (included) which can be a little frustrating when typing something on the device. However once you have familiarised yourself with the device, you should have no issues whatsoever. The remote is also a slim-line control with two buttons and a five way directional pad. You can even download an App for your iOS devices as well to control the Apple TV or even connect a Bluetooth keyboard. The only drawback with the remote is that I wish Apple included an easy way to put the Apple TV into sleep mode as you need to go to settings and force the unit into Sleep Mode.
Once your Apple TV is connected to your network, the main screen contains the following items;
Movies
TV Shows
Music
Computers
Settings
MLB.TV
NHL
Trailers
YouTube
Vimeo
Podcasts
Radio
Photo Stream
Flickr &
WSJ Live
In regards to a media device, Apple TV gives you the option of renting 1080p HD movies and TV shows from the iTunes store that is quite affordably priced. The device also supports online media as well such as YouTube, Vimeo, MLB.TV and NHL which gives the user thousands upon thousands of hours of additional content. In relation to MLB.TV and NHL, a subscription is required to access these services.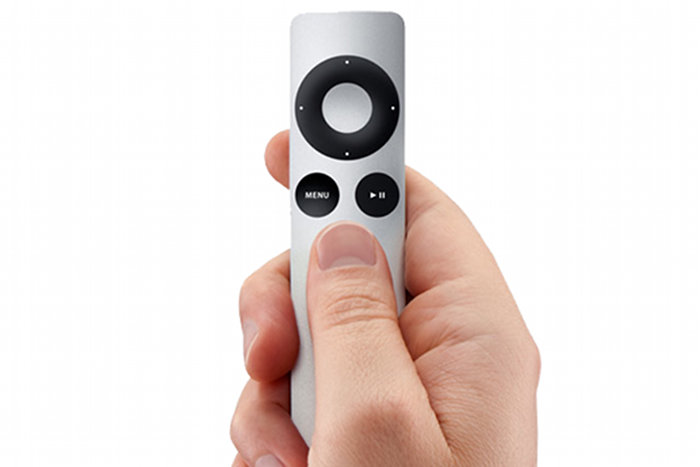 As noted, Apple TV does allow you to stream music to the device via your portable iOS devices or via your PC and Mac through the iTunes library. When streaming videos to Apple TV, most movies began to stream in around 10 or seconds but this is dependent on your internet speed and for those users on slower connections, the Apple TV does provide buffering. Video quality is also dependent on where you are sourcing the material from but via iTunes, the quality is exceptional at 1080p.
Under the hood of the Apple TV is an Apple single-core A5 chip with access to Wi-Fi (802.11a/b/g/n) plus a built-in IR receiver for the remote control. The unit itself supports a plethora of video and audio formats that include;
Video
H.264 video up to 1080p, 30  frames per second, High or Main Profile level 4.0 or lower, Baseline  profile level 3.0 or lower with AAC-LC audio up to 160 Kbps per channel,  48kHz, stereo audio in .m4v, .mp4 and .mov file formats
MPEG-4 video up to 2.5  Mbps, 640×480 pixels, 30 frames per second, Simple Profile with AAC-LC audio up to 160 Kbps, 48kHz, stereo audio in .m4v, .mp4 and .mov file  formats
Motion JPEG (M-JPEG) up to 35 Mbps, 1280×720 pixels, 30 frames per second, audio in ulaw, PCM stereo  audio in .avi file format
Audio
HE-AAC (V1), AAC (16 to 320 Kbps), protected AAC (from iTunes Store), MP3 (16 to 320 Kbps), MP3 VBR, Audible (formats 2, 3 and 4), Apple Lossless, AIFF and WAV; Dolby Digital 5.1 surround sound pass-through
Another awesome feature of the Apple TV is the inclusion of AirPlay which easily lets you wireless stream what's on your Apple device to your HDTV via Apple TV. This includes everything from photos, videos, YouTube and even games to your TV. Initially I had some issues with AirPlay as one of our iPhones (iPhone 5) automatically had AirPlay as a feature but the other iPhone 4S did not. A simple reboot of the iPhone 4S rectified this program. Another great aspect about AirPlay is the mirroring capabilities that allows you to stream anything that is on your device to the TV such as Safari or even games. However in order to use this feature, you need one of the following devices – iPhone 4S (or later), iPad 2 (or later), iPad mini or iPod  touch (5th generation).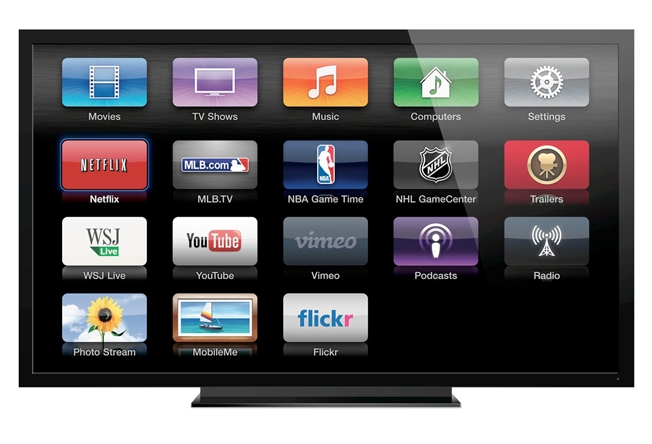 Final Thoughts?
If purchased now, users can experience 30 nights of free concerts thanks to the iTunes Festival which allows you to watch some of the world's biggest bands and singers perform live on stage. What are our complaints about the Apple TV? Nothing at all. It's fast, easy to setup and is a must have device for iOS owners!
Highly Recommended!
For more information or to buy, check out – http://store.apple.com/au/ipod/ipod-accessories/apple-tv