Drama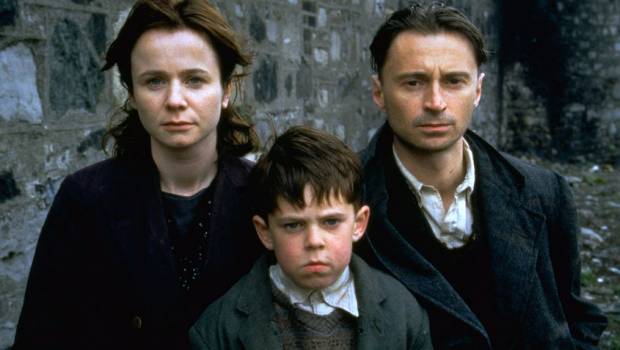 Published on July 5th, 2020 | by Natalie Salvo
Angela's Ashes DVD Review
Summary: This is a poetic story filled with heart, soul and universal themes. It is long but ultimately hopeful.
Irish writer, Frank McCourt grew up in the town of Limerick. It's interesting the link between those names, as Messer McCourt is handy with prose and verse. It is the lyrical quality of his writing that drives the book and film, "Angela's Ashes." This is realised through the poetic qualities of the narrator's voice and the wistful rendering of an impoverished childhood.
Alan Parker ("Evita") directs this film. It's a long and slow-burning one that is also brimming with nuances. It may have been a bleak, Irish-Catholic childhood but it has enough universal qualities to be emotionally engaging for all. The fact that witty gems are peppered amidst the depression and consumption makes for encouraging viewing.
McCourt is played by three actors at ages: five, 10 and 15. Joe Breen plays the young boy whose baby sister dies, making the family farewell America to return to their Irish roots. Ciaran Owens meanwhile, is Frank the bullied school-boy, picked on for his family's wretched financial situation.
The family patriarch, Malachy (an amiable, Robert Carlyle ("The Full Monty")) is from Northern Ireland. He endures racism when trying to find work to support his ever-growing family. Even when he does secure employment, his penchant for the drink means he soon loses it. McCourt has a complicated relationship with his father and he captures all the man's complexities and contradictions. Malanchy tells inspiring stories, broods while looking for work and is a drunk who wastes money on the bottle, rather than buying food for his kids.
By 15 McCourt is a young man determined to make his own way. It's here that the story takes on a rags-to-riches tone, as he starts making good; earning money and having his first pint. The atmosphere of the film feels authentic: the damp-stricken home feels so real it's like you're walking on that water-logged floor and smelling those emptied chamber pots. There are also lots of flat-grey tones used in the video.
If there is one character who is the beating heart of this film it's the eponymous Angela (the delightful Emily Watson). Angela is like a patron saint: patient with her husband even though she is also utterly frustrated. She is at turns maternal, wise and loving. She is the one that begs the local priest for food and keeps the family going.
The DVD contains a series of great special features. There is a featurette with a making of the film which features cast and crew interviews. There are commentaries by McCourt and Parker. Theatrical trailers of the film are also offered. Perhaps the most enlightening of the interviews is with Frank McCourt himself.
McCourt's Pulitzer-Prize winning autobiography receives a respectful rendering in this screen adaptation. His childhood was bleak and not for the faint-hearted but the story is ultimately brimming with lots of heart and soul. "Angela's Ashes" has great sadness and despair, but its appeal lies in the little rays of hope that can are found in this artfully-told tale.
Head over to the Via Vision Entertainment Facebook page for the latest releases, giveaways, great deals and more!
DVD Details
Directors Alan Parker
Actors Robert Carlyle, Emily Watson
Film Genre Drama
Label Via Vision
Audio English (Dolby Digital 5.1)
Running Time 145
Aspect ratio 1.85:1
Region Coding 4
TV Standard PAL
Rating M
Consumer Advice Adult themes, sexual references, low level coarse language
Year of Release 1999
Primary Format – Movies/TV DVD