Cosplay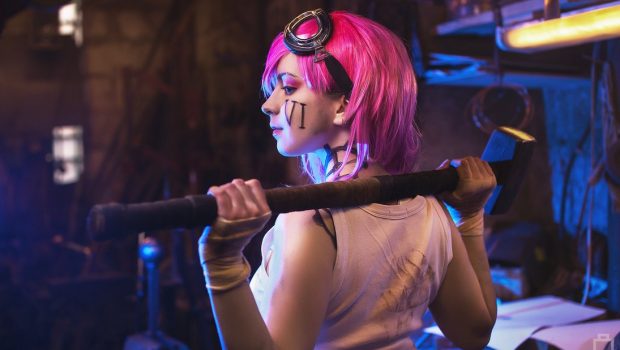 Published on January 17th, 2017 | by Admin
Alex Reiss Cosplay Interview
We catch-up with the amazing Alex Reiss, professional cosplayer, mistress of crafting and photographer!
Welcome to Impulse Gamer Alex! Tell us what made you want to cosplay?
Hello again! I wanted to cosplay since I was 14 when I first learned about such a hobby. I used to watch Anime a lot, the characters attracted me and I really wanted to be like them, you know, in a naive childish way. I was very happy to learn that there are people who make costumes and do stage performances based on their favourite series.
Who was the first character that you cosplayed and why did you choose them?
The first cosplay character was Kanda from D.Gray-man. I like cool dark characters with bad habits plus the uniforms in the Anime have always attracted me.
What made you want to cosplay the kiss between Tracer and Emily from Overwatch?
My girlfriend and I got very excited that Blizzard announced Tracer to be a lesbian. To my mind, that's a big step forward for LGBT-community, especially here in my country. I mean, the comic was not even posted on our servers due to our homophobic laws and it spread many discussions among fans. However, we felt very inspired and made the photoshoot right away.
Which cosplay character has been the most difficult to create?
The most difficult one was Kalista from League of Legends. It took me a year to create this cosplay plus I spent six months on various improvements for several competitions. At the same time it was the most fun to play, as no one could see my face behind the mask or read my emotions, so I could do all kinds of crazy stuff without people recognizing me.
Where do you get your inspirations from?
Right now I mostly get my inspirations from my friends and from feedback that I get online. Seeing positive comments makes me want to do more and more cool things!
Tell us about your amazing Fiora, The Grand Duelist cosplay and photoshoot?
Fiora was my cosplay for ComicCon Russia some years ago and Riot games even had their own gaming zone back then. We teamed up with other League cosplayers and made that day unforgettable :)
The photoshoot was held straight after the convention, we took photos in the forest during sunset. Thanks to Oksana's, my photographer's talent, the final pictures turned out awesome. It's one of my favourite photoshots till now.
How did you design the amazing Black Lotus cosplay?
Black Lotus was created for the Hinode festival in Moscow but it travelled a lot around Russia after that. It took me about six months to make it. The hardest part was creating right proportions and designing those super-high legs. But I think I managed that :D
Is it fun teaming up with other cosplayers like you did for the League of Legends photoshoot when you played Offer Vi with Lykanka as Caitlyn?
Cosplaying in a team is always fun! And a great way to make new acquaintances. Our team together with Lykanka did a great job back then. Not only did we create the costumes together, but also stayed as team during conventions. Officers are on the case!
What inspired you to play the Red Witch and tell us a little about the photoshoot?
I fancy the Guilty Gear series and always wanted to cosplay some character from the game. I-No was the choice. I suppose, her design won't leave anyone uninterested. Her photoshoot is my most recent work in process and I was not only the model but also the light operator and the editor. It's hard controlling all aspects of the photoshoot but at the same time it guarantees the best result!
Lastly who do you hope to cosplay in 2017?
It's a secret at the moment, but I promise, I won't disappoint you!
Alex Reiss Social Media
Facebook: www.facebook.com/alexreismontel
WorldCosplay: worldcosplay.net/member/40462
Instagram: instagram.com/alex_reismontel/
VK: vk.com/kanda_dream
Patreon: www.patreon.com/alex_reiss
Alex Reiss Cosplay Gallery