Documentary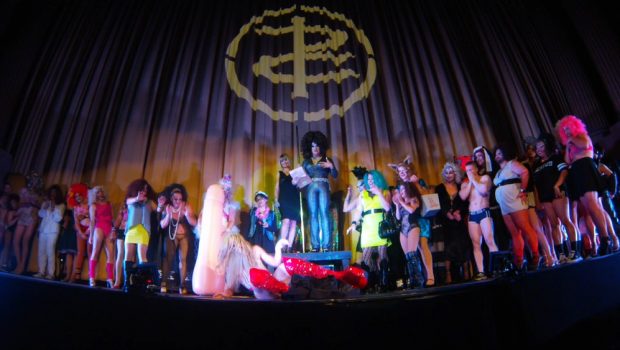 Published on October 4th, 2021 | by Tim Chuma
You Don't Nomi (2019) Review
Summary: The journey of a bomb from revilled to loved. Will not convince people who hate the movie to love it but at least explains how it got there.
4
Interesting perspective
I had been looking forward to seeing this one after hearing about the screenings of Showgirls overseas and the cult following the movie had gained over the years, leading to Elizabeth Berkley introducing a screening with 4000 people in 2015 and having her own comments about the movie.
This documentary covers the journey of the movie from a box office bomb to the cult classic it is regarded as today as it has been reclaimed by the LGBTIQA community and now means something different to them.
There are a lot of different voices in this documentary and it switches opinion so often that it sometimes becomes discordant. It generally does have the opinion that it is a flawed movie that had problems based on the director and the script and these should have been pointed out before it was made but they were not at the time due to the success of Basic Instinct and the studio was giving the director free run.
The whole retrospective of Paul Verhoeven seemed like it is meant for people who did not really know many of his movies other than the big Hollywood ones. It was good to see some of his very early movies at least.
While the director may claim that he meant Showgirls to be a satire, the documentary has a whole segment of the novelisation of the movie at the time from the director who had pitched it as a serious drama like Basic Instinct but upping the ante.
There seems to be a lot of time and effort spent trying to mount an argument that Showgirls should be considered as a classic alongside Valley of the Dolls and Mommy Dearest. If you are already a fan of those movies you might be convinced but if you don't like Showgirls no amount of comparing it to other movies will convince you.
I knew a little bit about the midnight screenings of this movie but not as much as they talked about here. Some of the drag shows look really fun and you can find highlights up on YouTube from time to time.
It is not all light and fluffy, there is a description of an actual sexual assault which seems to come out of nowhere towards the end of the documentary and it is not mentioned up front that it might be in the documentary.
It is great to have this documentary included on the Blu-ray for Showgirls as I would recommend watching it over the movie, even if you have to at least seen the movie once for it to make sense.
Well worth watching for fans of trash cinema and cult movies and if you want to find out why Showgirls is still being talked about all these years later.
Trailer:
Film details:
Director: Jeffrey McHale
Featuring: Toon Agterberg, Nancy Allen, Kevin Bacon, Matthew Baume, Jennifer Beals, Elizabeth Berkley, Ronnie Bierman, Jake Busey, Nicolas Cage, Glenn Close, Jeffery Conway, Ronny Cox, Joan Crawford, Robert Davi, Sylvia de Leur, Michael Douglas, George Dzundza, Joe Eszterhas, Gina Gershon, Joshua Grannell, Chelsea Handler, Tom Hanks, Neil Patrick Harris, Rutger Hauer, Rita Hayworth, Isabelle Huppert, Tonny Huurdeman, Michael Ironside, Lyndon B. Johnson, April Kidwell, Wayne Knight, Jeroen Krabbé, Kyle MacLachlan, Rue McClanahan, Dina Meyer, Haley Mlotek, Adam Nayman, Olivia Newton-John, Michael Nouri, Kevin Page, Barbara Parkins, Marguerite Pomerhn Derricks, Gina Ravera, Denise Richards, Al Ruscio, Piet Römer, David Schmader, Arnold Schwarzenegger, Jeffrey Sconce, Cybill Shepherd, William Shockley, Renée Soutendijk, Kevin Spacey, Maarten Spanjer, James Stewart, Mena Suvari, Jeanne Tripplehorn, Monique van de Ven, Casper Van Dien, Carice van Houten, Hans van Tongeren, Paul Verhoeven, Roger Ebert, Gene Siskel
Content advisory: Account of an actual sexual assault, violence, sex scenes, nudity
Genre: Documentary
Length: 92 min