Wii U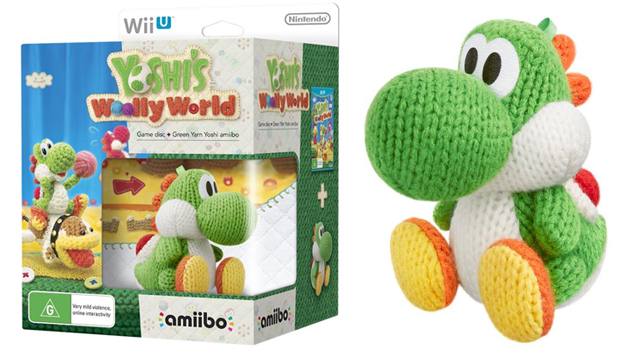 Published on July 5th, 2015 | by Admin
Yoshi's Woolly World Review
Summary: Yoshi's Woolly World is a superbly entertaining game on the Nintendo Wii U that ticks all the right boxes for fun gameplay!
Oh my god! Yoshi's Woolly World is one of the most enjoyable and at times frustrating games that I have played in 2015 that is oozing with Yoshi and "woolly" Nintendo goodness as players take on this material version of Yoshi! Sure, the game is extremely reminiscent of Mario with a touch of Donkey Kong Country from not just the gameplay, graphics and music but in this day and age of first person shooters, MMORPG's and racing titles, it's always nice to go back to a simpler time of gaming and Yoshi's Woolly World succeeds in delivering a fun, entertaining and enjoyable romp through this world of yarn with tweaked 21st century gameplay on the Wii U. The game also comes as a standalone title or with an included amiibo.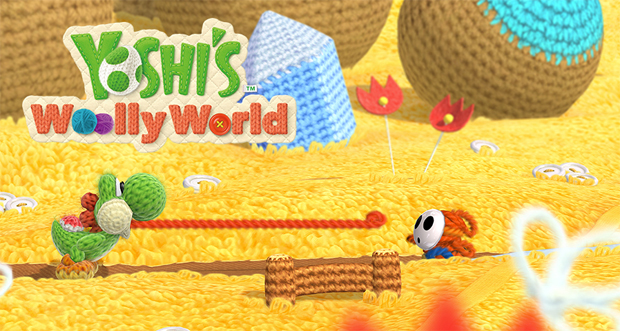 Key Features
Players tangle, pull and stitch yarn to explore Yoshi's world in creative new ways.
Yoshi has never been more adorable than as a toy knit from yarn. His entire environment is made from materials like felt, yarn, cloth and cotton, creating a gorgeous HD world that looks good enough to touch.
Instead of eggs, Yoshi tosses yarn balls at enemies. He can incapacitate a Piranha Plant by muzzling it with a piece of colored string. Or he can even use the yarn to knit together background elements.
Gobble friends and turn them into eggs. Then toss them into hard-to-reach heights and secret depths to discover in two-player cooperative play.
The game is co-developed by Good-Feel, the developer that created Kirby's Epic Yarn, and Nintendo Co., Ltd under the supervision of Takashi Tezuka, producer of Yoshi's Story and the Yoshi's Island series.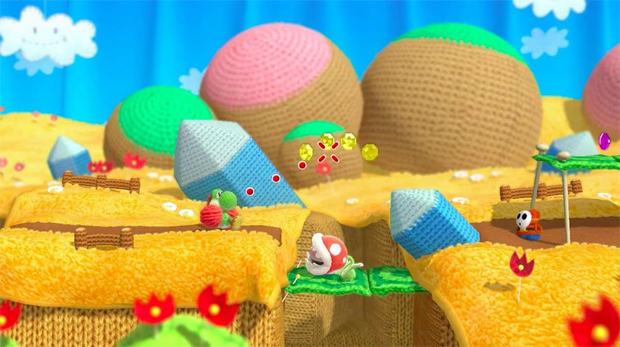 So at its core, the loveable green Yoshi has been transformed into a ball of yarn with all his woolly goodness as he moves from left to right through a classic platforming experience that is filled with many colours, cute characters and is like a sunshine explosion in a lolly shop or candy shop for our US readers. So if you are only slightly familiar with Yoshi, he is Mario's "sidekick" from the Super Mario franchise and just like Mario, he jumps, flies, collects power-ups and throws balls of yarns at his enemies, all while navigating this amazingly graphical world of coloured wool.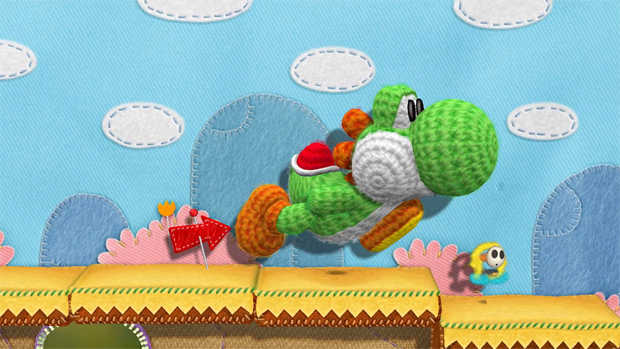 The story behind Yoshi's Woolly World is an all age's story which revolves the naughty Kamek stealing all of Yoshi's kin of Craft Island in order to make a ball of yarn. Your mission if you choose to accept it is to rescue all these colourful Yoshis, defeat the big bad and go head to head with the various enemies and bosses that you encounter in the game. As mentioned, you run, fly, hop, bounce and power-up your way to victory plus collect Power Badges to help you in your plight. Enemies are quite diverse as you throw balls of yarn at them and even digest them to be used as balls later down the track. Add in challenges and secrets and there's definitely plenty to be found in this game which gives the title some great replay value. In terms of worlds, there are a total of six different worlds to challenge the player.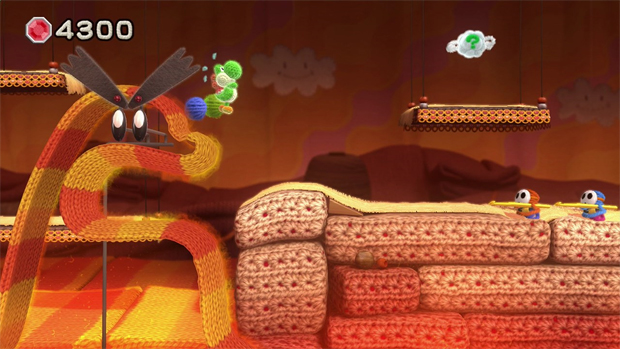 Apart from the standard platforming mechanics, Yoshi has the ability thanks to his woolly nature transform into a variety of useful objects like an umbrella and even a motorcycle to name a few of the items. I won't spoil some of the other fun transformers either and this really enhances the traditional platform experience by giving gamers some great twists to be found as you explore these colourful levels. Also, the game supports the excellent amiibo which really mixes up the gameplay by including all sorts of different characters. Furthermore, the "yarn" amiibo that comes with the game is brilliant and definitely makes a great addition to the series, especially collectors.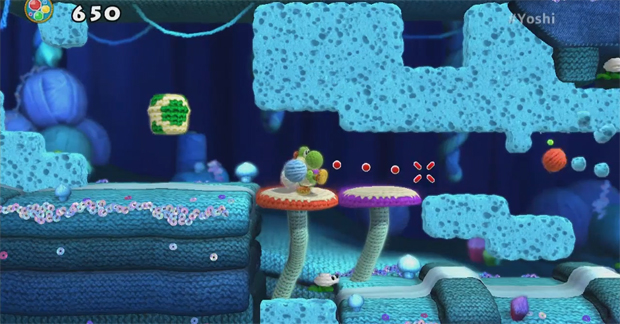 Controls work well on the Wii U and the game does a decent enough job to introduce new players to the control mechanisms but players familiar with any of the Mario games will easily be able to pick up the game and play straight away. However for me, my favourite control was the Wii Remote which gave the title that classic console feel, especially while doing flutter jumping. The game even boasts a great 2-player co-op component which is perfect on larger televisions and really concentrates on team-work. However when those power-ups appear, the game can become quite crazy because can also eat other players and turn them into wool balls which kept us in hysterics while testing out this mode. But in all seriousness, this is actually quite a useful feature with the gameplay. So while I've finished this game, I enjoyed 95% of the game but some of the stages did include some tough battles and puzzles that did result in some controller rage but for the most part, it's quite a fun experience.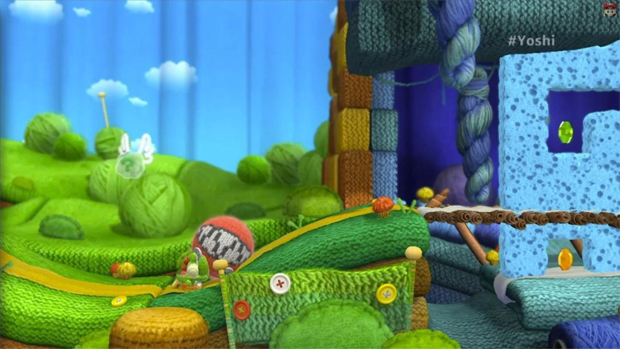 Graphics/Audio
Graphically, Yoshi's Woolly World looks amazing on the Nintendo Wii U, especially with its HD graphics and pops of colour throughout the gaming world. It's easily one of the most colourful games that I have ever seen and the protagonist of the game Yoshi looks thoroughly cute as this jumping little wool dinosaur. The backgrounds are quite dynamic as are the interactive creatures and puzzles that you encounter with quite a few different areas to help spice things up. In terms of frame-rate, Yoshi's Woolly World looks locked at 60 frames per second but every now and then, depending on what's happening in the game, this may slow down but overall, it's an admirable attempt by the developers.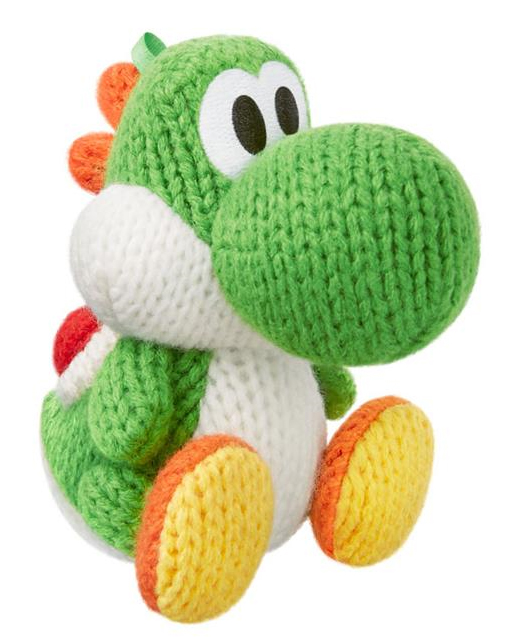 Final Thoughts?
In conclusion, Yoshi's Woolly World is a very entertaining platformer on the Nintendo Wii U which really gives the player or players some old school fun plus 21st century gaming mechanics. Not only does it look amazing on the Wii U but the soundtrack will have you humming the tune long after you have finished the game and even though it takes around 10 hours to complete, there's definitely a ton of replay value with all the extras in the game, not to mention the amiibo support.
Game Details
Primary Format – Games – Nintendo Wii U
Game Genre – Platform
Rating – G
Game Developer – Good-Feel
Game Publisher – Nintendo