Wii U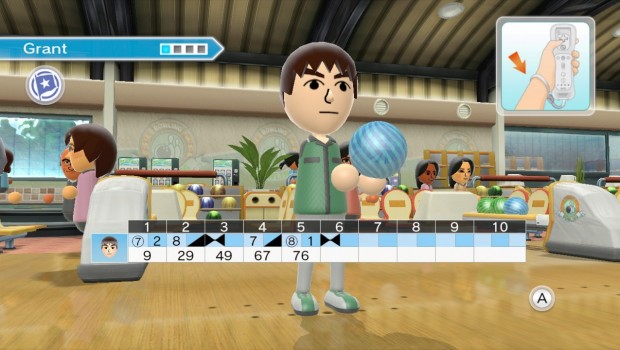 Published on November 8th, 2013 | by admin
Wii SPORTS CLUB LAUNCHES TODAY WITH TENNIS AND BOWLING PLUS FREE 24-HOUR TRIAL AVAILABLE
8th November 2013 – Begin your warm up routine in preparation for a new round of competitive action as Wii Sports Club – presenting remastered sports from the original Wii Sports – releases exclusively on Nintendo eShop[1] for Wii U today, 8th November, with the sports Tennis and Bowling available from launch[2]. With a new online multiplayer versus mode allowing you to join a club and challenge players from other countries[3], plus HD graphics and enhanced controls via Wii MotionPlus technology, which add an extra layer of precision to how you play, the competition is set to be more intense than ever before!
If you are a Wii U owner who downloads Wii Sports Club, you will get a trial pass that will let you play any available games for a 24-hour period from when the Wii Sports Club game is started for the first time. Once the trial period ends, you can purchase a Day Pass[4] on Nintendo eShop for AUD$2.60 (NZD$3.40) to play all available sports for a 24-hour period, or can buy permanent access to individual sports for AUD$13.00 (NZD$17.00) each.
In the new online multiplayer versus mode, you can choose to represent a particular geographic region or nation[5] via a club-based format, giving you the ability to compete casually with other local players in your club online, or even take on other clubs and help propel yours to the top of a ranking system. In short, the greater your personal win percentage against competitors from different clubs, the higher your club will rise up the rankings. Alternatively, you can view how your performances compare against other members of your club. For example in Bowling, if you find other club members have a higher average score per game, it might be time to perfect those 7-10 splits a little longer! When competing online, don't forget you can also interact with other players via Miiverse during a game, with the option to send pre-written short messages or posts to congratulate or commiserate with your opponent.
For those wanting to get a detailed low-down on Wii Sports Club, a new Iwata Asks interview reveals more details behind the making of the game, what to expect with the upcoming releases for Wii Sports Club – Golf, Baseball and Boxing, plus a video of Nintendo President Satoru Iwata playing Tennis with some of the game's developers!
[1] Depending on the Wii U hardware pack you own and your use of it, an additional storage device may be required to download this game from Nintendo eShop.
[2] Golf, Baseball and Boxing are scheduled to launch in the months ahead.
[3] Users can compete against other players from Australia, New Zealand, Europe, Russia and South Africa. When playing Tennis, in the interests of network performance players who choose Australia or New Zealand as their club will by default be matched against other players who have also chosen Australia or New Zealand as their club.
[4] Only one free Day Pass per Wii U console is available. The 24-hour trial period begins when the software is started for the first time. Internet connection is required during the play to use the Day Pass. The registration of Nintendo Network ID and acceptance of the Nintendo Network Agreement and Privacy Policy are required.
 [5] Nations such as Australia, New Zealand, Russia, Switzerland, Poland, Greece, Ireland, Czech Republic, Denmark, Finland, Luxembourg, Norway, Turkey, South Africa, Hungary and Romania are not split regionally.

Additional Links:
Wii U website – http://www.nintendo.com.au/wiiu
Nintendo AU on YouTube – http://www.youtube.com/nintendoau
Nintendo Australia Image Library – http://images.nintendo.com.au