Drama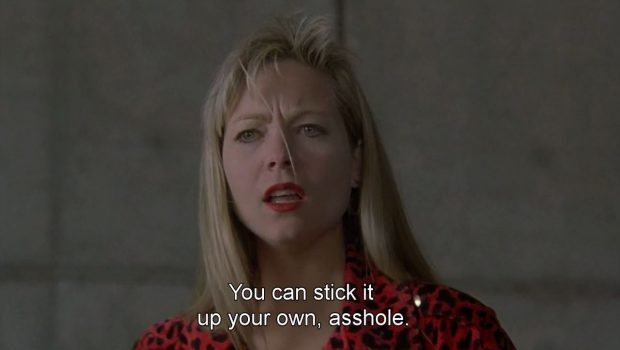 Published on September 6th, 2022 | by Tim Chuma
Whore (1991) Blu-ray Review
Summary: Still confronting after all these years even though it shows less than you can see in actual porn. A worthwhile watch especially with extra context from the special features.
I had vague memories of this on TV from quite a while ago and wanted to see how it held up after seeing some more of Ken Russel's movies including Altered States and Lisztomania but still not Tommy.
The story is presented in a semi-documentary format with Liz (Theresa Russell, no relation) on a slow night as a street based sex worker accounting details of her life as she tries to dodge her pimp who she has decided to sever ties to.
It was not well received at the time due to the name and content and even banned in Ireland. From the interviews on the Blu-ray and the featurette the original play it was based on were from stories from sex workers and the screenplay writer had interviewed sex workers for one of her own projects.
The director also wanted to make an anti-Pretty Woman as he felt that story glamourised the lifestyle too much and it was not really like that. They do show what is called survival sex work in this movie and have some discussion on legalisation.
While this movie seems to be the most restrained of Ken Russel's work it does still have the hallmarks of his work with the over the top characters and situations that happen in a lot of his movies. This seems to be his last full length cinema released movie as he was having trouble finding funds for distribution by this point of his career but was still making movies.
There are some new interviews filmed with Theresa Russell, Ginger Lynn, screenplay writer Deborah Dalton and  Bruce La Bruce another film maker who also shot a similar movie based on the street hustler scene. They are all very informative but I would watch them after watching the feature and not before like I did. The video essay by Kat Ellinger has more of the background of sex work and its portrayal in popular culture. There is the Whores of Yore account on Twitter if you want to get more into that also.
I did start watching it with the commentary with Alexandra Heller-Nicholas & Josh Nelson but decided I wanted to watch it in full first and will watch it with the comments later. It does seem very well informed and both of the commentators are published authors. I would also like to get a "I ❤ WHORE" t-shirt as they describe in the commentary.
As for the movie I remember feeling like it was a bit rough when I first saw it but it seemed to fly by this time, there are even those who think it ranks up there with movies such as Showgirls in the unintentional comedy stakes but there was always more behind this and it was not an attempt to retroactively call it a comedy by the director.
The rating is still justified even though it does not really have that much nudity or sex in it at all. It is more for "high impact adult themes" much like Dogs in Space is still rated R for "depicting a degenerate lifestyle" anything that tries to shine a light on the sex industry and show it as actual work is still not that popular.
Maybe don't watch this back to back with a movie about a tank where they drive the tank over people, for this movie you need time and space to process it. I am not sure it would be that good to watch with a group so it is more for "private study" as they say in the classics.
Movie details:
Director: Ken Russell
Writers: David Hines (play), Deborah Dalton & Ken Russell (screenplay)
Starring: Theresa Russell, Benjamin Mouton, Antonio Fargas, Elizabeth Morehead, Daniel Quinn, Sanjay Chandani, Jason Saucier, Michael Crabtree, Jered Barclay, Doug MacHugh, Amanda Goodwin, Frank Smith, Jason Kristofer, Robert O'Reilly, Ginger Lynn, Charles Macaulay, Jack Nance, Tom Villard, John Carlyle, Scott David-King, Alisa Christensen, John Diehl, Gail McMullen, Bob Prupas, Bobby Bruce, Danny Trejo, Daniel Beer, Stephanie Blake, Barbara Eaton, Blanche Sindelar, B.J. Ward, Sean Fitzpatrick, Lee Arenberg, Scott Harte, Barbara Mallory, Joy Baggish, Jak Castro, Ken Russell
Country: USA
Language: English
Genre: Drama
Length: 1hr 25min
Special Features and Technical Specs:
1080p High-definition presentation on Blu-ray
NEW Audio commentary by film critics Alexandra Heller-Nicholas & Josh Nelson
NEW Artist – interview with actress Theresa Russell
NEW Dignity – interview with actress Ginger Lynn
NEW Raw – interview with writer Deborah Dalton
NEW Provocateur – X-rated auteur Bruce La Bruce on Ken Russell's Whore
NEW Legitimate and Illegitimate Women in Ken Russell's Whore – video essay by author/critic Kat Ellinger
Theatrical Trailer
Original Aspect Ratio 1.85:1
Audio English LPCM 2.0 Stereo
Optional English HOH subtitles
Limited Edition slipcase on the first 1500 copies with unique artwork
Trailer