TV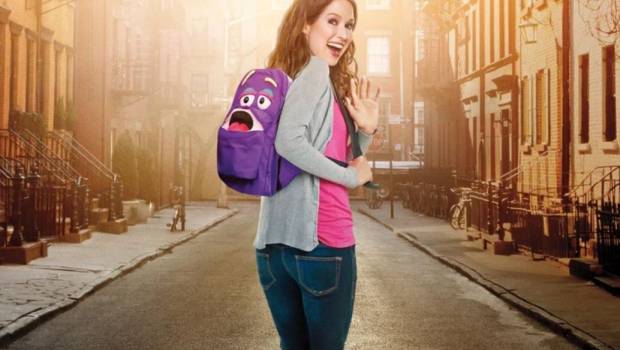 Published on January 6th, 2020 | by Scott De Lacy
Unbreakable Kimmy Schmidt – DVD Boxset review
Summary: A little bit silly, a little bit quirky, but a whole lot of funny!
The premise of this show can be taken right out of a true crime story; a priest lures four young girls into an underground bunker, promising to save them. Of course he does nothing of the sort, instead his intentions are less than honourable.
After 15 years underground, the women develop a close bond with each other and Stockholm syndrome is well and truly in place. However, don't be fooled, this is one very serious comedy, not at all a true crime depiction.
The girls go through their adolescence together underground in this bunker and in a comical way they emerge fully grown but naïve to the world, maintaining their child-like innocence. They are forever labelled as the "Indiana mole women".
The show focuses on Kimmy Schmidt (Ellie Kemper) and really takes off once the girls collectively emerge from the bunker in Episode 1. Kimmy decides to start her new life in New York City with her trusty, bright shinny kids' backpack and childlike exuberance. She does not let anything get her down, but rather smiles through all obstacles and pushes headlong into her perilless situations.
The first part of season one is very much the setup for the entire show. Kimmy gets out of the bunker; she travels to New York City, and meets her roommate Titus Andromedon (Tituss Burgess), and her eccentric land-lady Lillian Kaushtupper (Carol Cane). The dynamic is complete with the introduction of Kimmy's new boss Jacqueline Voorhees (Jane Krakowski).
The characters are expanded upon over the latter seasons and really emerge as fully developed and loveable characters that balance each other well. Every character has a significant 'buy-in', a personal story and personal attributes that everyone can relate to personally or identify with through a family member or friend.
Titus is larger than life and equally a triple threat as a talented actor, singer and dancer. His every interaction with the cast is a full performance, with dramatic highs and lows. This would perhaps otherwise be intolerable but the performance by the actor Tituss Burgess is exceedingly well balanced, nuanced and quite frankly amazing. There are moments where Burgess seems to be holding back and suppressing his natural singing talent for the sake of his character, but even so, the performance is indeed fabulous.
The interactions between the cast is endearing as the cast are well matched and the chemistry between them is present very early on. The show is full of extremely well written one liners, phrases and subtle, yet on point visual humour. For example, pay close attention during the first interactions between Kimmy and Jacqueline when Kimmy is offered a drink.
As Kimmy makes new connections both in life and with people, she relates the experience in the only way she knows how, her life to date in the bunker. This gives her a unique perspective and simplistic viewpoint towards problem solving. She has a moralistic value system that is non-jaded and deeply rooted in the ideals, very much so like a child. However, she brightens up the day of others with her unique approach and her strong values.
What makes these interactions work and so endearing, is that escape from the real-world as Kimmy's ideals and values become the reality; it is because of Kimmy and her experiences from being in a bunker, that allow for a better outcome in other people's lives. What makes it funny, is the combination of the one liners and the cut-away scenes to the bunker with the other mole women, and the insight and indeed the setup in what is about to come.
It's very little wonder why this show is so good, it was created by Tina Fey and and Robert Carlock, it is very well written, has a great cast with great chemistry, and the show just takes the proverbial piss out of everything!
One of the best parts of this show is the indelible theme song. It will get stuck in your brain and just make you smile every time you hear it. One of the best introductions to a show, and perfect integration of a theme song I personally have ever seen.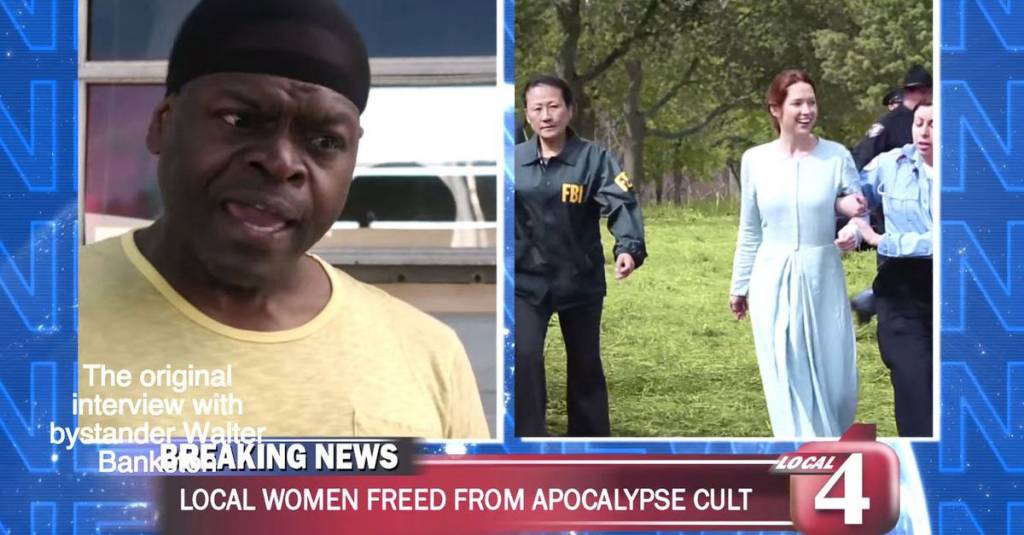 This show and cast and creators has been nominated for 18 primetime Emmy awards, 17 wins and 68 other nominations according to IMDB. The scores on Rotten Tomatoes are also outstanding.
The runtime for the episodes is around 22 minutes, which is the perfect amount of time. Each part of the show has a purpose and does not have wasteful moments of pointless dialog. It makes the show equally binge worthy and perfect for short sessions.
The DVD's contain some previews for other titles such as 30 Rock, but there does not seem to be any behind the scenes goodness or other special features.
There are English subtitles though, and they are done well, very readable and offset when there is writing at the bottom of the screen, such as scenes where it's a news cast. It also includes audio description too. There is are characters that speaks Spanish and the subtitles may not give you a translation, but instead provides "[SPEAKS SPANISH]", but it's okay, for the most part you won't get lost, the responses are often implied, however there are normal Spanish translations that are part of show when required.
This is a great series!
Head over to the Via Vision Entertainment Facebook page for the latest releases, giveaways, great deals and more!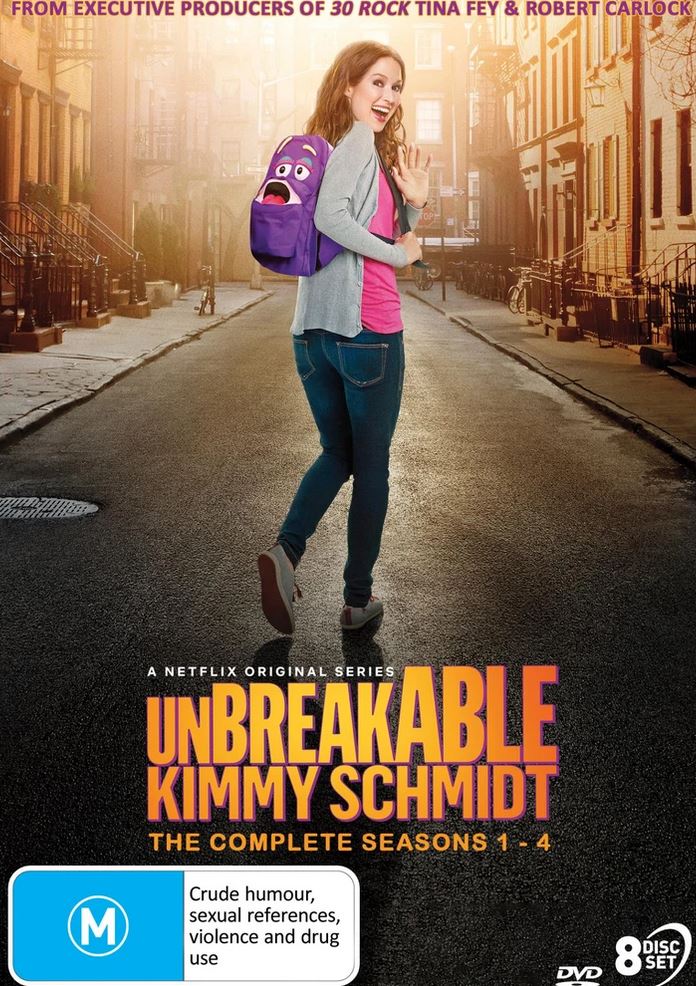 DVD Details
| | |
| --- | --- |
| Actors | Ellie Kemper, Tituss Burgess, Jane Krakowski |
| Film Genre | TV Comedy |
| Label | Via Vision |
| Audio | English (Dolby Digital 2.0) |
| Running Time | 1418 |
| Aspect ratio | 1.78:1 |
| Region Coding | 4 |
| TV Standard | PAL |
| Rating | M |
| Consumer Advice | Crude humour, sexual references, violence and drug use |
| Year of Release | 2015 |
| Primary Format – Movies/TV | DVD |