Drama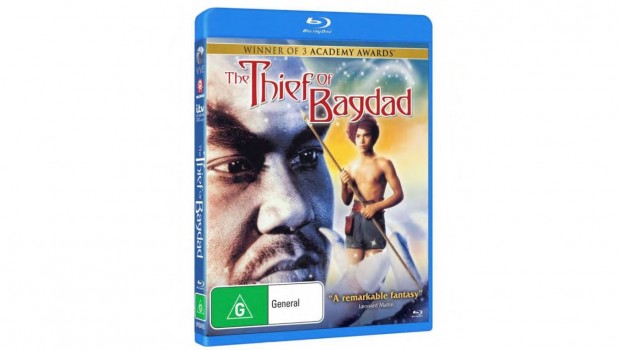 Published on April 22nd, 2015 | by admin
The World-Wide Home Video Premiere of The Great Gatsby (1949) DVD and the first time Australian Blu-Ray release of The Thief of Bagdad out May 6
Wednesday, April 22, 2015 – Via Vision Entertainment is pleased to release two classics of the American cinema. Michael Powell's Thief of Bagdad (Blu-Ray) and The Great Gatsby featuring Alan Ladd (DVD) are out for the first time on May 6.
F. Scott Fitzgerald's much lauded American classic The Great Gatsby has made it to the silver screen on several occasions. It's been given the lavish treatment by Baz Luhrmann and the lyrical with a 1970s Francis Ford Coppola adaptation starring Robert Redford and Mia Farrow. Elliott Nugent's 1949 version, however, perhaps remains the quintessential retelling of the jazz age literary masterpiece.
With its striking photography and film noir approach The Great Gatsby is a potent dramatisation of paradise lost during prohibition. Ramping up the mystery elements, the movie charts the rise and fall of the enigmatic Gatsby (Ladd) from poor fisherman to extravagant millionaire set against the sordid world of bootlegging.
This Paramount Pictures classic tale of love and betrayal in stylised art deco features Barry Sullivan, Betty Field, Shelley Winters, Elisha Cook Jnr and the Jimmy Dorsey Big band. This lovingly restored classic has resurfaced when the master (thought lost for decades) was discovered in 2012. This is the first time this classic has been released on Home Video anywhere in the world.
The three-time Academy Award winning The Thief of Bagdad, a tonic for audiences during the bleak war years, retells with imaginative charm and technical virtuosity a tale from One Thousand and One
Arabian Nights with a love story and daring heist thrown in for good measure. Indian star Sabu, is Abu, the cunning little thief who forms a friendship with fallen Prince Ahman when the two are thrown into the same prison cell. They must escape and expose the tyrannical Jaffar whose corruption threatens to ruin the kingdom.
In bold three-strip Technicolor, with memorable costumes and a dynamic Miklos Rosa score, The Thief of Bagdad moves from one dazzling special effects sequence to another. There's the Sultan's mechanical toy collection; the flying horse; the storm at sea; the goddess with six arms; the towering genie unleashed from a bottle; the assault on the temple with the All-Seeing Eye; the climb up a mountainous statue; the battle with the gigantic spider; and the unforgettable flying carpet. Alexander Korda's production springs to life like an illustrated book come to life
"The film was a breakthrough in technique and vision, influential in shaping the entire genre," noted Roger Ebert. "There are few effects in Star Wars that cannot be found in Thief."
Specs:
Thief of Bagdad
Director: Michael Powell
Starring: Sabu, Conrad Veidt, Alexander Korda
SRP: $19.95
Formats: Blu-ray, DVD
Duration: 140
Rating: G
The Great Gatsby
Director: Elliott Nugent
Starring: Alan Ladd, Betty Field, Shelley Winters
SRP: $24.95
Formats: DVD
Duration: 91
Rating: G