TV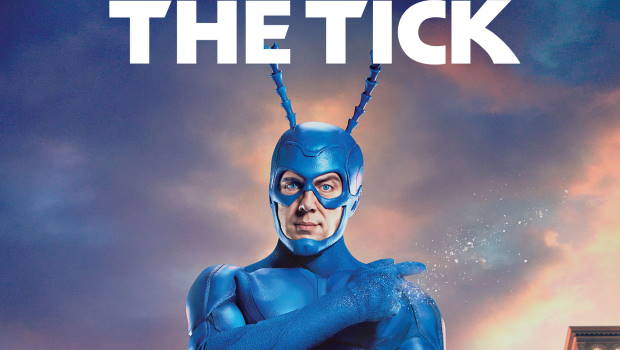 Published on March 31st, 2020 | by Chris O'Connor
The Tick: The Complete Series DVD Review
Summary: The Tick returns to our screens to battle the bizarre collection of nefarious ne'er-do-wells.
When I saw The Tick was available for review I jumped at the chance. I was a big fan of the cartoon series, I've read a few of the comics and though I missed the live action version when it came out I was keen to see how it translated. Then I found out it wasn't the live action version I thought it was but a more recent version and to be honest I was kind of glad (I feel like I've had about enough of Patrick Warburton playing… Patrick Warburton, fun fact… he is still involved in this production, as a producer). So this was a fresh start for our blue hero and his mealy side kick. This time around playing The Tick is Peter Serafinowicz (well known to English audiences)… but what of the show itself.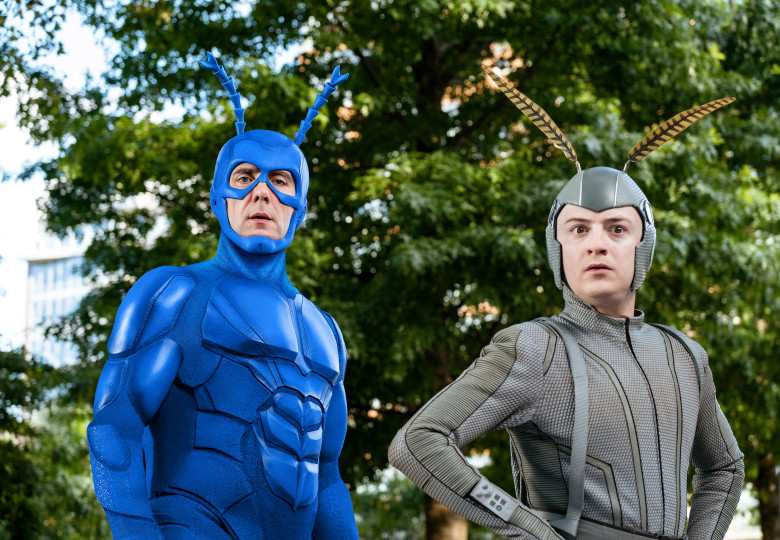 I will be blunt, it took me two or three episodes to get into the series, part of that I think is due to the fact that those first few episodes are very deeply invested in Arthur and his story, which sure, he's the Tick's sidekick but he just doesn't seem overly compelling in those first episodes. Even when the Tick first shows up… the show does seem to drag. It's not until we start getting some extra characters that it begins to find it's legs, more characters means more interactions and more opportunities for crazy dialogue which is really at the heart of what makes The Tick (well other than the over the top ludicrous characters).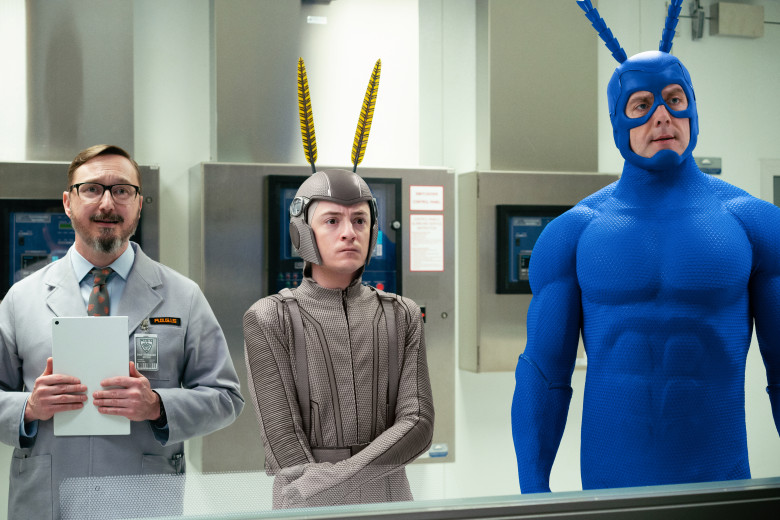 Visually it's reasonably impressive for something that I would assume is low to medium budget (for a TV series), the special effects are nothing to write home about but they aren't terrible. What is worth noting is The Tick's antennae! Whoever designed and built those deserves a good pat on the back… they add so much to the character! The soundscape is also quite fine and for the format does a decent job of surround usage (again nothing amazing… but enough to show it's not just relying on the front two channels for everything).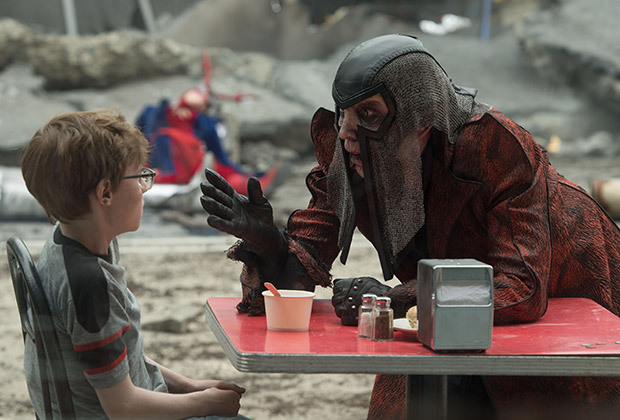 Overall I can see why the show wasn't continued, I think the problem may lie in how the show presents itself… it's almost like it doesn't know how over the top silly to go, they seem to somewhat hedge their bets and play it a little serious or at times perhaps they don't play it serious enough. Either way there is an issue with how the series takes itself and it's not quite there. I wasn't too sure about Peter Serafinowicz Tick to start with… but it turned out that was mostly due to him not having enough lines… once he got more dialogue I think he nailed the big guy!
This is a tough one to recommend. The Tick is somewhat a Cult title to start with so I wouldn't feel right recommending it to a general public (maybe see if you can watch some episodes of the cartoon first or grab some of the comics and see if that style is for you). If you are a fan… there are elements that appeal… but you will most likely be left wondering where some of your favourite characters are and though it does get a mention… Tick's catchphrase of Spoon is very underused. Maybe give it a miss unless you are a hardcore fan and just have to complete your set.
Head over to the Via Vision Entertainment Facebook page for the latest releases, giveaways, great deals and more!
DVD Details
Actors Peter Serafinowicz, Griffin Newman, Alan Tudyk, Jackie Earle Haley, Valorie Curry, Yara Martinez
Film Genre TV Comedy
Label Via Vision
Audio English (Dolby Digital 5.1)
Running Time 550 minutes
Aspect ratio 1.77:1
Region Coding 4
TV Standard PAL
Rating MA15+
Consumer Advice Strong violence
Year of Release 2016
Primary Format – Movies/TV DVD