Drama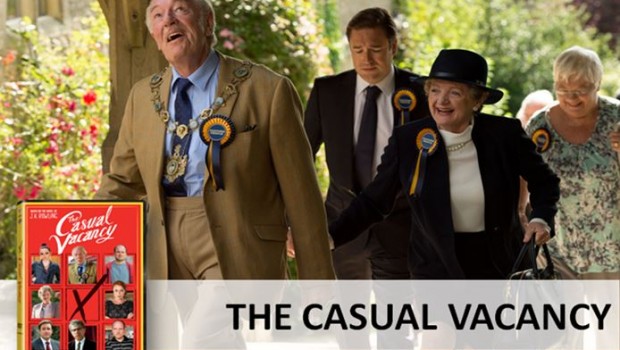 Published on June 2nd, 2015 | by admin
The Casual Vacancy coming soon to DVD
J.K. Rowling, HBO and the BBC combine to produce The Casual Vacancy, a dark and dramatic, three-part mini-series starring Sir Michael Gambon, Julia McKenzie, Keeley Hawes and Rory Kinnear and based on the novel by J.K. Rowling. The Casual Vacancy is available on DVD (SRP $29.95) from July 8th.
Pagford is a quaint, picturesque town in the Cotswolds, a seemingly idyllic English village with a cobbled market square and ancient abbey. Behind the pretty façade, however, is a town at war: rich vs. poor; parents vs. children; wives vs. husbands; and teachers vs. pupils.
As Pagford Parish Council prepares for a vote on what will become of Sweetlove House – a town institution and community centre serving poorer residents – chairman Howard Mollison (Michael Gambon) and his wife, Shirley (Julie McKenzie), who want to turn it into a tourist-destination spa, look to neutralize the threat of everyman council member Barry (Rory Kinnear), a solicitor and defender of the current Sweetlove House mission. When Barry's sudden death leaves a "casual vacancy" on the council, the race to fill his seat, and determine the fate of Sweetlove, stirs up drama among residents.
While Howard and Shirley push their submissive son, Miles (Rufus Jones), to run for election, Barry's friend and doctor, Parminder (Lolita Chakrabarti), rallies behind reluctant school headmaster Colin (Simon McBurney), while Barry's bullying half-brother, Simon (Richard Glover), looks to capitalize on the family tragedy.
Elsewhere, Terri (Keeley Forsyth), Barry's former neighbour and a struggling meth addict, finds it hard to stay clean, while her troubled daughter, Krystal (Abigail Lawrie), takes drastic measures to help. Later, Simon's teenage son, Andrew, aka Arf (Joe Hurst), looks to expose the hypocrisy in Pagford by bringing his Uncle Barry back from the dead.         
The Casual Vacancy will be available on DVD (SRP $29.95) from July 8th.