Lifestyle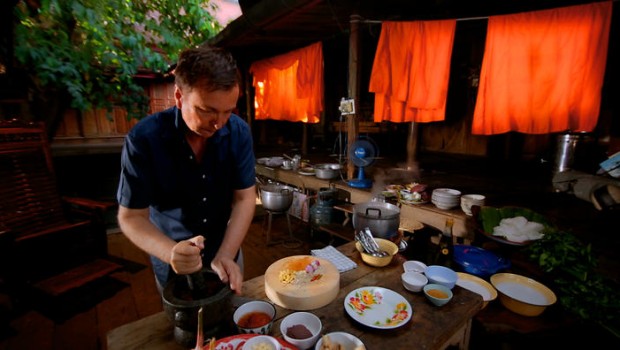 Published on January 26th, 2015 | by Simon Black
Thai Street Food with David Thompson DVD Review
Summary: Thai Street Food is a masterclass in culinary appreciation, and an adventurous and poetic portrayal of this inimitable land.
Film Genre – TV Special Interest
Label – ABC
Audio – English (Dobly Digital 2.0)
Aspect Ratio – 1.78:1
Region Coding – 4
TV Standard – PAL
Rating – G
Year of Release – 2014
Primary Format – Movies/TV – DVD
Reviewer – Simon Black
Over the past several decades, Australian-born chef and restaurateur David Thompson has built a reputation as one of the world's leading authorities on Thai cuisine.
Having living and worked in Bangkok extensively throughout his career, Thompson has overseen the creation of several award-winning Thai restaurants in Sydney, London and the Thai capital.  London's Nahm has the honour of being the first Thai restaurant ever awarded a Michelin star, and its Bangkok sister branch routinely features prominently in lists of the best Asian eateries in the world.
Thompson's love of Thailand's food, people and culture is strongly evident in this, his first foray into the world of home media, and he displays a level of knowledge and culinary sophistication several notches above that of the average television chef.  Being fluent in Thai allows him to converse with streets vendors, residents and local chefs in their own tongue, providing a fascinating window into this most diverse and multifaceted of cuisines, and his own predilections frequently see him departing from the beaten track in search of the freshest foods and most vibrant locales.
Street food features prominently, of course, though over the course of its 13 episodes the series delves into many aspects of the Thai character, from spirituality, history and family to the blending of traditional ways of life with the modernism inherent in big city living.  Rarely has the country been covered in more depth or with more of an eye for detail.  From Ayyuthaya to the Buddhist temples of the North, from Bangkok's night markets to the serene riverside dwellings West of the city (where 'the rhythm of an earlier, gentler time can be felt') Thai Street Food is a masterclass in culinary appreciation, and an adventurous and poetic portrayal of this inimitable land.
Episode 1 – Thailand Awakes
In Bangkok, the people rise well before dawn to prepare food at the market and shop for the day's ingredients. Host David Thompson walks through the morning market in Petchaburi, talking to stall owners and partaking in the local coffee, roasted in Chang Rai. David also shows us the importance of everyday morning rituals in the form of making merit and leaving offerings at spirit houses. Recipes:
Episode 2 – Chinatown
Chinatown is one of the key epicentres of street food and where many innovations in Bangkok and Thailand cuisine got started. In this episode, host David Thompson, explores the rich offerings found in the markets, architecture and history.
Recipe:
Pork stir-fried with yellow beans and ginger
Episode 3 – What goes around comes around
One of the most sacred and revered aspects in Thai society is the importance of monks. David talks to a monk layperson about what foods are made and received by monks on a regular basis. He joins the monks on their morning rituals and explains the significance of kanom jin noodles.
Recipe:
Kanom jim noodles with chicken and wild ginger
Episode 4 – Communities
Communities are the bedrock of Thai society. They thrive as units and serve society in many different ways. The racial makeup of the people and the skills that they offer enable Bangkok to thrive.
Recipes:
Spicy pork with crunchy rice cakes on betel leaves
Episode 5 –  Noodles
Chinese noodles are an integral part of any Thai diet and there is a rich tradition that goes along with it. In this episode, host David Thompson explores every aspect of the noodles, including their history, how they are made, what noodles can be served with and an introduction to Pad Thai, one of Thailand's most famous exportable dishes.
Recipe:
Stir-fried rice noodles with chicken, squid and Asian celery
Episode 6 –  Lunch
Airs on Thursday 13 November 2014 at 6pm AEST on SBS ONE.
Lunch from 12pm-2pm is one of the most important aspects of the day for busy Thais, who want a great meal but don't have much time to do so. Hence there are busy markets, which supply a variety of food.
Recipes:
Soup of minced pork and prawns with Asian greens
Episode 7 –  Curry
Curry houses are everywhere and popular too: Little India, Petchaburi Night Market, Ayutthaya and Silom. "It's a place where people go to eat," says David. This sums up the explanation of what curry houses are, but only skims the surface of the sheer varieties of curries and care that goes into making them.
Recipe:
Red curry of catfish (geng pet plaa duk)
Episode 8 –  Desserts
Desserts are considered to be the pinnacle of Thai food. They're colourful, rich, original and varied in both their presentation and taste. In this episode, David Thompson looks at how they've been made in the past and present, as well as how dessert standards are changing.
Recipe:
Mango and sticky rice (kao niaw mamuang)
Episode 9 –  Transitions
This episode focuses on transitions: that of day to night, of traditional Bangkok to the modern day city and market transformation in surrounding areas. It's a compelling and insightful look at how Thailand has changed over the years.
Recipe:
Miang of river prawns and pomelo (miang som oo)
Episode 10 –  Seafood
Seafood has been a mainstay of Thai cuisine for many generations. It's proximity to the water and demand for fish has meant that an entire food industry has thrived in markets and street food dishes for aeons.
Recipes:
Stir-fried scallops with Chinese broccoli and oyster sauce (kana pat hoi shell)
Stir-fried tilapia (fish) with shrimp paste and green beans (plaa nin pat sadtor)
Episode 11 –  Dtam Sang Stalls
The dtam sang stalls form an integral part of the Thai street food scene. The omnipresent carts are everywhere across the country, designed to offer food with delicious ease. The stalls/carts do form a purpose, though, and David explains the difference between plaeng loy food (food served in pits) and dtam sang food (food cooked to order).
Recipes:
Prawns roasted with vermicelli noodles (gung op wun sen)
Stir-fried minced beef and holy basil (neua pat bai grapao)
Episode 12 –  A big night out
Airs on Thursday 25 December 2014 at 6pm AEST on SBS ONE.
As many know, Bangkok has a thriving nightlife scene. And, much of it is combined with food. It's called "food you have with drinks". It's commonplace to many Thais, yet it's preparation and many ingredients will come as a surprise for people who don't know about Thai food culture.
Recipes:
Grilled pork skewers (muu bing)
Episode 13 –  Modern Bangkok
Street food is an integral part of everyday life, but there's something else which has attracted crowds, too: mega malls. And with these mega-malls come giant food courts, which offer everything from fast food to street styled food to aspirational shoppers.
Recipes:
Stir-fried clams with chilli jam and Thai basil (hoi lay nahm prik pao)
Stir-fried fish dumplings with pak warn (luk chin plaa pat pak warn)
Special Features:  None