Documentary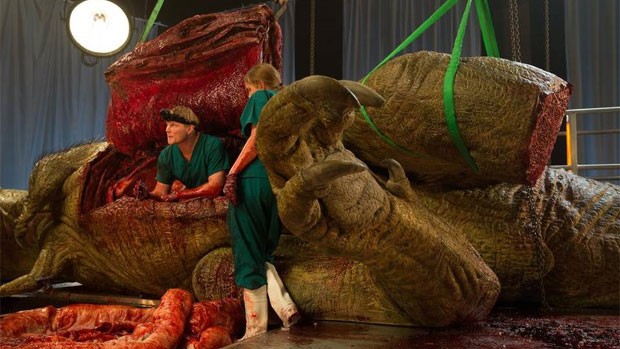 Published on December 13th, 2015 | by Tony Smith
T.rex Autopsy DVD Review
Summary: T.rex autopsy is an interesting yet sometimes clichéd insight into the life and times of a 22-year old Tyrannosaurus Rex!
Okay… this is probably one of the weirdest documentaries that I have seen and it's probably topped by the TV series, Autopsy Life and Death. T.rex Autopsy uses state of the art special effects in order to successfully recreate a life-sized and anatomically correct Tyrannosaurus Rex!
So even though we don't have a real Tyrannosaurus Rex to dissect, this documentary have used a variety of scientific methods and interviews with experts in order to recreate the corpse of this powerful dinosaur in order solve the mystery of what killed this ancient beast.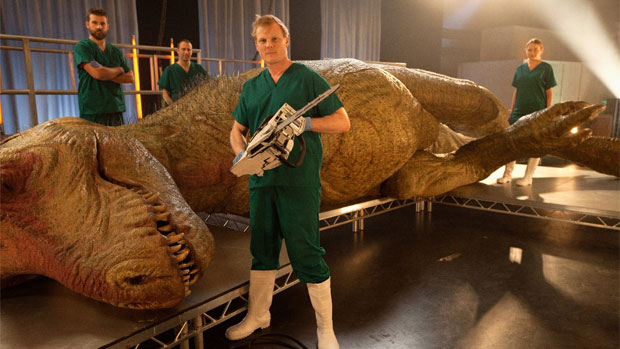 Apart from just cutting up this T-Rex, the viewer is taken on a scientific journey of what made this creature tick and some of its traits that give us this almost "human-like" snapshot of what it was like to live as a dinosaur during the late Cretaceous period which was around (give or take) 85 to 65 million years ago.
So as these four individuals commence their autopsy, they soon start finding signs that may have led to its death like a fracture on its femur to inspecting the organs like the heart and intestines to see whether it died via an infection or some other way.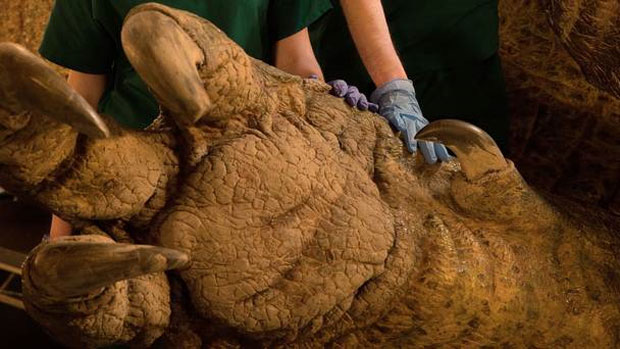 As they progress, we learn that this T-Rex was around 22-years of age when it died to even the contents of its stomach from its "last meal". On that note, getting side its stomach and hunting around its organs does produce quite a bit of blood and in order to recreate this fictitious dinosaur, the creators used over 34 gallons of fake blood in order to add to the realism of this staged autopsy.
Seeing Matthew T. Mossbrucker, Dr. Luke Gamble, Dr. Steve Brusatte and Dr. Tori Herridge with their green scrubs covered in blood is quite a scene and a messy one at that. The documentary also has quite a bit of melodrama from the way these specialists talk to the dramatic music which at times makes the whole process appear a little too comedic.
Even so, it is still informative and quite an interesting one as we discover the diet of the dinosaur to even its sex life as these four individuals finally solve the mystery of what killed this 65 million year old dinosaur in spectacular Hollywood fashion with up to date scientific evidence to lend it some credibility. All in all, T.rex Autopsy is a unique and at times exciting insight into this ancient creature from the past.
DVD Details
Film Genre – TV Documentary
Label – National Geographic
Audio – English (Dobly Digital 2.0)
Running Time – 120
Aspect Ratio – 1.78:1
Region Coding – 4
TV Standard – PAL
Rating – M
Year of Release – 2014
Primary Format – Movies/TV – DVD