iOS Games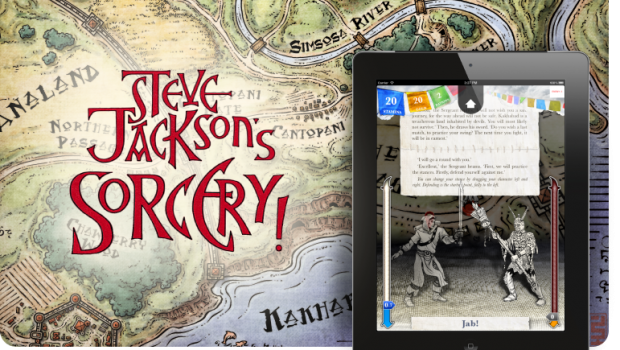 Published on November 7th, 2013 | by Admin
Steve Jackson's Sorcery! Continues on iOS Today with New Interactive Adventure in Kharé: Cityport of Traps
New players can enjoy Sorcery! Part 2 as a standalone story, while Part 1 players can pick up where they left off
CAMBRIDGE, U.K. – November 7, 2013 – Independent developer inkle and author Steve Jackson are announcing that Sorcery! Part 2 is now available for iPad, iPhone, and iPod touch. The second installment in a series of narrative games that brings Jackson's renowned 1980s gamebooks into the touchscreen age, Sorcery! Part 2 is an interactive story that can be continued from Part 1 or started fresh as a standalone adventure. The game sells for $4.99 USD (or equivalent) from the App Store: http://itunes.apple.com/app/sorcery!-2/id627880433
inkle's Sorcery! games put you in the shoes of a hero or heroine on a quest to recover the stolen Crown of Kings. Part 1 involved a journey through the Shamutanti Hills, a perilous landscape that could only be survived with tactical swordplay, clever magic, and good old-fashioned brainpower. But those hills were a cakewalk compared to Part 2's Kharé, a bustling cityport where restless citizens and a brutal goblin army are about to come to blows. Secrets, traps, and trickery abound — and even if you do reach the locked gate at the far end of the city, it only opens for those who uncover the city's most ancient secrets.
Sorcery! Part 2 is a highly flexible interactive narrative that writes itself around players' choices. With more than 300,000 words (twice the content of the first game) and nearly 10,000 choices to make, the story can be played and replayed with unique outcomes each time. In a feature unique to Part 2, you can challenge the townspeople in Swindlestones, a dice game based on lies and deceit that yields clues to Kharé's traps and enigmas. A detailed 3D street map with additional interior insets of key buildings lets you explore the city inside and out — a city whose locations change over time as you make your way through. There are also over 30 monsters to fight with swords or fists, more gorgeous illustrations by John Blanche, and an upgraded 3D spellcasting system.
When it released in May, Sorcery! Part 1 (https://itunes.apple.com/app/id627879091) was exceptionally well received by press and players, earning an 85% ranking on Metacritic and a 4.5-star user rating on the App Store. IGN cited it as "a prime example of what can happen when traditional storytelling gets along with contemporary game design"; GamesMaster called it "the best rendition of the gamebook format we've yet seen on tablets and a shining example of the promise the genre holds." The series will debut for Android in December.
To learn more about inkle's Steve Jackson's Sorcery! games, visit http://www.inklestudios.com/sorcery.