Comedy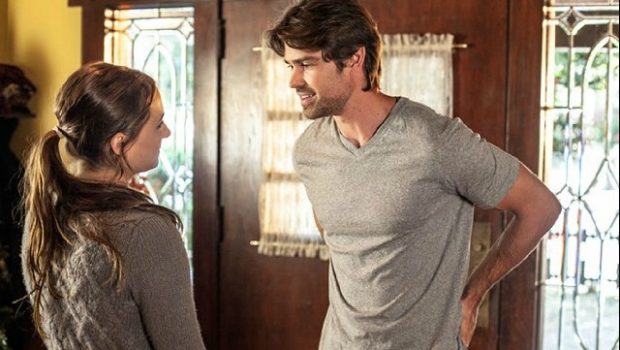 Published on November 4th, 2017 | by Natalie Salvo
A Star For Christmas DVD Review
Summary: "A Star For Christmas" is a corny romance set during the holiday season. It pinches some of the plot from "Notting Hill" but fails to have many redeeming qualities.
"A Star For Christmas" is a cheesy holiday romance and a story that we've all heard a million times before. In fact, instead of "A star" for Christmas, most of us would've settled on "A new story" for the festive season. This film is supposed to be feel-good, fun and full of cheer but it is actually too boring and predictable for its own good.
This film is a made-for-TV one that is written by Amy Heidish and directed by Michael Feifer. The latter's direction seems a tad uninspired. The acting is lukewarm and there are times where the proceedings are too strange for their own good. "A Star For Christmas" is basically like "Notting Hill" except that it is missing all of the comedy, chemistry and good parts from that classic film. In "A Star For Christmas" the central romance is as clichéd, saccharine and predictable as a Nicholas Sparks story.
Cassie (Briana Evigan) has been through a heartbreak but she's come out the other side and she now shares custody of her dog with her ex-boyfriend, Jared (Travis Van Winkle). It is unsurprising that Jared secretly wants to get back together with Cassie. She also runs a successful cupcake business in her small town. One day Cassie serves a gorgeous customer named A.J. (Corey Sevier) and they have a saccharine meet cute where the sparks supposedly fly. Cassie doesn't realise that A.J. is actually a famous Hollywood actor and sets him to work with odd handyman jobs.
A.J. is actually in town in order to shoot an action film version of "A Christmas Carol" that is every bit as terrible as it sounds. "A Star For Christmas" covers the pair's ensuing romance- the Hollywood leading man with the pretty-though-she-doesn't-even-know-it small-town businesswoman. The idea isn't bad in and of itself, but the acting here is pretty dreadful. Evigan mumbles her lines and she and Sevier have very little on-screen chemistry. This makes it hard to really root for or care about this couple's budding romance as the pair navigate the choppy waters of the holiday season and the pressure cooker environment of the tabloid gossip magazines and fame.
"A Star For Christmas" is supposed to be a light and easy watch and something that is a cheery nod to romance and the festive season. But the reality is that this relationship is one that is grossly underdone and the characters here feel more like cardboard cut-outs rather than actual, living, breathing human beings. This film certainly isn't "Notting Hill" even though it pinched some of that film's ideas but none of the good stuff. "A Star For Christmas" ultimately lives up to its name because it really is only deserving of a single star, if that.
DVD Details

Director – Michael Feifer
Actors – Briana Evigan, Corey Sevier, Karissa Vacker, Jeremy Howard
Film Genre – Family
Label – Shock
Audio – English (Dolby Digital 5.1)
Running Time – 88
Region Coding – 4
TV Standard – PAL
Rating – PG
Consumer Advice – Mild themes
Year of Release – 2013
Primary Format – Movies/TV – DVD