Wii U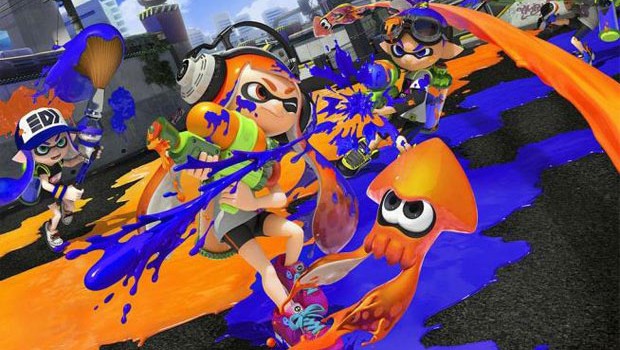 Published on June 8th, 2015 | by Scott Romeyn
Splatoon Wii U Review
Summary: A whole new way to play online shooters- instead of shooting people, shoot the ground! You can't miss!
Splatoon is Nintendo's first real foray into online multiplayer shooter games. Of course, they couldn't just make another realistic war shooter because that's not their style. Instead, we have Nintendo's take on a futuristic world where humans and squids have become one somewhere along the line (appropriately named Inklings), and their favourite pastime is competing in games of war. You get to customize your Inkling to your liking, and as well as having a blast in playing against other Inklings, you're also the one who must save the Inkopolis' Great Zapfish from the antagonistic Octolings in the game's single player mode.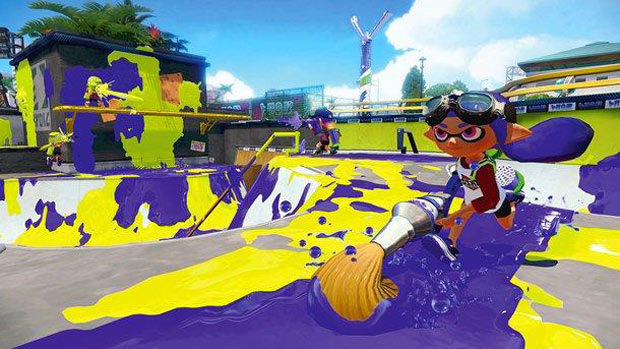 The core of the game is about playing online in Turf Wars. Splatoon flips the game on its head by changing the objective to covering as much ground with your team's ink as possible, opposed to simply scoring kills. That's Nintendo's way of creating a shooter game that's safe for children to play, but just as fun for adults as any other online shooter. You can still kill your enemies, and it's still essential for victory, but it doesn't add to your score so it's no longer a primary focus of game play. As an Inkling, you can also swim through your team's ink to hide from enemies and reach places that are otherwise impossible for a good view of the map. You can purchase new weapons with your winnings and they each offer their own advantages. My favourite weapon is the splat roller, which is perfect to cover a lot of ground fast, and effective against enemies in close range.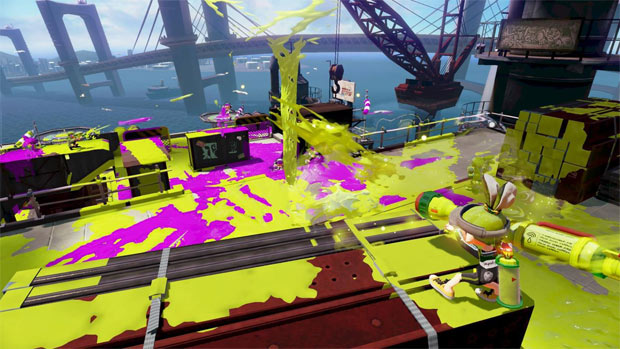 Currently, Turf War's offerings on maps to play in are slim, but the game will be receiving free updates over the coming weeks to keep expanding the game. The more you play Turf War, the more points you earn (based on how much ink you spread on the map), which will gradually allow you to level up your Inkling, which maxes out at level 20. With a higher level comes new, more powerful weapons and effects, rewarding you for your perseverance and skill. Getting there may be a bit rough though, because due to the lack of matchmaking you'll often be playing against people who are much more skilled than you. Of course, that works both ways and you could play against a team of newcomers who've barely touched the game. What Turf Wars lacks is balance, and having no way to communicate to your fellow players means playing strategically is out of the question.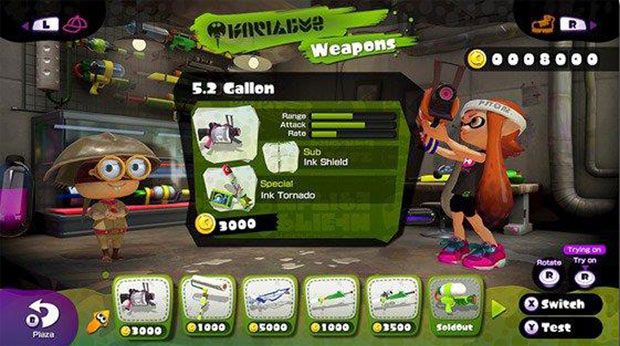 As much fun as the online Turf Wars are- the game fails to satisfy when you're offline. Granted, the single player campaign is fun to play in short intervals- but that's essentially all one can do without an internet connection. Local multiplayer is a wasted opportunity because it only allows two people to play, and it's not even an offline substitute for Turf Wars. The objective is to shoot more balloons then your opponent. If there were an offline version of Turf Wars where you could just play against computer players (or just against friends) it would have been enough to satisfy people who don't always get a stable internet connection, but there's almost nothing to do otherwise. If you're looking for more things to do offline, you'll have to go out and buy a Splatoon amiibo. They unlock more missions in the style of the campaign mode, and you can use them to unlock even more items to gain the advantage in Turf Wars.
Graphics and Audio
There's nothing particularly impressive about most of the game's graphics, but my favourite part is the ink you splash around. The glistening liquid-like shimmering effect and the unique detail of each and every splat makes it look like real ink! The music of the game is kind of an energetic mashup between futuristic/techno and pop rock, heavy on drums and bass. You have to really listen to it to know what I'm talking about. It keeps the energy going in the campaign mode and puts everyone on the edge of their seat during Turf Wars.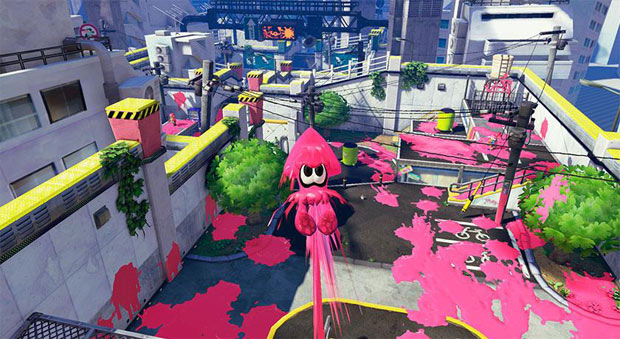 Final Thoughts
I really like playing Splatoon online, and I'd love to give this game a higher score but I can't factor out the game's blemishes in its current form. You can't even perform basic actions like acquiring new weapons or outfits for your Inkling without being forced to go online, which is inconvenient if ever the servers are down. I really would have admired more modes for offline play, and I'm disappointed by a lack of content in the base game, but I am optimistic about future updates adding new content. But when Splatoon shines, it's a fantastic game. It's fun, it's competitive and above all, it's fresh.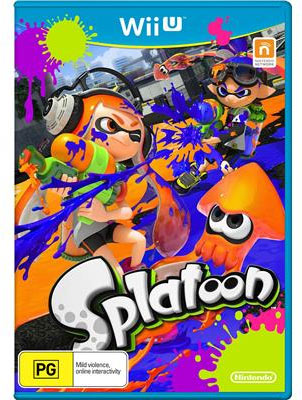 Game Details
Primary Format – Games – Nintendo Wii U
Game Genre – Shooter
Rating – PG
Game Developer – Nintendo
Game Publisher – Nintendo