iOS Games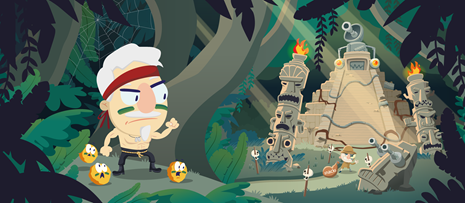 Published on March 25th, 2014 | by Admin
Colonel Sanders is back with Snack! in the Face Update
Sydney, Australia – 25 March 2014 – KFC Australia today announced a brand new update for KFC Snack! in the Face with exciting new levels , characters and giveaways for players to unlock on the iOS and Android game.
Developed in collaboration with DT and Ogilvy, Snack! in the Face is a physics-based action game where players help Colonel Sanders steal back his Popcorn Chickens, pinched by the evil and gluttonous Professor Snackbot.
Players are challenged to launch Popcorn Chickens into Colonel Sanders' mouth, while dodging fireballs, lasers and more.
The new update is jam-packed with exciting new features, including:
An entire new Jungle Lair with      10 new levels for players to explore – Help      Popcorn Chickens escape from Professor Snackbot's grasp in the new jungle      lair
Win more snack-size prizes on      the go – 54 new achievement prizes are up for grabs in      this brand new update. In Adventure Mode, players can unlock achievements      and find collectibles to win free KFC snacks and discount offers. All      snacks won in game are stored in My Snacks, your own prize wallet      full of chicken. Just show the prize screen on your mobile device at a KFC      restaurant to redeem your snack
The Snack Time Daily Challenge      continues – from 2-5pm each day, test your speed and agility      in the special Snack Time daily challenge to instantly win free KFC snacks
Watch out for Twister Minis to      help you on the way – These snack-size character      will help Colonel Sanders get through the new lairs and steal back Popcorn      Chickens
KFC Snack in the Face is now available on the Apple App Store and Google Play.
Learn more at snackintheface.com.au.