Drama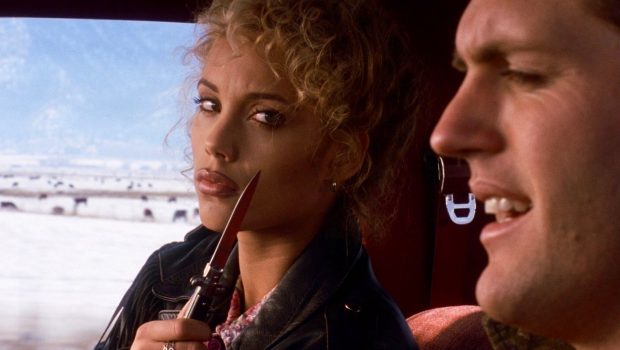 Published on October 4th, 2021 | by Tim Chuma
Showgirls (1995) Blu-ray Review
Summary: Nothing more I could say about this, everything was said when it originally came out. The documentary on the film's second life is included which makes it worth getting the bluray.
Everything you could possibly say about this movie was said when it came out. I would have thought that my opinion of it would have changed since I saw it in a cinema where the experience was added to by an older couple having sex up the back of the auditorium. It was worse than when I saw it before.
Looking up some more about the movie I found this trivia which seems perfect to describe the movie:
The only time actresses complained that they felt uncomfortable was during the scenes with the monkeys, who constantly stared at their bare breasts.
It is too easy to make jokes about this movie as it is such a bad movie and there is nothing really to defend it. There is the You Don't Nomi documentary included on the disc which explains how it got new fans and also the director now saying he meant it all along for it to be a comedy. He might say that but at the time he and the writer were doing enough cocaine to kill an elephant and he was high on the success of Basic Instinct so he got everything he wanted.
It is sad what happened to Elizabeth Berkley after this movie was released but she now seems to have made her peace with it and is happy to have a lot of people enjoying the movie again.
I would not rush out to buy this movie if you are not already a fan as you really have to be into this sort of trash. It is a very strange movie that seems to be written by someone who thinks they know how people speak and interact but does not really have any idea. They are trying to be sexy in this movie but nothing is ever remotely that.
More of a movie to watch with friends or in a group situation or you can put on the commentary which they made a point of mentioning in the documentary about the movie.
Trailer:
Whoops! I mean…
Film details:
Director: Paul Verhoeven
Script: Joe Eszterhas
Starring: Elizabeth Berkley, Kyle MacLachlan, Gina Gershon, Glenn Plummer, Robert Davi, Alan Rachins, Gina Ravera, Greg Travis, Patrick Bristow
Content advisory: Sex scenes, nudity, violence
Length: 131 min
Extras:
YOU DON'T NOMI Jeffrey McHale's feature-length documentary exploring the legacy of Showgirls
The Greatest Movie Ever Made audio commentary with Showgirls expert David Schmader
Showgirls Diary: Animated storyboard-to-film comparison of three scenes, including sketches by the director
Interview with Paul Verhoeven
Speech by Paul Verhoeven at the Razzie Awards
Theatrical Trailer