Comedy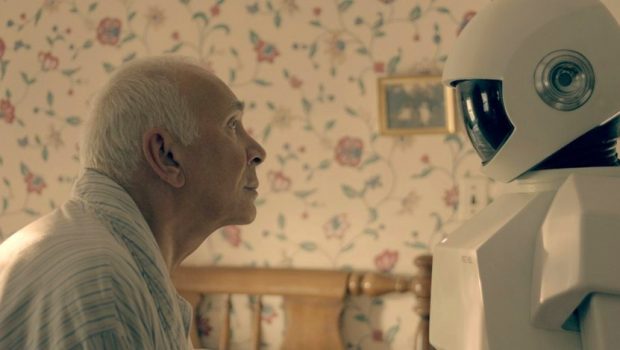 Published on July 12th, 2017 | by Natalie Salvo
Robot & Frank DVD Review
Summary: "Robot & Frank" is a sweet film about two unlikely friends. It's a rather charming and whimsical look at life and aging.
In the wrong hands "Robot & Frank" could have been "Grumpy old man gets a slave." But this film actually has a lot of redeeming qualities and is handled with a deft touch. It's quite a sweet little buddy movie and caper about two unlikely friends working together to cook up some mischief.
The film is written by Christopher Ford and is the directorial debut for Jake Schreier. The story is set some time in the not too distant future when libraries are like museums and robots are part of our daily life. Frank Langella plays the titular character, a retired cat-burglar who lives alone. He is rather isolated despite having two adult children (played by Liv Tyler and James Marsden) who he sees on occasion. But Frank is struggling with a failing memory and is out of step with the modern world.
Frank's son decides to help out his Dad by purchasing a robot butler. The machine is voiced by Peter Sarsgaard and performed by Rachael Ma. The robot is loyal to its keeper and is supposed to motivate and improve wellness. Frank hates the robot initially and calls it a hunk of junk. But he changes his mind when he realises that the robot can be manipulated into performing heists, picking locks and breaking into safes. If you can get past these questionable morals, you should enjoy this film.
Langella really carries this movie and puts in a superb performance. He is convincing as the stubborn, cheeky and cunning old man who is growing increasingly out of touch. His acting is quite subtle and underplayed. What could have been fluffy and throwaway at times has some real heart. There is an under-developed sub-plot where Frank has a friendship with a local librarian played by Susan Sarandon. The character is a tad under-realised but the legendary Sarandon does her best with the material that's offered.  The special features include commentary with Ford and Schreier and a photo gallery of advertising posters promoting the robot.
"Robot & Frank" is a warm character study about aging and friendship. It's a rather pleasant story that has some moments of real charm and emotion. It's ultimately a nice, whimsical tale about forming a special friendship in your twilight years with a character that sounds as innocent as Paddington Bear and looks like something out of the Twilight Zone.
DVD Details
Actors – Frank Langella, Susan Sarandon, James Marsden, Liv Tyler
Film Genre – Comedy
Label – Universal Sony Pictures P/l
Audio – English (Dolby Digital 5.1)
Running Time – 85
Aspect Ratio – 2.40:1
Region Coding – 4
TV Standard – PAL
Rating – M
Consumer Advice – Coarse language
Year of Release – 2012
Primary Format – Movies/TV – DVD