iOS Games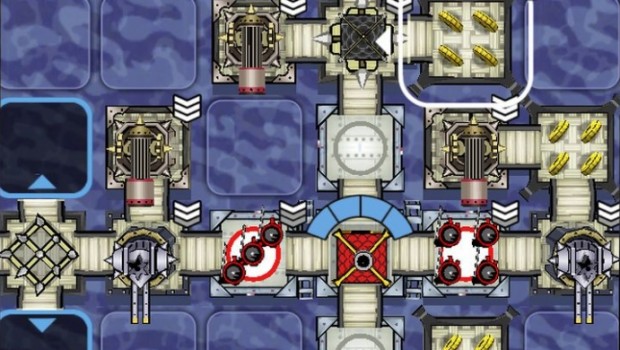 Published on September 18th, 2014 | by admin
Ninjas to the rescue on Talk Like a Pirate Day
New mobile game walks the plank today on Apple iOS
Australia, 18 September 2014: Ninja Raft, a unique new strategy game hits the App Store today, launched to coincide with the internationally acclaimed 'Talk Like a Pirate Day' by Brisbane-based games publisher and accelerator, Right Pedal Studios, and developer GeekBrain Games. The game has also been chosen by Apple for their Best New Games feature, giving the game massive exposure to the millions of people upgrading to iOS 8 and activating their new iPhone 6's.
Ninja Raft is a unique tower defense game in which players build a raft fortress for their own Ninja army, to prevent a host of scurvy pirates stealing their gold. The game has been designed to take advantage of the increased screen size and video resolution for the iPhone 6, iPhone 6 Plus and iOS 8 – making it compatible for all iPhone models.
Players build a battle raft, with thousands of variations, and pit it against 40 levels of action packed, swashbuckling fun. In order to prevent the Pirate hordes, players can place traps, upgrade weapons, fight in hand-to-hand combat, hunt for gold and ultimately protect the treasure.
Download the game from the App Store: http://itunes.com/apps/ninjaraft
Trailer:                                http://www.youtube.com/watch?v=sQL2DpErDKE&feature=youtu.be
Genre:                                Two-phase tower defense game
Release date:     Thursday 19th September 2014
Developer:                         GeekBrain Games
Publisher:                          Right Pedal Studios
Price:                                   AUD  $1.29
GeekBrain Games founder and Rockstar games alum, Don Kirkland, said: "Ahoy Mateys. We are excited to launch Ninja Raft on the App Store to coincide with Talk Like a Pirate Day – this game is uniquely strategic, but at the same time allows players from ages 10 and above to enjoy the fun. With the ability to build your own levels, it can be as easy or as difficult as you like."
Right Pedal Studios' Team Developer, John Passfield, said: "GeekBrain Games have knocked the ball out of the park with their first game – fantastic visuals and intricate gameplay but in a really accessible and quirky package. Ninja Raft is poised to be a big hit with salty sea dogs the world over.
"The super polished visuals make the game all the more exciting – the rich graphics and the clever use of layers create a sense of depth. The scenic effects, lighting and sound design also contribute to an immersive player experience."
Developed by Geekbrain games, Ninja Raft is published by Right Pedal Studios – Australia's foremost games accelerator and independent publisher. Ninja Raft comes off the back of the successful Right Pedal mobile game, Battle Group 2 by Bane Games, which launched on the Apple App store earlier this year, and wasfeatured as 'best new game'.