Mind & Body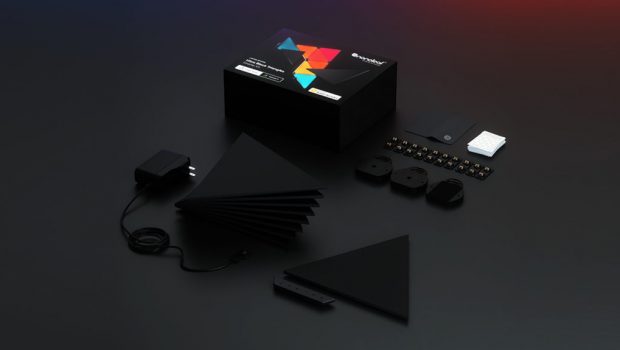 Published on November 29th, 2022 | by Nathan Misa
Nanoleaf Shapes Ultra Black Triangles Review – Acute Design @nanoleaf
Summary: The Nanoleaf Limited Edition Shapes Ultra Black Triangles are slick, premium smart lighting panels that offer great customization options - at a premium price.
Smart lighting has always remained an elusive concept in my home. I've always liked the idea of adding some tech-driven flair to the gaming room or living room, but I never quite found the right product to match my tastes and desire for something that neatly fits in with the rest of the house.
When I found Nanoleaf and its sleek Limited Edition Shapes Ultra Black Triangles, packed with a number of great lighting options and design patterns to match all manner of moods, aesthetic and ambience needs, I leapt at the opportunity to see what all the fuss was about.
Design
The Ultra Black Triangles are a limited edition version of Nanoleaf's Shapes lighting tiles, covering hexagons, triangles and mini-triangles, that can lock together to form a number of tiled designs.
Instead of the usual standard white triangles, this limited release pairs all-black triangular light panels with dynamic RGB effects to offer a bolder statement piece in a gaming or cinema room setup.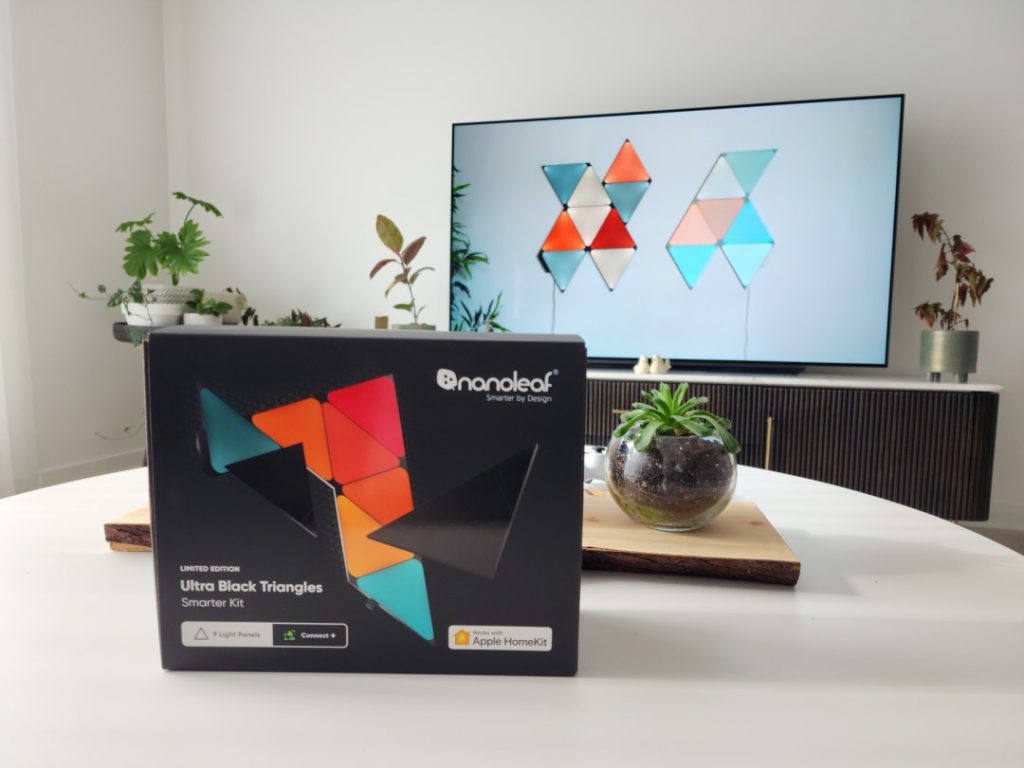 The Ultra Black Triangles re-release has apparently been a much requested product from the Nanoleaf community, and upon opening the box, it's hard not see why. Each panel features a sleek black matte finish that looks very good on its own, and that's without any lights turned on just yet.
The 42W power supply, controller, linkers and mounting plates are equally jet-black to finish the look. Overall, it's a premium looking product that adds a nice touch of contrast to a white wall, or additional flair for a room with a darker aesthetic.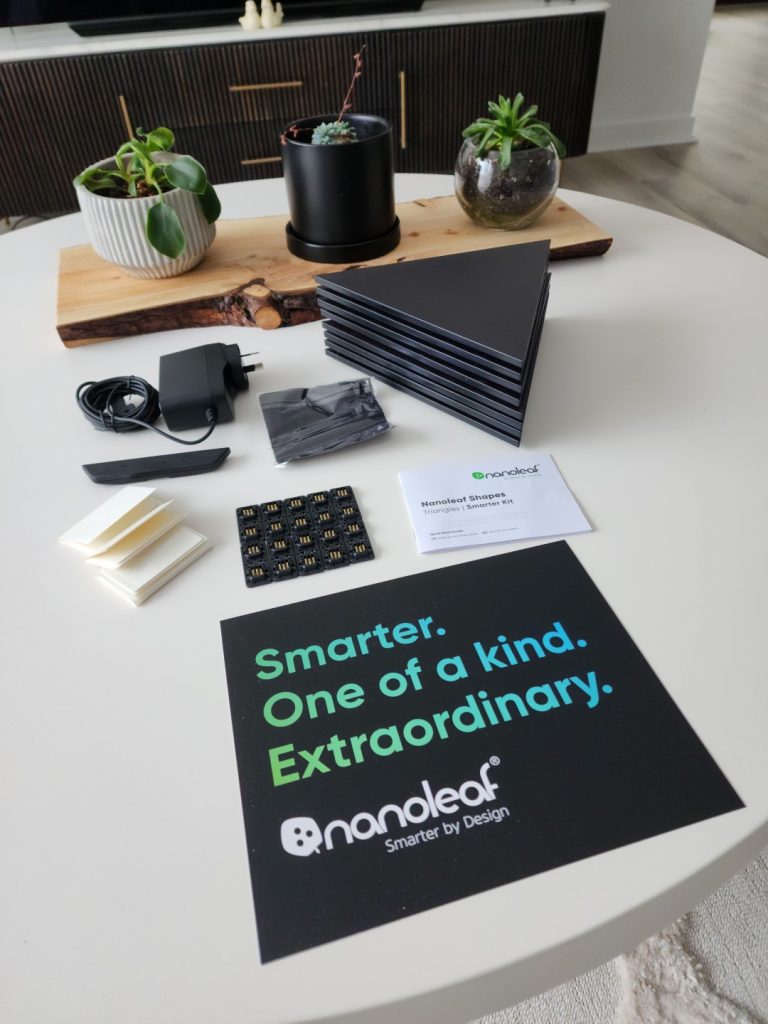 One thing that became immediately apparent was that these panels are fingerprint-prone; thankfully there is a microfiber cleaning cloth included to spruce them up before mounting. Perhaps the only issue I had was some panels had micro-scratches out of the box. These scratches were miniscule in nature and aren't visible when lit up, but it was a minor bummer.
The Ultra Black Triangles Starter Pack (priced at $369.99 AUD) contains 9 Triangle Shapes panels, while the Limited Edition Ultra Black Triangles Expansion Pack ($129.00) contains 3 more, and both are extremely limited in quantity, with apparently only 1,000 made for purchase via the global site. Luckily, I had 12 such panels to play with – and many designs to filter through!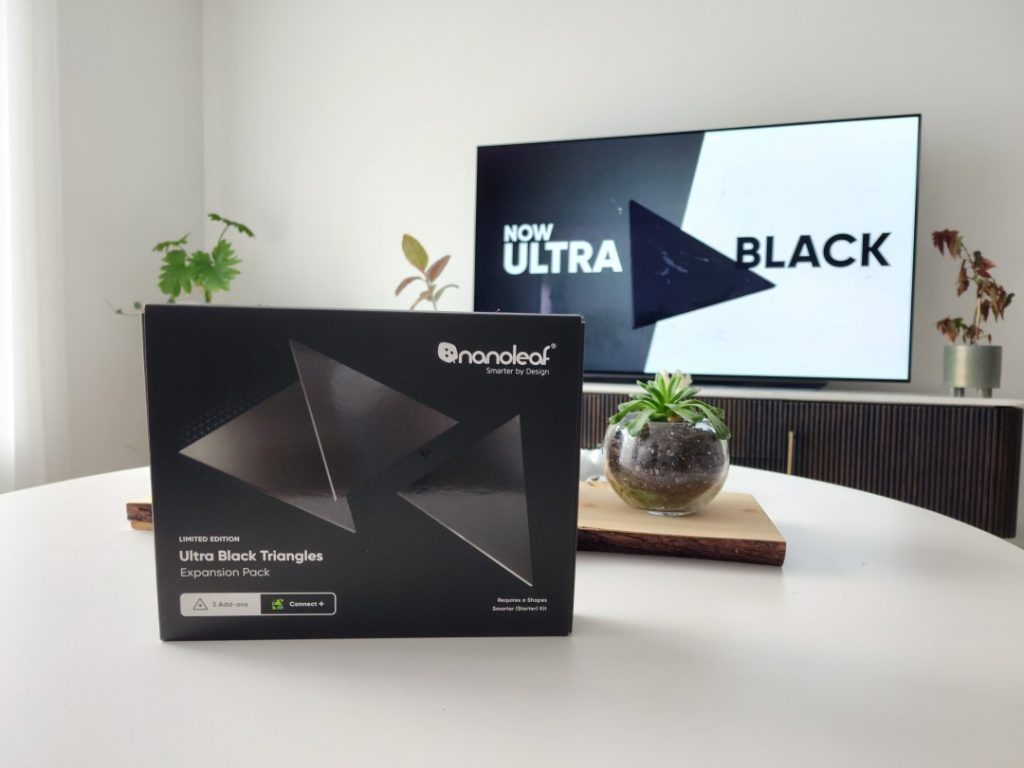 Visit Nanoleaf's Shapes product page for exact measurements and technical specifications.
Setup
The Nanoleaf product line is fairly straightforward to get mounted on the wall and shining bright, and the Ultra Black Triangles are no exception. Starting with the QR code on the box, you can download the Nanoleaf app and use its Layout Assistant or head to their website to visualize your design, or get inspiration from a list of suggested designs which you can filter by panel amount.
If you're a little less creatively-minded like I am, I recommend arranging everything out on the floor for a clear picture of your desired pattern and how you'll be linking each triangle panel together. Nanoleaf makes this part as simple as possible, with linkers that attach each panel with just a firm (and satisfying) click (it's equally as easy to remove linkers, so don't stress like I initially did)!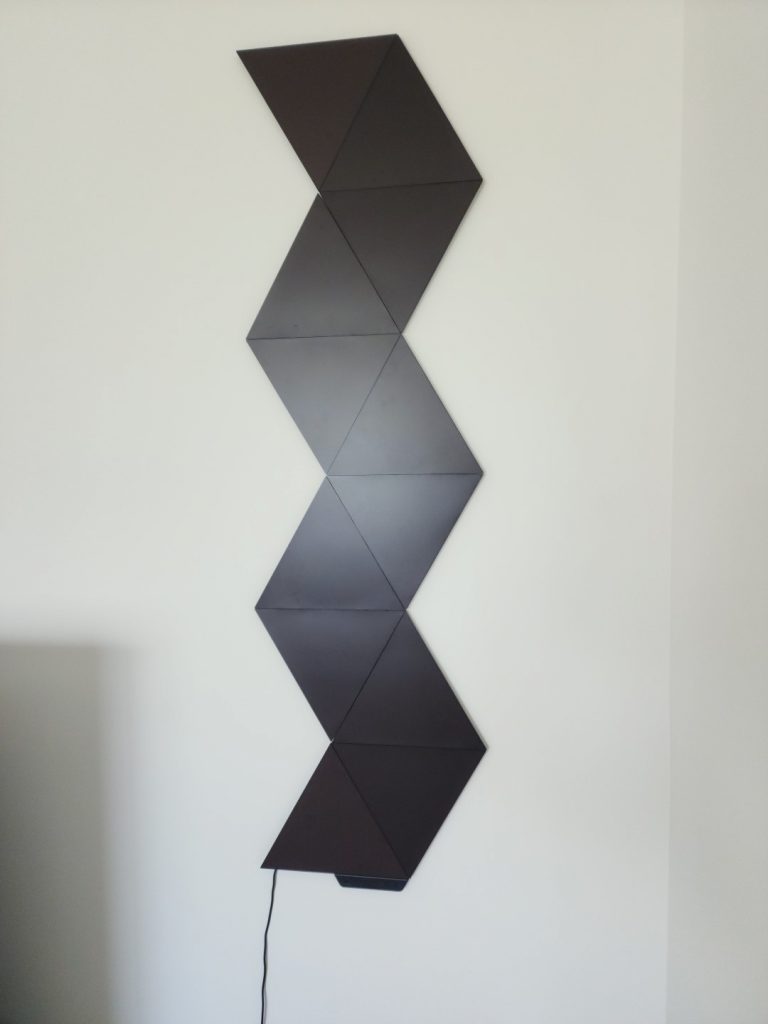 You only need one linker per panel to attach the next shape in your pattern; from there, you add some mounting tape to a circular mount on the back of each panel, and then hang your desired panel, applying a circular motion for 30 seconds to keep things on the wall. And yes, the tape is okay for your walls, and easy to remove – just follow their instructional video to a tee.
The first panel you hang will be the one you attach the power supply unit and control box to, and these use the same click-on system as the linkers. Upon power up, you'll then need to pair with the app and connect it to the same Wi-Fi connection, which I did with minimal fuss.  All in all, I was up and running with my pattern hanging in 15 minutes.
The Nanoleaf app itself is fairly straightforward. It has a dashboard section to add all your devices and rooms, a tab to discover popular lighting and colour modules which you can download and apply to your Nanoleaf set (called 'Scenes' which are grouped by colours or rhythm), and a handy schedules section that lets you run scenes on your devices automatically at preset intervals.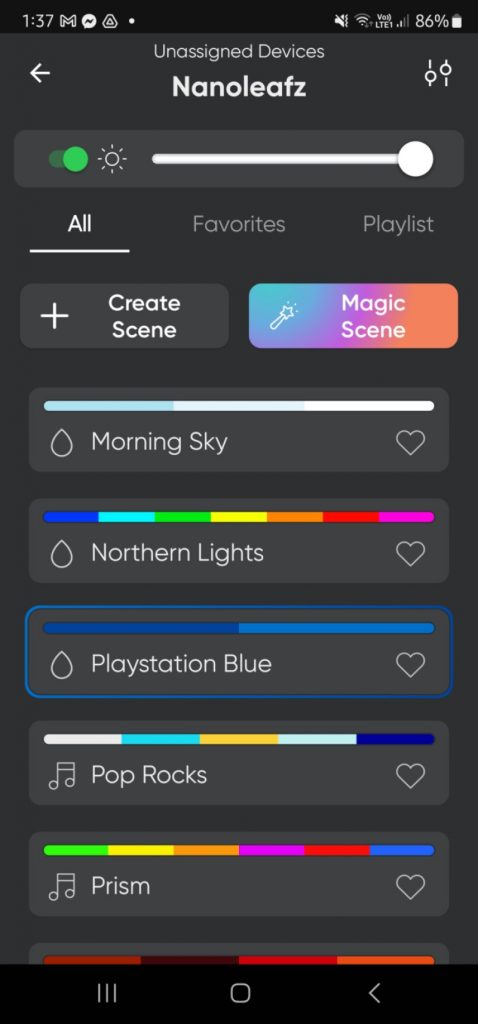 There are several official Nanoleaf light scenes and even more user-created scenes to choose from in the Nanoleaf app, as well as a streamlined option to create your own or group them into playlists to suit a particular mood or time interval. When you're ready to see the lights and colours, all you need to do is hit apply – and enjoy the show.
Lighting and Features
The Ultra Black Triangles, without a doubt, evoke a sleek aesthetic in both day and night settings.
I opted to set my pattern up on the wall in my work-in-progress gaming room and its presence immediately gave the space a nice contrast and modern touch. During daytime, the 'Daylight' and 'Reading Light' scenes brought a nice warm glow to the room that blends in nicely, while for nocturnal gaming and movie sessions I played around with darker red tones to match the dread of Stranger Things and bass-thumping neon hues of Cyberpunk and Guardians of the Galaxy.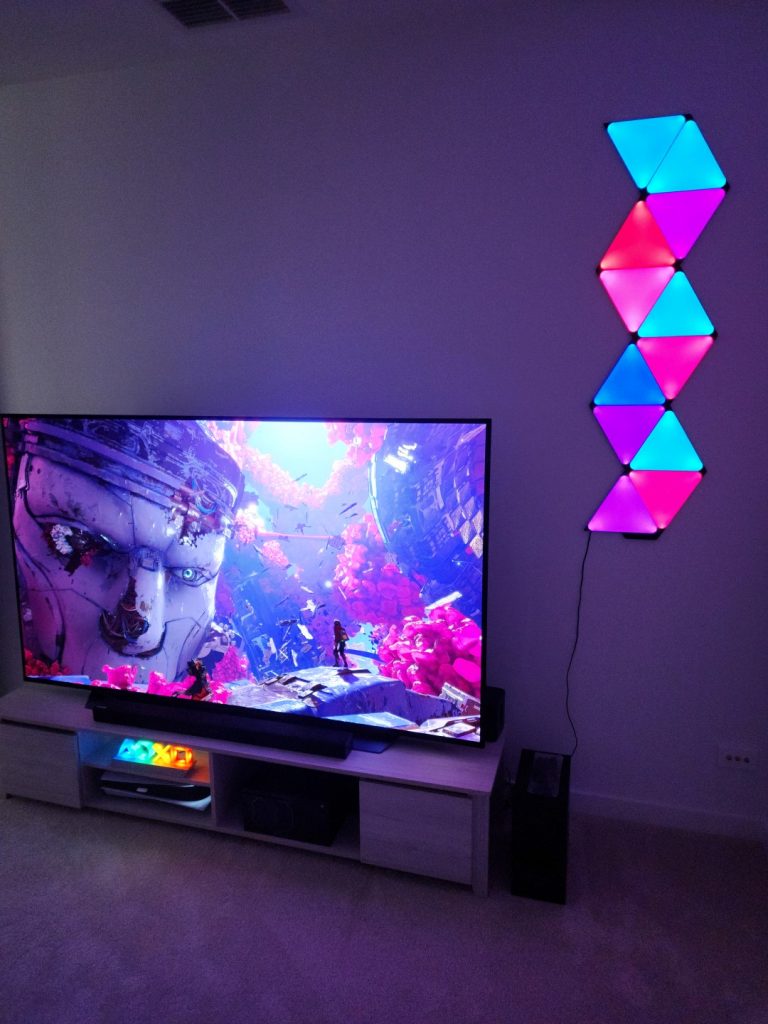 With full control over brightness, colours and which scenes play when, there is a great amount of customization and personalization on offer that I'm sure people more creative than me will enjoy experimenting with to find that 'perfect' ambient vibe for whatever mood or setting in mind.
In addition to the general lighting and colour options, the panels include the same features of the rest of the Shapes line, including the Rhythm Music Visualiser, Touch, and Connect+. The Rhythm Music Visualizer is a neat mode that matches the colours and movements of your setting with your music and makes for a great show as the panels react in real-time to your favourite playlist – it's also easily controlled via the 'Rhythm' button on the physical controller or by selecting a Rhythm scene in the Nanoleaf application. The Touch feature allows the panels to react (light up or change colour) to physical touch, which I found neat, but not quite a killer app.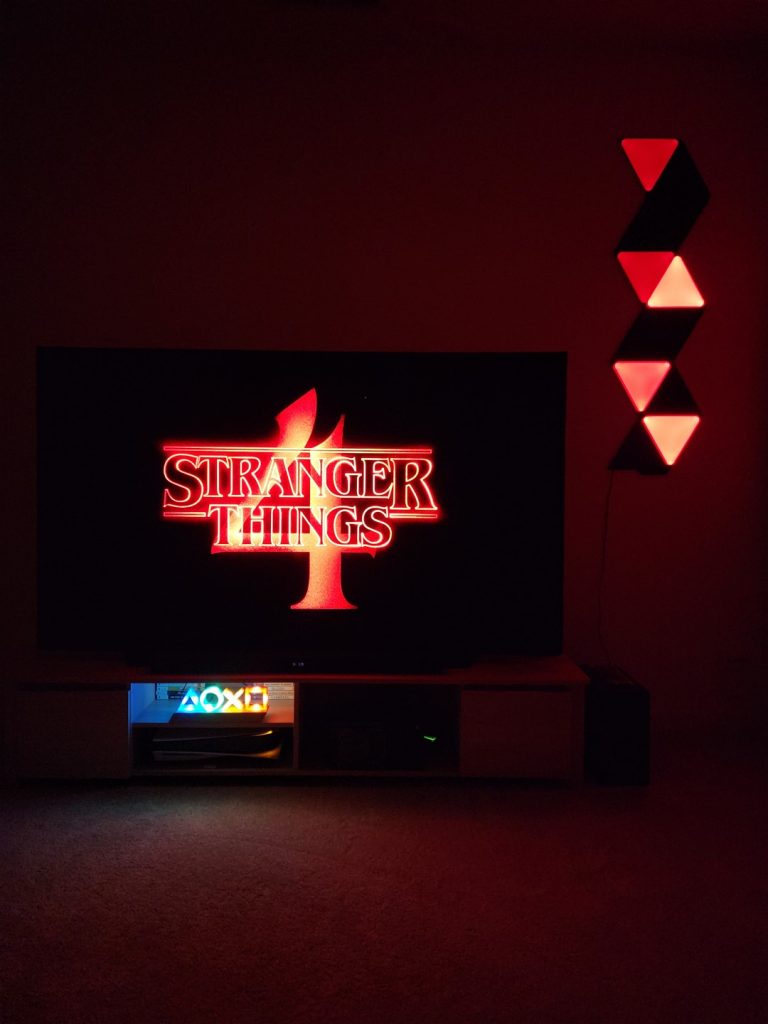 Connect+ is where the true value lies, essentially acting as Nanoleaf's proprietary linking system and main value proposition, allowing you to connect the Ultra Black Triangles to any other Shapes panel set, including Hexagons, standard Triangles and Mini Triangles. Existing owners will already know this, but for newcomers into the Nanoleaf ecosystem, the connectivity opens up a dizzying number of design and layout combinations – should you have the money to do so.
I've never been a smart lighting type of guy, but once everything is set up, it's easy to see why people dig the ambiance and vibe the Nanoleaf Shapes line brings, and the amount of creative possibilities and pattern combinations one could design around the room. The Ultra Black Triangles earn their particularly coveted status, in my opinion, because they also look great when the lights are off – which I don't personally think the all-white standard triangles could necessarily pull off as well.
The Final Verdict
The Nanoleaf Ultra Black Shapes Triangles have definitely won me over to the idea of smart lighting panels, thanks to its sleek look, ease-of-setup and enormous customization options.
Are the Ultra Black Triangles worth it? It depends on the household, how much you want the limited edition black set, and how much you're willing to invest into the Nanoleaf ecosystem to make the design you envision a reality. The Starter Pack for the Ultra Black Limited Edition is $369.99 ($20 more than the standard Triangles Starter Kit) and comes with 9 panels, which is enough for most creative layouts and designs, but the Expansion Pack is $129.00 and only offers 3 more, which I found slightly lacking. But the product is undeniably premium in quality, and packed with features.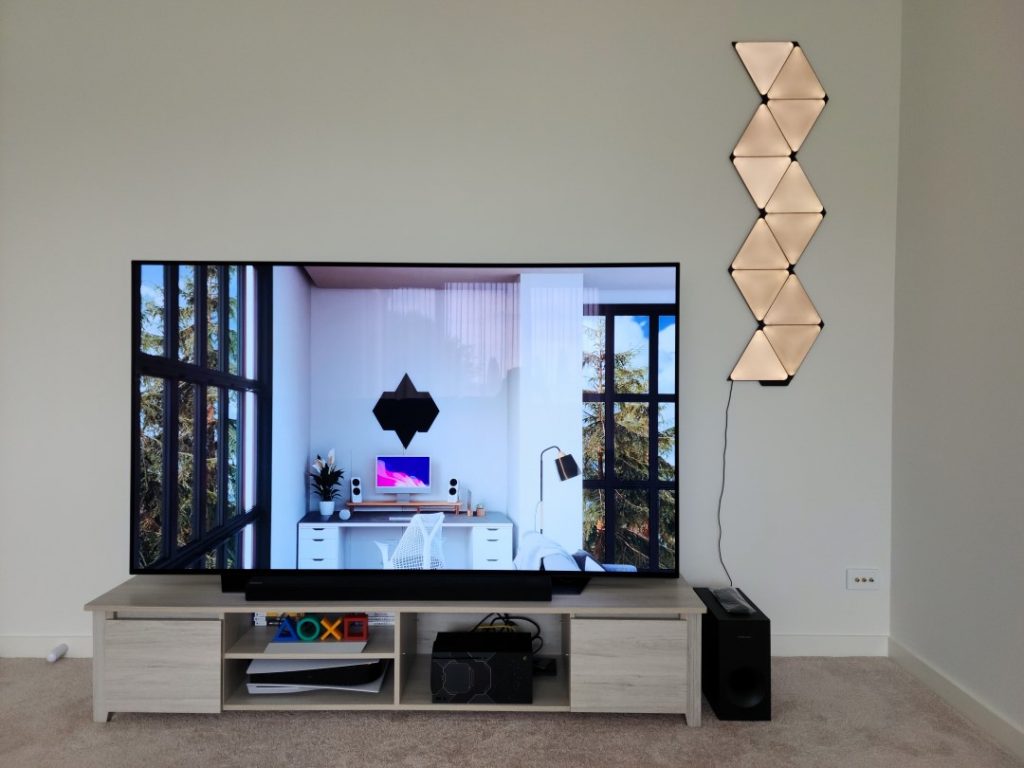 The only real complaint I have with Nanoleaf Shapes Ultra Black Shapes Triangles, similar to other reviewers, is it is a limited run (for now). At the time of this review, stock remains available for Australian-based purchasers (so get it now if you want it), but for future buyers who prefer the sleek black aesthetic, you may be out of luck – at least, until Nanoleaf's next anniversary celebration promotion.
For this reviewer, what I hope for is an expansion of the Ultra Black option to the other Shapes lines – because I can already see myself envisioning the next slick lighting pattern to indulge in.