Hardware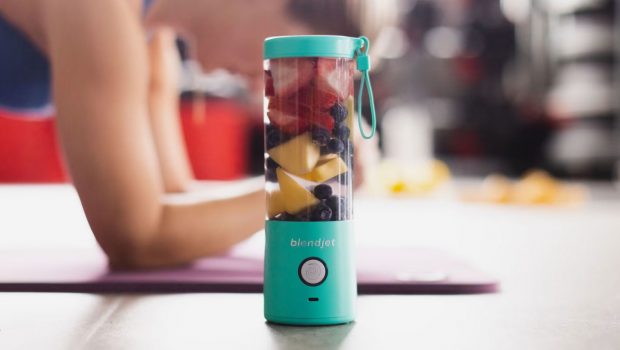 Published on August 14th, 2023 | by Adrian Gunning
BlendJet 2 Review (2023)
Summary: The BlendJet 2 is smart portable blending
There are portable blenders and then there's the BlendJet 2
It's easy to get drawn into the health fad but the problem is there are way too many unscrupulous companies gunning for your hard earn money. As a result, the industry is littered with false promises and products that fail to live up to expectations. Cue in the BlendJet 2… the next-gen blender that allows you to create blended drinks on the go such as smoothies, shakes, margaritas, frappes, slushies and a whole wealth of drinks that is only limited by your imagination and taste buds! As a result, it's great for snacks, after the gym and even breakfast on the go.
At its core, the BlendJet is a high-speed portable blender that boasts a powerful 4000mAH rechargeable battery that is charged via high speed USB-C and can self-clean itself. BlendJet also offer a wealth of accessories to enhance your BlendJet 2 experience, including recipes and other useful tips and tricks. It also comes with a wealth of colours as you can see from the above images.
Welcome to the BlendJet 2!
Specifications
Compact Size: 9" x 3" (230mm x 76mm)
Product Weight: 1.34 lb (.61 kg)
Jar w/ Measurement Markings: 16 oz (475 mL)
15+ Blends Per 1 Hour Charge
Water-resistant USB-C Port
4000 mAh Rechargeable Battery
5V Electric Motor Spins 275 Times Per Second
6-Point Stainless Steel Blade
Durable Built-In Carrying Strap
The BlendJet 2 is powered by this company's patented TurboJet technology that is considerably superior to blenders. According to BlendJet, their "stainless steel blades are offset from the center of the base which creates a tornado effect that blasts ingredients into the back of the jar 275 times per second. This results in dramatically better blending". Compared to the previous model, it is five times more powerful than the original BlendJet One.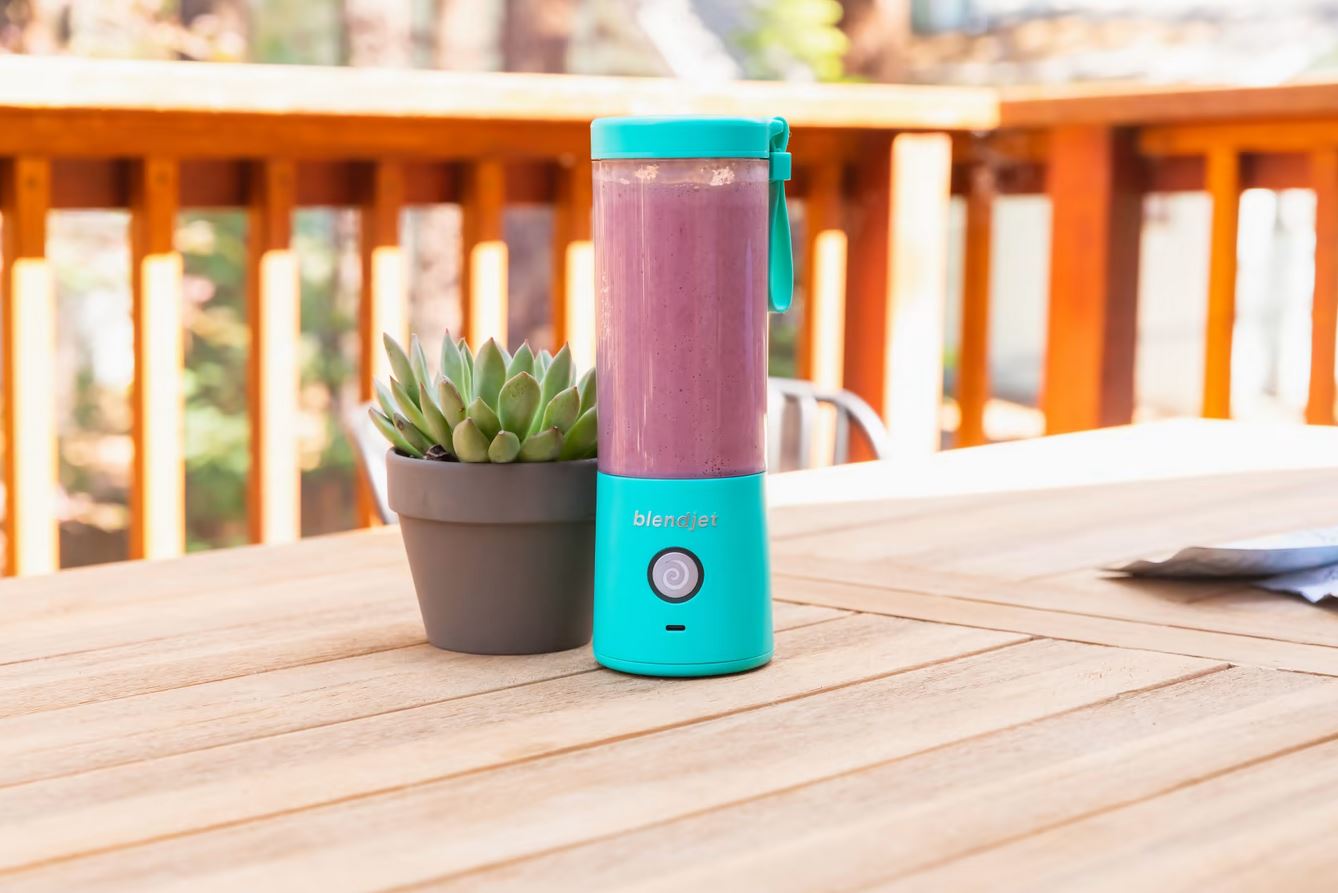 While this next-gen blender is perfect for a wide variety of health drinks that is great for both pre and post workouts, it even allows you to make some non-healthy but equally tasty drinks such as milk shakes or even a delicious frozen margarita. For work, I just throw the ingredients into the BlendJet 2 itself, pop it into the fridge and when I'm ready for my smoothie, I just blend away and presto, an awesome mango and strawberry smoothie! As it's a portable blender, there is a lock mode so that the contents of the BlendJet 2 doesn't spill. Another highlight of this blender is that it is very quiet for a blender, so whether you're at work or making a late-night drink, it will not disturb anyone.
Before your start your BlendJet 2 journey, you first need to charge the blender for around an hour and once it is charged, the light ring will turn solid blue. Next is to clean the blender with a drop of detergent and some water which then deep cleans the unit. You're basically ready to blend and this is done by putting in your liquid first (e.g. milk), followed by the solids such as mango, bananas and strawberry. Put the lid on and push the button that blends the ingredients for 20-seconds. You can run additional blends by pushing the button again. You also know that the unit is blending because the light circle turns blue that flashes red and purple when charging is needed. In terms of controls, there are three modes on the unit itself which is Blend, Pulse and Lock.
Compared to other portable blenders, the BlendJet 2 does outgun some of its competitors thanks to its 4000 mAh Rechargeable Battery which allows you to make 16 blends from one charge. A totally flat BlendJet 2 will take around 1 to 1.5 hours to charge and additionally, the USB-C charging port is water resistant.
Another clever trick that the BlenderJet 2 can do is food processing. That's right, if you double press the power button, it turns the unit into a portable foot processor so you can pulverise all sorts of food such as vegetables and fruit which makes creating your next meal even easier and again, easy clean up and no cut fingers. The Blender accessory does cost extra however.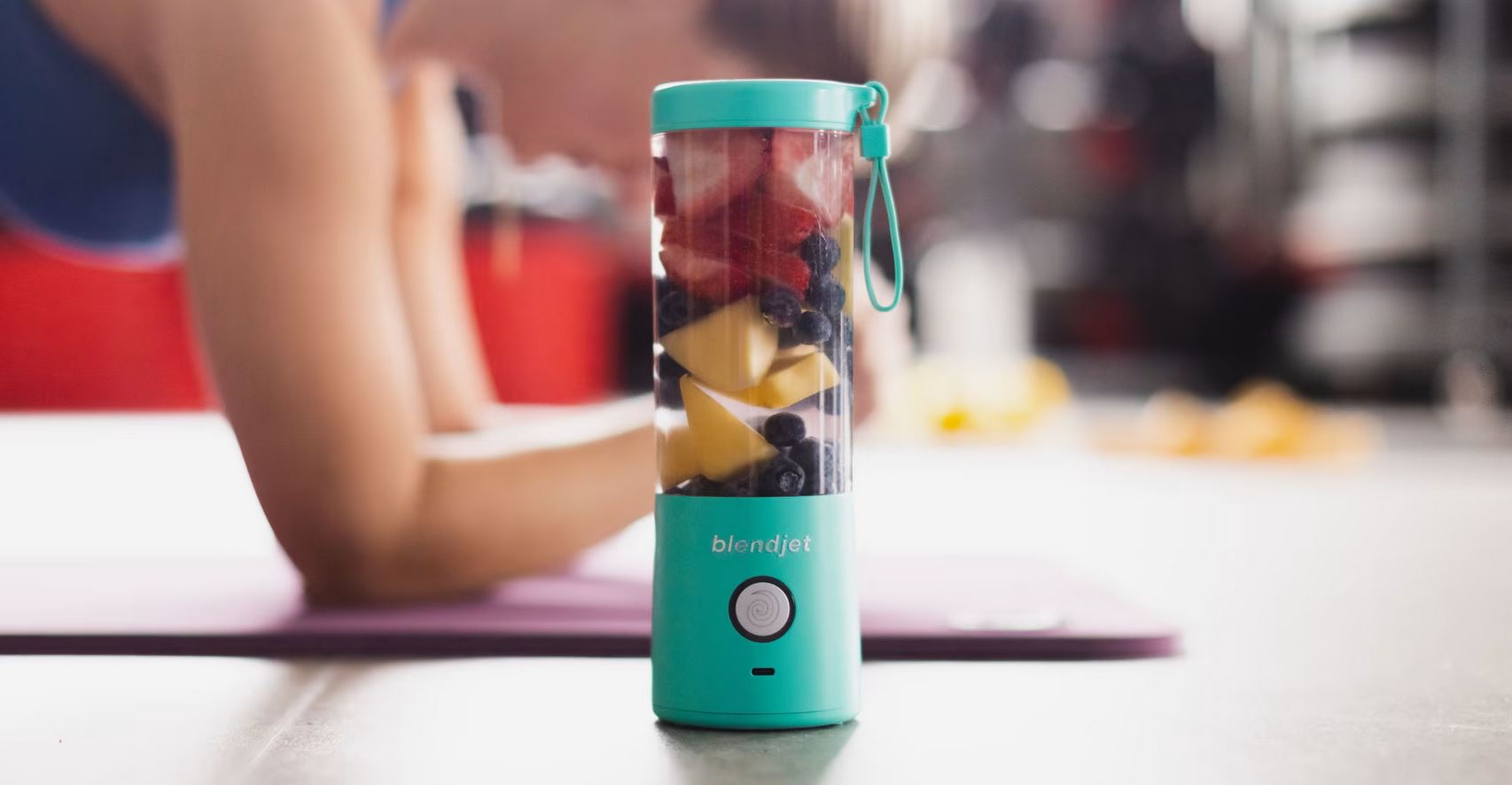 A special mention should be made about BlendJet the company… as mentioned this is a high quality product that is made in California and the idea behind BlendJet came from one of the co-founders (Ryan Pamplin) who suffered a debilitating injury and required smoothies and shakes to help him recover. Thankfully Ryan recovered and this became part of the mission for BlendJet to offer a convenient, affordable and healthy choice for all.
Gallery
Final Thoughts?
The BlendJet 2 is an awesome portable next-blender that I cannot fault. When your family, friends and work colleagues see it in action, they'll even "borrow" it or want one for themselves.
Brilliant and yes, wheatbix, bananas and milk is delicious! It's my breakfast on the go!