TV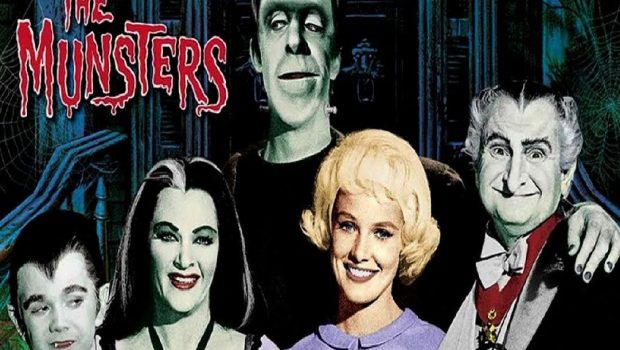 Published on September 2nd, 2016 | by Tony Smith
The Munsters: The Complete Series DVD Review
Summary: The Munsters: The Complete Series is a must have DVD set for any fans of this classic monster sitcom!
The classic spooky family which started it all, The Munsters has arrived in this spectacular box set from Shock that contains the complete series as we're reintroduced in 2016 to Herman (Fred Gwynne), Lily, 'Grandpa' (Al Lewis), Marilyn (Pat Priest) and Eddie (Butch Patrick). Apart from including both season 1 and 2, this collection even boasts the theatrical films of The Munsters Revenge (1981) and Here Come the Munsters (1995) plus the episode Family Portrait which is now in glorious colour for the first time ever.
For those unaware of this classic 60's sitcom, The Munsters were a supernatural family attempting to live in the world of 'normals' which included their Frankenstein-like father Herman, his undead vampire wife Lilly and their son children Eddie who is a werewolf plus their niece Marilyn, an 'innocent' blonde bombshell that has come to stay at the Munsters while she attends college. Their grandfather or as he was tentative known as 'Grandpa' is actually a vampire and could turn into a bat. Needless to say, this family gets involved in all sorts of comedic adventure as they attempt to fit into mainstream society.
This 'kooky' 'crazy' family also predated The Adams Family by a few years and was aired back in the days of Black & White which really gives this series a retro feel. So even though they try to be normal, Herman works happily in a funeral parlour and Lily is the classic stay at home mother who keeps things together. It doesn't help that they have a pet dragon living under their stairs that in classic sitcom fashion is used to help with the gags in this quirky family.
That's probably why The Munsters was so popular because they tried to be your typical American family, however they never were which is also where the laughs come into play, especially when Marilyn brings 'boys' home. Even though this family is made up of monsters, they still went through all the ups and downs of traditional families, especially as Herman (who cracks mirrors just by looking at them) and Grandpa who was always seeking blood butted heads together. It's also a well cast sitcom and the actors should be commended in creating such memorable and funny characters.
So with over 70 episodes on this release, this collection is guaranteed to give you some great laughs and if you grew up watching this series, it's a great walk down memory lane and really became quite a nostalgic experience for me all these years later. Sure some of the comedy is dated now but it's still a fun watch from a simpler time of television.
The two feature films included in this release also attempt to capture the classic nature of the series from the 60's which are a little bit of a hit and miss. Munster, Go Home! have the family visiting England after they inherit a castle from a relative that has passed away and its current occupants try every trick in the book to 'scare' The Munsters away. Like always, things don't go according to play which ends in hijinks.
The second feature film The Munsters' Revenge also tries to capture the quirkiness of the original series but unfortunately fails as The Munsters attempt to stop an invasion of robots reaping havoc throughout their town. So when the Munsters are labelled the catalyst for this invasion, this American monster family must work together to not only clear their names but bring the villain to justice. Also, not all the original actors are included in these films which does take away some of the magic because it would have been nice to see an adult Eddie and Marilyn. As a result it does take some of the chemistry away.
Video, Audio & Special Features
When it comes to video quality and given that this series is over 50 years old, the quality is a little lacking but thankfully still watchable and is presented in that classic TV aspect ratio of 4:3. It's still a good transfer to DVD with deep blacks, no errors and relatively sharp images. Both the movies do fair better because the technology has advanced considerably since these remakes were made. Audio supports Dolby Digital 2.0 for the TV series which is acceptable for a series created in the early 60's.
The release also boasts the unaired pilot episode which is an interesting insight into where the writers and producers wanted to take the series and the biggest difference to the regular series is that Eddie and Lily were played by other actors. Thankfully the casting worked out better in the ongoing series but nonetheless, it was still a fun watch.
The other bonus is the full colour episode Family Portrait which thanks to modern technology has successfully converted the original Black & White episode into colour. Sure, it does look a little strange at times but it's quite remarkable. There's also some documentaries about The Munsters which goes into the history of this classic sitcom plus its actors that is a nice look into this modern monster family and those who helped make it great.
Final Thoughts?
In conclusion, The Munsters the Complete Collection successfully puts the entire franchise in one accessible box and whether you're a fan of classic TV or The Munsters themselves, these DVD's will keep you considerably busy. Just be warned that some of the humour does feel a little dated at times but I still found it a very memorable experience as we were re-introduced to the antics of The Munsters. Don't be surprised if this release doesn't inspire a Hollywood remake!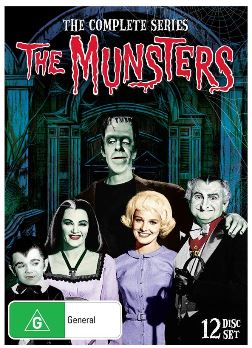 DVD Details
Actors – Fred Gwynne, Al Lewis, Yvonne De Carlo, Butch Patrick, Pat Priest
Film Genre – TV Comedy
Label – Shock
Audio – English (Dolby Digital 1.0)
Aspect Ratio – 1.33:1
Region Coding – 4
TV Standard – PAL
Rating – G
Consumer Advice Line – General
Year of Release – 1964
Primary Format – Movies/TV – DVD