Documentary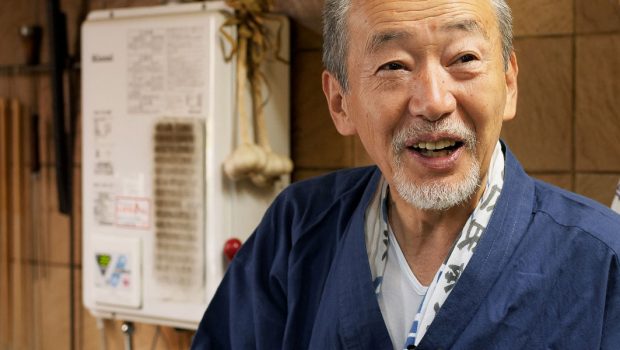 Published on August 14th, 2021 | by Tim Chuma
MIFF 2021: Come Back Anytime (2021) Review
Summary: Well worth a watch even if you don't consider yourself a foodie or have that much interest in cooking shows as it is a great story.
Masamoto Ueda or "Master" to his best customers and his wife have run the Tokyo noodle bar Bizentei for four decades. In this documentary we follow a year of operation of the venue and talk to some of the customers who have been going for so long they end up as part of the extended family of the place.
He does not really make that many dishes, but those he does he has mastered and makes them in his own style. There are also seasonal dishes depending what is available from his own vegetable plot and he has some of the customers go with him to harvest wild yams up in the mountains: "Master, I found a pebble"
"That's free."
I not that big on ramen or pho for that matter, does that mean I have to hand in my hipster card? What this documentary does attempt to show is the feeling that if you go to the same place enough times it becomes not only a second home but also a place where you feel welcomed as the long term customers say themselves during the documentary "he lets me come here to cry" was from one of the ladies and another customer met his wife who was working there at the time.
There are places I went to for over 10 years and they didn't know who I was due to staff turnover. Probably the most famous place for people thinking it is "theirs" would be Pellgrini's as even the premier sneaks over for lunch occasionally. I have been lucky enough to have been to a few places like the Old Greyhound Hotel, Pure Pop Records, Pint on Punt and the Caravan Music Club (now Archies Creek Hotel) that did have a community grow up around them. The Caravan Music Club has the same group of customers that go to a lot of the shows and a bunch of them went over to JazzFest together a couple of years back. This documentary does show the regulars who are in there every day and people who say the ramen stock changes taste throughout the day as it boils down.
It is closer to something like the Miyazaki documentary than one about food as they show you everything he makes at the start it is really only about four different types of ramen and some side dishes.
Having filmed for so long there would have been a lot they would have to leave out. I liked the bonus clip on their website of the Master offering the director food every time he got something new to eat.
This would be interesting to watch alongside the Anthony Bourdain documentary to see how they approach it compared to this one. They do mention the "loveable old curmudgeon" angle once in the documentary, but Japanese people are too polite to be so forthright.
I would recommend this one even if you are not that much of a foodie or watch cooking shows at all it is a good story well told.
Trailer:
Film details:
Director: John Daschbach
Producer Wataru Yamamoto
Cinematographer: John Daschbach
Editor: John Daschbach
Composer: Michael Shaieb
Language: Japanese with English Subtitles
Genre: Documentary
Length: 1h 21m