Drama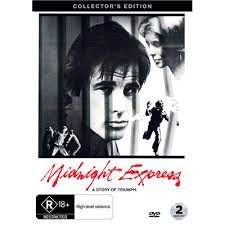 Published on June 27th, 2019 | by Rob Mammone
Midnight Express DVD review
Summary: Taping blocks of hashish to his body was only the start of Billy's harrowing journey through and out of a brutal prison system.
Any movie written by Oliver Stone is guaranteed to have something interesting to say. And any movie which features John Hurt is going to have some serious acting chops. So it is with 1970s prison drama Midnight Express, the 1978 movie based on the book by American Billy Hayes.
Shawshank Redemption, this aint. Don't expect much happiness, or sense of camaraderie between the characters, going into this movie. This was the 1970s, man, where urban decay seemed rampant and the 60s era of peace and love had dissolved in an acid bath of drugs, drink, abuse and violence.
Midnight Express opens with Billy (Brad Davis) taping blocks of hashish to his body as he prepares to return home to America from Turkey with his girlfriend, Susan (Irene Miracle in a rather unforgiving role). Hayes conveys Billy's rising fear and panic with aplomb. The scene where Billy has to present his passport and have his bags checked is a piece of pure terror, as the guard eyes Billy, his passport and his luggage, while Billy quietly sweats in fear.
Inevitably, Billy is arrested, thrown in jail and eventually a relatively light four-year sentence. As you can imagine, Turkish prisons in the 1970s aren't like Wet 'n Wild on the Gold Coast – it's more a free for all where the guards are on the take, where prisoners monster other prisoners, and where the lunatic asylum that forms part of the prison (and Billy's eventual destination) is one of Dante's circles in Hell.
Midnight Express is a gruelling ordeal of a movie. The guards are as much prisoners as the prisoners. Billy has to struggle to adjust and falls in with a group of other Westerners to survive. Chief amongst them are Max, an English heroin addict played by John Hurt as a sort of wounded poet and Jimmy Booth (Randy Quaid, in a role light years away from his comic turn in the National Lampoon's Vacation movies). Jimmy is a manic figure desperate to escape, whose disdain for the guards and the other prisoners is manifest as is his desire to escape. Billy is content to serve out his sentence, until he learns to his horror that a zealous prosecutor has had it overturned and a new, thirty-year sentence has been imposed. After this, all bets are off and Billy joins with Max to try to break out, led by Jimmy.
Of course, it doesn't go to plan and this is where Billy's life collapses.
It's not necessary to go into all the detail of what Billy and his fellow inmates endure after this catastrophe. But it is enough to say that what they do suffer is as gruelling for the viewer as it is for them. Billy loses his mind after seeking revenge on the man who betrayed them, and along with Max, ends up in the prison's asylum. There is a truly devastating scene later when Susan visits Billy. Separated by glass, Davis puts on a stunning performance as a broken willed man reaching for beauty, stymied by the glass and his broken mind. When Susan offers him relief, his reaction is as much stomach turning as it is pitiable.
Midnight Express is an ordeal, but it is one that is worth enduring. Michael Seresin's cinematography is stellar, in that typical 1970s style of grit and a determination to strip back the artifice of movie making. The lighting is naturalistic, and the filmmaking almost documentary style in its willingness not to look away. Director Alan Parker derives some great performances from his cast, particularly Hurt and Quaid, and if Brad Davis is not as strong as the others are, his performance is at least true to the character he is playing.
Midnight Express couldn't be made today; or at least if it was, it would be closer to Shawshank Redemption than a gritty depiction of human alienation and suffering. The performances are spot on, the direction and cinematography 'get' what Hayes was writing about in the book that inspired the movie. And it is easy to see that the rage that Oliver Stone brought to movies such as Born on the Fourth of July and Natural Born Killers found its birth in Midnight Express.
DVD Details
Director – Alan Parker
Actors – Brad Davis, John Hurt
Film Genre – Drama
Label – Madman Entertainment
Audio – English (Dolby Digital 5.1)
Running Time – 116
Aspect ratio – 1.85:1
Region Coding – 4
TV Standard – PAL
Rating – R18+
Consumer Advice – High level violence
Year of Release – 1978
Primary Format – Movies/TV – DVD