TV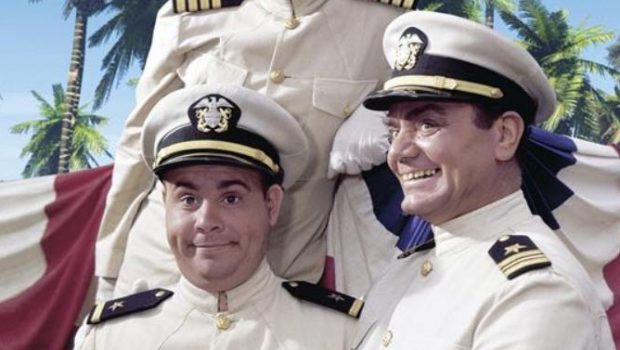 Published on September 17th, 2017 | by Philip Moszczynski
McHale's Navy the Complete Collection DVD Review
Summary: McHale's Navy the Complete Collection is classic TV!
McHale's Navy originally ran for four season 1962-1966 with a total of 138 half-hour episodes. It follows the exploits of the PT-73 crew, commanded by the titular character played by Ernest Borgnine, and all the trouble they not only land themselves in but also rescue themselves from. The crew often goes on adventures with the aim to have the most fun possible with the least amount of effort, which infuriates Captain Binghamton (played expertly by Joe Flynn), McHale's direct superior who tries everything in his power to rid himself of the crew; this could range from attempting to get them sent to jail or at least transferred. However, his plans fail in comedic ways as McHale and his crew either save themselves from the incident or make a counter-plan against Binghamton.
The laughs primarily come from verbal humour, however various moments of slapstick are littered throughout the episodes that are undoubtedly the highlight of the show. Characters falling into water, boats crashing into docks and exaggerated facial reactions were common elements of 60's comedy but also the best part of watching the show today. Banter and any other humorous dialogue is very mild compared to what we expect from comedies today, but the writing is clever enough to still entertain younger audience members or people who grew up with or are familiar with this style of comedy. The crew's mishaps sometimes start with the appearance of a woman, but the jokes surrounding these incidents are never really sexual or crude in any way. This and the aforementioned visual humour make this show a great choice for families.
This DVD set, courtesy of Madman and Universal studios, will also appeal to long-time fans of the show. All four seasons are collected here in one package; a well-designed slipcase houses four individual standard DVD cases, one for each season. The entirety of the show is spread out across 20 discs and a small selection of supplemental features are included: the crew remembers, Ernest Borgnine remembers and Tim Conway remembers. They are all memoirs of sorts and essential viewing for fans or those interested in comedy or general TV of the era.
A very reasonable effort has been made to bring the series to DVD in the highest quality possible and while the back of the box states "due to the age of the original elements, some audio and visual imperfections will be experienced" I noticed very few if any glaring issues in the presentation. The show is presented in its original 4:3 aspect ratio in black and white, with an MPEG-2 video and Dolby Digital 2.0 audio transfer that is on par with other DVD releases of older programmes. Despite being from an age of different comedy, McHale's Navy still delivers plenty of laughs to those who appreciate its humour and this DVD is the best way to experience this show and fans and newcomers alike should be very pleased.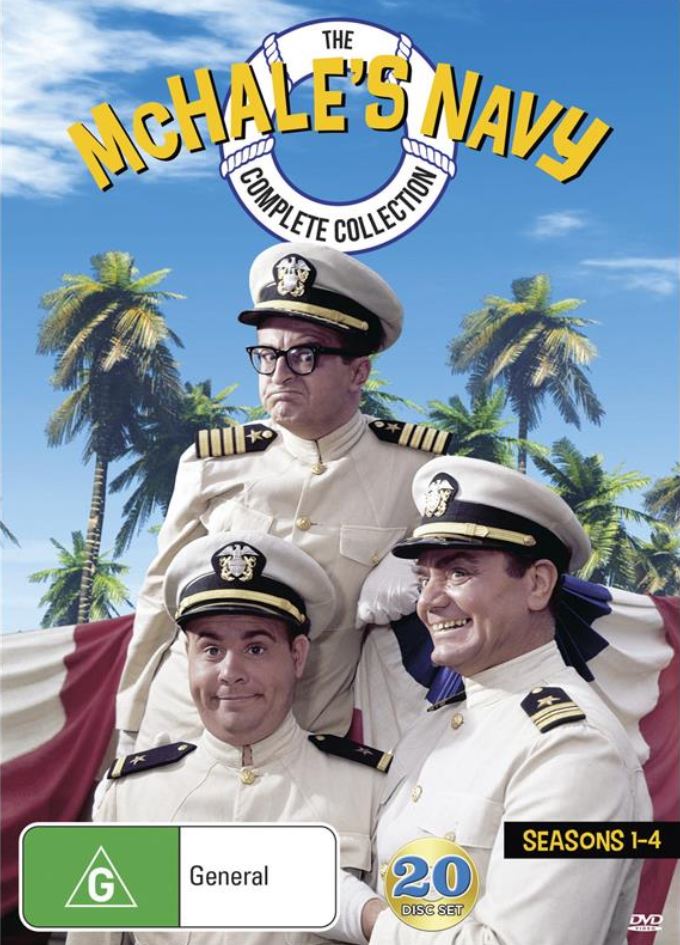 DVD Details
Actors – Ernest Borgnine, Joe Flynn, Tim Conway, Carl Ballantine, Gary Vinson
Film Genre – TV Comedy
Label – Via Vision Entertainment
Audio – English (Dolby Digital 2.0)
Running Time – 3600
Aspect Ratio – 1.33:1
Region Coding – 4
TV Standard – PAL
Rating – G
Consumer Advice – General
Year of Release – 1962
Primary Format – Movies/TV – DVD